News > Washington Voices
Powder puff game alive at Central Valley
Thu., Oct. 2, 2014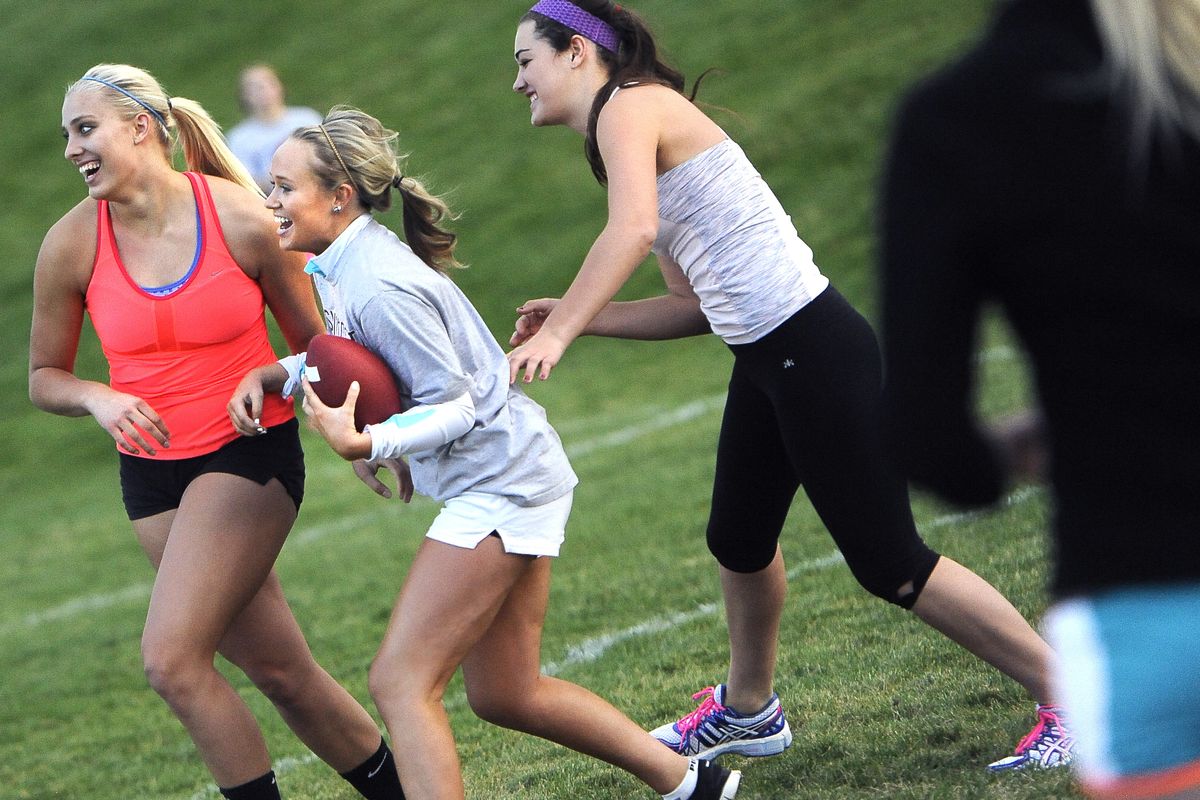 Madison Hovren, left, smiles with fellow CVHS seniors Michaela Arnold, center, and Kazlyn Roullier, during a powder puff football practice on Wednesday at the school. (Tyler Tjomsland)
Girls smearing on eye black and boys in cheerleader skirts are part of a long-standing homecoming tradition at Central Valley High School.
The powder puff game "is the way to get pumped for the actual homecoming game," said junior Meghan Rockwood.
Central Valley High School is among a handful in the region that still participates in the decade's old tradition where two girls' teams go head-to-head in a football game.
Many districts have banned the competition as an unnecessary risk: The game can lead to injuries, such as broken bones and concussions. This is especially problematic when the participants play fall sports.
Central Valley High School banned the game for seven years because of injuries before students convinced school officials to bring it back in 2009. Pictures of previous games on a teacher's wall apparently inspired students to ask for its return.
The teens say the game is competitive, but so far no one has been seriously hurt.
"We get tripped, and we tie our flags, but it's super fun," said player Peighton Quaintance, 16.The Central Valley seniors and freshman geared up Wednesday to play the juniors and sophomores in another fierce flag football game.
Although the girls play like there's a chance either team could win, Quaintance said: "The seniors always win – it's a tradition."
The goal of powder puff at Central Valley is more about the camaraderie and school spirit leading up to homecoming.
"The game brings the school together," said Carley Grilley, 17. "Pairing the seniors with the freshmen gives us a chance to show leadership, too."
She added, "The game, the crowd and the adrenaline, it's all really fun."
About 30 boys dressed in red, white and blue cheerleading outfits cheered the two teams and performed during the half-time show.
"I embrace wearing a skirt. I think just the role reversal is fun," said Rusty Ford, a senior. "Leading the cheers is the funnest part, just being in the spotlight."
Local journalism is essential.
Give directly to The Spokesman-Review's Northwest Passages community forums series -- which helps to offset the costs of several reporter and editor positions at the newspaper -- by using the easy options below. Gifts processed in this system are not tax deductible, but are predominately used to help meet the local financial requirements needed to receive national matching-grant funds.
Subscribe now to get breaking news alerts in your email inbox
Get breaking news delivered to your inbox as it happens.
---