Sports
Punter Ryan gives Seahawks extra weapon
Thu., Oct. 2, 2014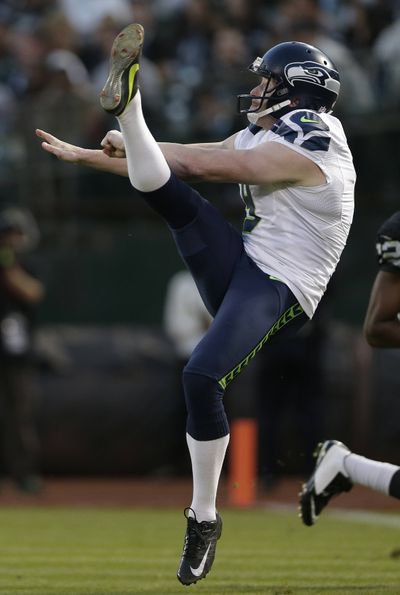 RENTON, Wash. – Jon Ryan of the Seattle Seahawks has never had any problem being called "just a punter.''
In fact, it's pretty much all Ryan, a native of Regina, Saskatchewan, wanted to be.
"I was probably the only 8-year-old in the country who dressed up as a punter for Halloween,'' Ryan said.
Even if it took some doing. Jerseys of NFL punters weren't exactly hanging all over the racks in Regina in the late 1980s. So Ryan's mother, Barbara, created a Chicago Bears uniform out of an old hockey jersey.
Through the years, though, Ryan has become more than "just a punter.''
At the University of Regina, he was also a starting receiver and once caught a 109-yard touchdown pass (Canadian fields being 110 yards long).
He's a die-hard baseball fan who has had season tickets to Mariners games for the past five years, annually taking in at least 40 games.
And he's the boyfriend of comedian Sarah Colonna, maybe best known for her frequent appearances on the show "Chelsea Lately."
Their relationship began after Ryan had a chance encounter on the field before the NFC title game victory over the 49ers with another comedian who was part of the show, Ross Mathews. Ryan asked him to "put in a good word for me.''
"I had a little crush on her,'' Ryan said of approaching Matthews to be a wingman. "From there I kind of stalked her on Twitter until she gave in and let me take her on a date in (Los Angeles).''
They've been together since, Ryan spending part of Seattle's bye week in Phoenix, where Colonna had a series of shows.
"She is constantly on the go, but we find a way to make it work," Ryan said.
When it's time to be just a punter again, Ryan is making that work, too.
Ryan, who has been with Seattle since 2008 – only defensive tackle Brandon Mebane, drafted in 2007, has been with the team longer – is off to one of the best starts of his career.
Coach Pete Carroll said Ryan "might have been'' the most valuable player of Seattle's 26-20 overtime win against Denver thanks to a series of key punts that forced the Broncos to spend much of the game starting in poor field position.
Ryan averaged 50.2 yards on six punts, five of which were downed inside the 20. He also had a 79-yarder on a free kick following a safety. Ryan's 48.3-yard average for the season ranks fourth in the NFL and his average net per punt of 43.3 is sixth.
"His confidence is in a great spot,'' Carroll said.
It helps that Carroll's confidence in the abilities of the punt coverage team is similarly high. Ryan averaged 42.7 yards per kick last season, a stat that didn't accurately indicate his value to the team. Seattle spent much of last season threatening a decades-old record for fewest punt return yards allowed, thanks in part to the ability of Ryan to place kicks in specific spots. The Seahawks ended up allowing just 82 punt return yards, second best in NFL history.
"It was just the way they wanted to do it last year,'' Ryan said. "A lot of those end-over-end type kicks that go 42, 45 yards, and we were having success with it so we stuck with it."
This year, though, the dynamic has changed, in part because of the speed of Ricardo Lockette. Lockette's ability to get down the field quickly has allowed Seattle to let Ryan kick it longer without worrying about outkicking coverage.
Against Denver, Ryan had punts of 58, 61 and 66 yards. On each, Ryan marvels, Lockette was "right there'' to help make a tackle or force a fair catch.
"If he keeps on doing it like that, we are going to keep on putting the ball out there,'' Ryan said. "Ricardo always says to me, 'Kick it farther, kick it farther.' When he has that confidence in me and I have that confidence in him to kick it down there like that, I can just let it go.''
Which, Ryan said, is pretty much a dream come true for a punter – one who has already had most of his punting dreams come true.
Local journalism is essential.
Give directly to The Spokesman-Review's Northwest Passages community forums series -- which helps to offset the costs of several reporter and editor positions at the newspaper -- by using the easy options below. Gifts processed in this system are not tax deductible, but are predominately used to help meet the local financial requirements needed to receive national matching-grant funds.
Subscribe to the sports newsletter
Get the day's top sports headlines and breaking news delivered to your inbox by subscribing here.
---