Sports
Two-run home run helps Orioles finish sweep of Tigers
Mon., Oct. 6, 2014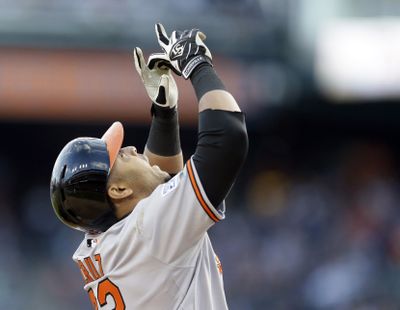 DETROIT – A runaway title in a division of behemoths, then an unexpected sweep against a trio of Cy Young winners.
For Nelson Cruz, Buck Showalter and this unheralded bunch from Baltimore, the question now is: What's next?
Cruz sliced a two-run homer for his latest big postseason hit, and the Orioles held off the Detroit Tigers 2-1 Sunday to reach the A.L. Championship Series for the first time since 1997.
Bud Norris outpitched David Price in Game 3 of the A.L. Division Series. The Tigers scored in the ninth inning and put the tying run on second with no outs, but Orioles closer Zach Britton escaped the jam to lift Showalter into his first LCS in 16 seasons as a big league manager.
"This is fun to watch. Believe me, I'm happier than you can imagine," Showalter said. "But most of it comes from getting to see the players get what they've put into it."
Baltimore opens the ALCS on Friday at home against Kansas City.
"We've got a lot to go and we're grinding," outfielder Adam Jones said. "If we play as a team, we can do anything."
So often an afterthought in the rugged A.L. East, the Orioles won their first division title since 1997 this year, dispatching the second-place New York Yankees by 12 games. That put Baltimore up against another of the game's most star-laden rosters, and Miguel Cabrera, Justin Verlander and the Tigers couldn't manage a single win.
Cruz's homer Sunday was his 16th in postseason play, including eight against the Tigers. He was the MVP of the 2011 ALCS for Texas in a six-game victory over Detroit. Cruz spent much of this past offseason without a team after serving a 50-game suspension last year for violating baseball's drug agreement.
"He knows things were self-inflicted," Showalter said. "He really wanted to re-establish himself, and we thought that we could provide a real good opportunity for him, and the sky might be the limit."
Norris pitched two-hit ball for 6 1/3 innings, and Andrew Miller got five straight outs to keep the shutout going.
Victor Martinez and J.D. Martinez opened the ninth with back-to-back doubles off Britton. Bryan Holaday struck out after a failed bunt attempt, and Showalter made the unconventional decision to put the winning run on base by intentionally walking Nick Castellanos.
That meant the bottom of Detroit's lineup would have to come through. The Tigers sent up Hernan Perez – who had five at-bats in the regular season – to pinch hit, and he bounced a 96 mph fastball into a 5-4-3 double play. It was Britton's second save of the series.
Cruz led the majors with 40 homers this season, and the Orioles topped baseball with 211. It was his two-run homer in the first inning of the opener that set the series' tone, and he came through again in the sixth inning against Price. Cruz's drive cleared the wall in right, about 2 feet to the left of the foul pole.
"If you tell me before the series we're going to sweep, I don't believe it," Cruz said.
Detroit won its fourth straight A.L. Central this year. But after reaching at least the ALCS the last three seasons, Detroit couldn't make it there this year. The Tigers remain without a World Series title since 1984 – a drought one year shorter than Baltimore's.
"It's disappointing. You feel like you let the fans down and you feel like you let the organization down," said Brad Ausmus, who replaced Jim Leyland as Detroit's manager after last season.
Local journalism is essential.
Give directly to The Spokesman-Review's Northwest Passages community forums series -- which helps to offset the costs of several reporter and editor positions at the newspaper -- by using the easy options below. Gifts processed in this system are not tax deductible, but are predominately used to help meet the local financial requirements needed to receive national matching-grant funds.
Subscribe to the sports newsletter
Get the day's top sports headlines and breaking news delivered to your inbox by subscribing here.
---