Sports
Nationals emerge from fog
Washington avoids sweep by Giants
Tue., Oct. 7, 2014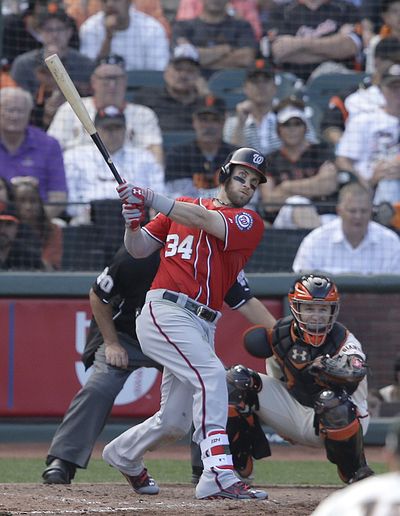 SAN FRANCISCO – Eye black and uniform still on, Bryce Harper emerged from a different kind of fog than is typically seen in San Francisco. This was the celebratory stuff from a Washington Nationals victory party, and he had earned it, all right.
Harper screamed out in delight as he crossed the plate with Washington ahead at last. After all those extra innings and a subdued cross-country flight, the Nationals had broken through – with some help from Madison Bumgarner's big blunder.
Doug Fister pitched seven shutout innings and the Nationals capitalized on Bumgarner's one off-target throw, staving off elimination in the N.L. Division Series with a 4-1 win over the San Francisco Giants on Monday.
"Being able to get that momentum swing to us a little bit is definitely huge," said Harper, who also made a difficult running catch in the gap.
Fister dazzled again in San Francisco, helping the Nationals cut their deficit to 2-1 in the best-of-five series. They ended the Giants' 10-game postseason winning streak that started with Game 5 of the 2012 N.L. Championship Series against St. Louis.
Washington scored two runs on Bumgarner's throwing error in the seventh inning to end the ace's 22-inning scoreless streak. Harper punctuated the victory with a solo homer in the ninth.
Drew Storen allowed the first two batters to reach in the bottom of the ninth but shook off his postseason struggles, allowing a run in closing it out as Washington forced a Game 4 tonight.
The 96-win Nationals will send left-hander Gio Gonzalez against San Francisco right-hander Ryan Vogelsong, hoping to pull out the fog machine they used after wins all season one more time.
"We just needed one break," Storen said. "It's been a tough couple innings here to start and we got our break. It's just a matter of building on it, and we live to see another day."
On a day Bumgarner was nearly untouchable, his own miscue prevented a three-game sweep.
Bumgarner fielded Wilson Ramos' two-strike sacrifice bunt between the mound and the first-base line and fired to third rather than going for the sure out at first.
"We probably should have taken the out at first. I made a mistake telling him to throw to third," catcher Buster Posey said.
"It happens."
Bumgarner's throw sailed wide of Pablo Sandoval's outstretched glove and bounced all the way to the tarp along the left-field wall before rolling over the bullpen mounds where two relievers were warming up.
Sandoval nearly did the splits trying to make the play and stayed down in pain as the two runs scored. After trainers checked on the third baseman, he remained in the game.
"That was an important play right now. In my mind I was like, 'I have to do it, have to do it,' Ramos said. "For me, that changed the whole game. Bumgarner threw a really good game. Those little things happen in games. If we do the little things, we'll have an opportunity to win this series."
Asdrubal Cabrera followed with an RBI single.
Local journalism is essential.
Give directly to The Spokesman-Review's Northwest Passages community forums series -- which helps to offset the costs of several reporter and editor positions at the newspaper -- by using the easy options below. Gifts processed in this system are not tax deductible, but are predominately used to help meet the local financial requirements needed to receive national matching-grant funds.
Subscribe to the sports newsletter
Get the day's top sports headlines and breaking news delivered to your inbox by subscribing here.
---