People: 'Modern Family' actress Hyland granted restraining order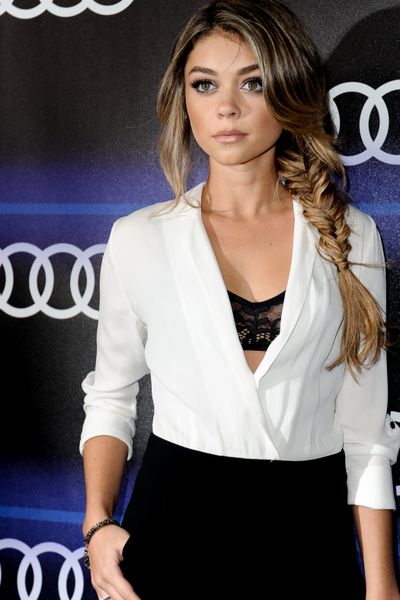 "Modern Family" actress Sarah Hyland's ex-boyfriend has been ordered to stay away from the actress and not contact her for three years.
Los Angeles Superior Court Judge Andrea Thompson granted Hyland the protection from actor Matt Prokop on Thursday.
The 23-year-old actress accused Prokop of choking her and threatening her during their relationship, which ended in August.
Hyland didn't report the incidents to police and Prokop has not been criminally charged.
Prokop co-starred with Hyland in the TV movie "Geek Charming" and appeared in one episode of "Modern Family." He also appeared in "High School Musical 3."
Sleep tight prior to space flight
Virgin Galactic is expanding lodging and entertainment options in New Mexico for its roster of passengers who hope to one day take flight into space.
The company said Monday it's partnering with a lodge in Truth or Consequences that is owned by media mogul Ted Turner.
Aside from lodging, the Sierra Grande Lodge and Spa will offer Virgin Galactic customers eco-safaris on Turner's two ranches in southern New Mexico. Combined, the ranches cover more than 800 square miles.
Spaceport America, the world's first dedicated spaceport, is in a remote area, and the lack of luxury lodging has been an issue.
Virgin Galactic announced earlier this year it selected Hotel Encanto de Las Cruces as the preferred hotel for its customers, who will pay $250,000 a person to make the flights from the spaceport.
Ring in 2015 'Cheek to Cheek'
Lady Gaga and Tony Bennett are set to take the stage at The Cosmopolitan casino on New Year's Eve for their first show together in the U.S. since they released a joint album late last month.
The Las Vegas Strip resort announced Monday that the 28-year-old pop superstar and the 88-year-old jazz crooner will ring in the new year with jazz standards from their album "Cheek to Cheek."
"I can't wait to kick off 2015 'cheek to cheek' with the legendary Mr. Tony Bennett," Lady Gaga said in a statement. "New Year's celebrations are about cherishing family, friendship, and the future – three things this man has taught me much about."
The birthday bunch
TV personality Joy Behar ("The View") is 72. Country singer Kieran Kane (The O'Kanes) is 65. Musician John Mellencamp is 63. Guitarist Ricky Phillips (Styx) is 63. Actress Mary Badham ("To Kill a Mockingbird") is 62. Drummer Tico Torres (Bon Jovi) is 61. Gospel singer Michael W. Smith is 57. Former "American Idol" judge Simon Cowell is 55. Guitarist Charlie Marinkovich (Iron Butterfly) is 55. Singer Toni Braxton is 47. Singer Thom Yorke (Radiohead) is 46. Actress Allison Munn ("One Tree Hill") is 40. Singer Taylor Hicks ("American Idol") is 38. Actor Holland Roden ("Teen Wolf") is 28.
---