Sports
G-Prep's Laura Stockton gives oral commitment to play basketball at Gonzaga
Wed., Oct. 8, 2014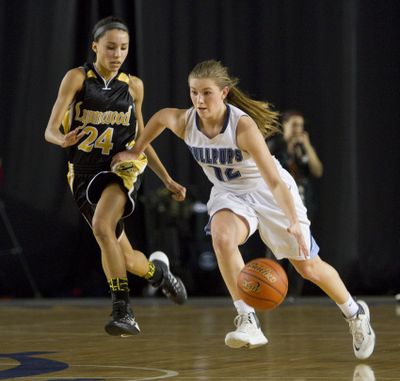 The Stockton name will continue to have a tangible affiliation with Gonzaga University.
Gonzaga Prep standout Laura Stockton will be the first female Stockton to play basketball for the Bulldogs. She gave the school where her father and brother played an oral commitment Monday.
"I've grown up wanting to go there," Stockton said. "But I wanted to keep my options open and see what happened. After I took my Oregon visit (last weekend) it solidified what I wanted to do and it was really clear that Gonzaga was for me."
Stockton, a 5-foot-8 point guard, turned down an opportunity to join G-Prep teammate Otiona Gildon at Oregon, where former Zags coach Kelly Graves is now the head coach. Gildon announced her commitment in August.
Graves recruited Stockton at both schools.
"Laura is an outstanding athlete possessing both the mental and physical basketball skill sets to be a tremendous college player," G-Prep coach Mike Arte said. "Her development as a basketball player has been evident at every stage of her play and she will continue to grow with her tremendous work ethic, commitment, character and loyalty to the game."
Stockton also turned down an opportunity to play alongside her sister, Lindsay, at Montana State University. Lindsay is a junior this year.
A four-year letter winner, this will be Stockton's third year starting at G-Prep. She helped lead the Bullpups to the State 5A championship last year when she averaged 13.1 points, 4.8 assists, 3.3 rebounds and 2.8 steals per game. She also shot 80 percent from the free-throw line (76 of 95).
Stockton admitted there was a family draw at GU.
"That's how it started with my dad going there and me wanting to be like him," she said. "Mostly I made this decision for me. It's just a bonus that I get to go to the alma mater of some of my family members."
Local journalism is essential.
Give directly to The Spokesman-Review's Northwest Passages community forums series -- which helps to offset the costs of several reporter and editor positions at the newspaper -- by using the easy options below. Gifts processed in this system are not tax deductible, but are predominately used to help meet the local financial requirements needed to receive national matching-grant funds.
Subscribe to the sports newsletter
Get the day's top sports headlines and breaking news delivered to your inbox by subscribing here.
---