A&E > Food
Hand pies easy to make, fun to stuff
Wed., Oct. 8, 2014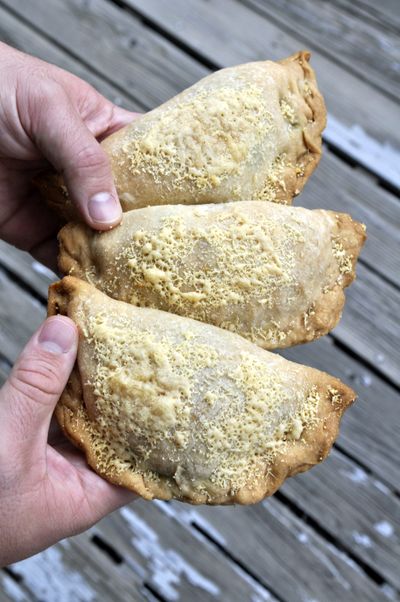 Versatile, convenient and almost unbearably cute, turnovers – or patties, pastys or hand pies – can be stuffed with pretty much anything.
Savory, seasonal ingredients like winter squash, sweet potatoes, cabbage, carrots, collard greens or mushrooms. Leftover mashed potatoes. Ground beef or lamb. Sausage. Chicken. Spinach. Onions. Oh-so-many kinds of cheese.
But, perhaps more importantly, they're perfectly portable.
Whatever you call them, the savory, palm-size pastries have been cropping up in coffee shops and gourmet cafes, food blogs and cooking magazines.
Why not in school – or office – lunches, too?
A month and a half in, the novelty of the new school year – and the task of coming up with creative school lunches – might be wearing off.
These little handhelds are easily tucked into boxes or bags for transport to work or school. Like a wrap or sandwich, they require no utensils. And, folded over into a half-moon shape or fashioned into rounds, rectangles, triangles, squares or even hearts, they're significantly cuter.
With National School Lunch Week just around the corner – it runs Monday through Oct. 17 – hand pies, enveloped in a flaky, buttery crust and wrapped up like a gift, seem to be the way to celebrate.
In America, hand pies made for an old-fashioned, stick-to-your-ribs working man's lunch. Farmers and miners used to bring them to the fields and tunnels.
But they date back to at least the 12th century in what is now considered Cornwall. Today, the traditional D-shaped Cornwall pasty is a special class of hand pie. It's filled with potato, beef, rutabaga and onion, and – in Europe – has achieved Protected Geographical Indication status, which aims to preserve the reputation and authenticity of regional foods.
Almost every culture has something similar to the humble hand pie. In Italy, calzones are large, look like folded pizzas and typically feature mozzarella, Parmesan, pecorino, salami or sausage. In India, samosas are baked or fried and stuffed with peas, lentils, potatoes and ground beef, chicken or lamb.
Triangular tiropitakia in Greece are little cheese pies made with phyllo dough. And in Spain and Portugal, there are meat- or fish-filled empanadas, which have variations throughout Southern Europe, Latin America and the Philippines.
Tuck traditional, ethnic flavors into a pastry pocket. Or come up with your own new favorite combinations. Either way, these cuties can be enjoyed warm or cold – and are comforting and filling for school or work lunches alike.
Spinach Artichoke Hand Pies
This cheesy, ultra-buttery hand pie is vegetarian. But your choice of meat could easily be added, if desired. I made a batch with apple-chicken sausage and can't wait to do more experimenting.
Next time, I might add some freshly cracked pepper to the filling for a bit of kick. I would also probably make a double batch of the filling. I made 6-inch hand pies and didn't have enough filling following these measurements. Adding the sausage helped make up for that.
1 batch uncooked double pie crust (Recipe follows)
2 tablespoons flour
2 tablespoons butter
1/2 cup milk
1/4 teaspoon ground nutmeg
1/2 cup shredded cheddar
1/4 cup shredded Parmesan, plus 2 to 3 tablespoons for sprinkling
1/2 cup artichoke hearts, chopped
1/2 cup chopped spinach
Preheat oven to 350 degrees.
In a medium saucepan over medium-high heat, melt butter and whisk in flour until a thick paste forms. Whisk in milk, nutmeg and shredded cheese. Once cheese has melted, remove from heat and mix in spinach and artichokes.
Roll out pie crust dough on a lightly floured surface until it's about 1/8- to ¼-inch thick. Using a 4-inch round cutter or bowl, cut circles out of your dough. In the center of each circle place about 2 to 3 tablespoons of filling. Fold sides over and crimp them together with a floured fork. (Pinching them with your fingers works just fine, too.)
Place hand pies on a nonstick baking sheet about 1 inch apart. Bake for about 15 to 20 minutes, then remove from oven and sprinkle grated Parmesan over the tops and return them to the oven. Continue to bake the hand pies for another 10 to 15 minutes or until golden brown.
Best Flaky 100 Percent Butter Pie Crust
From www.bakeaholic mama.com
This makes enough dough for a double crust pie – or about 6 to 8 hand pies, depending on the thickness and size of your circles.
2 1/4 to 2 1/2 cups flour, plus more for dusting
1 cup of butter, chilled
1 teaspoons of salt
1 tablespoon of sugar
1/2 to 1 cup of ice water
Place butter in the freezer for about 15 minutes, then cut into small cubes.
In a large bowl, add flour, salt and sugar, then give it all a quick toss with a fork. Add in butter pieces. With a pastry blender, mix until butter is worked into the flour, but be careful to not overmix. (Butter bits should be pea-size when you are finished.) Slowly add in ice water 1 tablespoon at a time.
If you feel the dough is too wet, add a bit more flour. If you feel the dough is too dry, add a tad more water. After dough comes together, divide in half. Pat into disks and cover in plastic wrap. Refrigerate 1 hour or longer.
Fold-me Fiesta Puffs
From "The Big Baking Book" by Ella's Kitchen
2 teaspoons olive or sunflower oil
1 small red pepper; cored, seeded and finely chopped
1 shallot, finely chopped
1/2 teaspoon ground paprika, plus more for sprinkling (optional)
1/3 cup chopped ham
1 store-bought rolled dough pie crust, thawed if frozen
Flour, for dusting
Beaten egg or milk, to glaze
Heat oil in skillet and sauté pepper and shallot for 10 minutes over low heat, stirring frequently, until pepper is tender and beginning to brown. Remove mixture from heat and stir in paprika and ham. Let cool.
Preheat oven to 375 degrees. Line a baking sheet with parchment paper.
Roll out dough on a lightly floured surface to 1/8- to 1/4-inch thick. Using a 3 1/2-inch pastry cutter, cut out 8 circles, rerolling the scraps as necessary. Spoon filling into center of each, then brush edges with beaten egg or milk. Bring pastry over the filling to enclose it and press edges firmly to seal. Place puffs on baking sheet and brush with egg or milk. Sprinkle lightly with paprika (if using), then bake for 20 to 25 minutes, until golden. Transfer to a wire rack to cool. Serve warm or cold. Store in airtight container in refrigerator for up to two days.
Yield: 8
Super-strong Spinachy Puffs
From "The Big Baking Book" by Ella's Kitchen
These Greek-inspired savory pastries are packed full of spinach and creamy ricotta.
5 1/2 cups fresh spinach, tough stems removed
1/2 cup ricotta
1/2 cup Parmesan
A good pinch of freshly grated nutmeg
1 sheet store-bought puff pastry
Flour, for dusting
Beaten egg, to glaze
Sesame seeds, for sprinkling
Preheat oven to 400 degrees. Line a baking sheet with parchment paper.
Place spinach in a large saucepan and drizzle it with 1 tablespoon of water. Cover and heat spinach gently for 4 to 5 minutes until it has wilted. Transfer spinach into a large strainer or colander and press out the juices, then coarsely chop.
Drain off any liquid from the ricotta, then put it into a large bowl with the Parmesan and nutmeg and mix together. Add spinach and mix until everything is evenly combined.
Roll out the pastry on a lightly floured surface to a 16-by-8 1/2-inch rectangle. Cut in half widthwise. Cut each half into quarters and divide the filling among four pastry squares, leaving space around the edges. Brush edges lightly with beaten egg. Cover with remaining squares and press edges down firmly. Trim or scrunch up edges.
Place pies on prepared baking sheet and cut a cross in the top of each. Brush with beaten egg and sprinkle with sesame seeds, then bake in oven for 20 to 25 minutes, until pastry is puffed up and golden. Serve pies warm or cold. Store in airtight container for 24 hours.
Yield: 4
Pass the Chicken Packages
From "The Big Baking Book" by Ella's Kitchen. One or two of these handy packages, filled with chicken and veggies, make a complete meal.
1/4 cup olive oil
2 chicken breasts (about 10 ounces) cut into small pieces
1 cup sliced button mushrooms
1/2 cup trimmed, 1/2-inch-long green bean pieces
1 1/2 teaspoons cornstarch
1/2 cup whole milk
1/2 to 1 tablespoon chopped tarragon or parsley (optional)
4 sheets of phyllo pastry
Heat 1 tablespoon oil in large saucepan and cook chicken pieces for 3 minutes, stirring, until lightly browned.
Add another tablespoon of oil, then add mushrooms and sauté for 3 to 4 minutes, stirring, until lightly browned. Stir in beans.
Blend cornstarch with a dash of milk in a bowl, then stir in remaining milk and add to the pan with tarragon or parsley (if using). Cook for 2 to 3 minutes, stirring until sauce is thick. Transfer to bowl and let cool.
Preheat oven to 375 degrees. Line a baking sheet with parchment paper.
Brush sheet of pastry lightly with a little of the remaining oil. Cover with a second sheet of pastry, then place six spoonfuls of chicken mixture onto pastry, evenly spacing each spoonful in a grid formation. Brush between the mounds of filling with oil.
Lay another sheet of pastry over the filling, pushing it down between the mounds to form 6 portions. Brush with more oil and lay remaining sheet of pastry on top. Cut pastry between the mounds to separate the packages. Fold over the 2 long sides of each package, then double fold in the short ends.
Place packages on baking sheet and brush with remaining oil. Bake in oven for 20 minutes, until crisp and golden. Let cool completely before packing them for your picnic – or lunch. Eat them the day they are made.
Yield: 6
Tasty Lentil Triangles
From "The Big Baking Book" by Ella's Kitchen
3/4 cup dried split red lentils
2 cups hot vegetable stock
1/2 small cauliflower, cut into small pieces
3/4-inch piece fresh ginger root, peeled and grated
3 tablespoons finely chopped cilantro
3 tablespoons chopped chives
1/4 teaspoon ground turmeric
6 sheets of phyllo pastry
4 tablespoons unsalted butter, melted
Ground paprika, for sprinkling
Place lentils and stock in saucepan and cook over medium heat according to package directions, until lentils have softened. Add cauliflower florets for the last 10 minutes of the lentil cooking time, and cook until pulpy and thick. Stir in ginger, cilantro, chives and turmeric. Transfer to a bowl and let cool.
Preheat oven to 400 degrees. Brush one sheet of pastry lightly with melted butter. Cover with second sheet of pastry and brush with more butter. Cut the sandwiched sheet into three strips. Blob a spoonful of filling at the bottom of each pastry strip, then fold each strip to make three triangles. Repeat with remaining pastry and filling.
Place triangles on baking sheet, brush with butter and sprinkle with paprika. Bake for 20 minutes, or until golden. Let cool. Serve on the day you make them, or store them in an airtight container overnight.
Yield: 9
Local journalism is essential.
Give directly to The Spokesman-Review's Northwest Passages community forums series -- which helps to offset the costs of several reporter and editor positions at the newspaper -- by using the easy options below. Gifts processed in this system are not tax deductible, but are predominately used to help meet the local financial requirements needed to receive national matching-grant funds.
Subscribe to the Spokane7 email newsletter
Get the day's top entertainment headlines delivered to your inbox every morning.
---