News > Obituaries
Obituary: Allen, Helen Maxine
Age 88
Wed., Oct. 8, 2014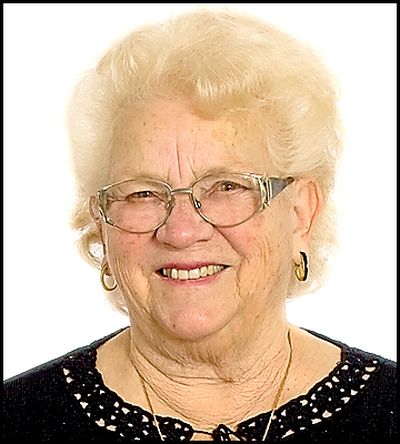 ALLEN, Helen Maxine (Age 88) Passed away early Monday morning at the Spokane Valley Hospital.
She was born on May 14th, 1926 in Mountain Grove, Missouri.
Helen grew up in Spokane Valley and attended West Valley High School.
She married John W. Thomas in 1942.
They had eight children and were married for 26 years.
During that time, they owned and operated the family business- Thomas Cleaners.
John passed away of Leukemia in 1968.
Helen met Charlie Allen on Halloween night in 1970 at Hauser Lake (dance hall).
Their first dance was "From a Jack to a King" by Ned Miller.
Charlie and Helen wed on August 24th, 1973 and were married for 41 wonderful years.
One of Helen's biggest passions was the lake cabin she bought on Twin Lakes in 1955; she used her grocery money of $11/month to fund the purchase.
Her love for yard sales and bargains furnished her antique shop(s), "Mom's Front Porch."
Helen had a knack for buying and selling real estate.
She also enjoyed snowmobiling, martinis on the front porch, Tuesday lunches with Charlie at the Casino, and every minute spent at the lake.
Helen is survived by her husband Charles Allen, her children John W. Thomas lll, Ron H. Thomas (Mavis), Janet R. Caudill (Ron), Donna K. Thomas, Darlene M. Cooper (Rod), William F. Thomas (Pam), Karen F. Thomas, Gary L. Allen and her many grandchildren and even more great- grandchildren.
She was preceded in death by her son Richard "Dickie" Thomas, her nine siblings and granddaughters Darcy K. Caudill and Brendee L. Glisson.
Helen will be missed dearly by all who knew her.
A Visitation will be held on Friday, October 10, from 4-8pm and a Memorial Service will be held in her honor on Saturday, October 11th 2014 at 3:00pm at Hennessey Funeral Home, 1315 N. Pines Rd., Spokane Valley, WA 99206.
Local journalism is essential.
Give directly to The Spokesman-Review's Northwest Passages community forums series -- which helps to offset the costs of several reporter and editor positions at the newspaper -- by using the easy options below. Gifts processed in this system are not tax deductible, but are predominately used to help meet the local financial requirements needed to receive national matching-grant funds.
Subscribe to the Coronavirus newsletter
Get the day's latest Coronavirus news delivered to your inbox by subscribing to our newsletter.
---