News > Obituaries
Obituary: Retter, Anna Karine (Evenson)
Age 100
Wed., Oct. 8, 2014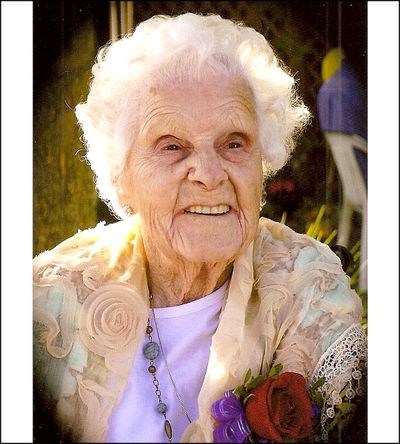 RETTER, Anna Karine (Evenson) (Age 100) Anne went to be with the Lord October 3, 2014.
Four days after celebrating her 100th birthday.
She was born on September 30, 1914, in Hamar, Norway, and immigrated to America in 1916 with her parents and older brother.
Retter grew up on her family's farm in Wibaux, Montana, and went to school in a one-room schoolhouse.
She met and married her first husband, Clarence Coldwell, in 1938.
They divorced in 1948.
She later moved to Kellogg, where she met Everett Retter at a local cafe.
The couple married in 1950 and lived in Kellogg until her husband retired, and then moved to Post Falls.
Retter got a job as a janitor at Seltice Elementary School in Post Falls and worked until she was 73.
Her husband died in 2001.
Retter said her most rewarding life achievement is graduating from high school and serving on the board in the Pythian Sisters lodge in Kellogg.
She attributes her positive attitude and always looking on the bright side, along with not dwelling on the bad things, to helping her live a long and healthy life.
She says her sense of humor and her loving friends and family have also helped.
Her most memorable moment in the past 100 years was when Franklin Delano Roosevelt was elected president in 1932.
Retter has five children: Gene Retter, Post Falls; Joyce Sonnabend, Spokane; the late Everett Retter Jr; the late Judy Craver; and the late Edward Retter.
She also has 12 grandchildren, 26 great- grandchildren, and 10 great-great-grandchildren.
The family request all contributions be sent to St. Luke Luthern Church 9706 N Division St. Spokane, WA.
99218 or Horizon Hospice 123 W. Cascade Way Spokane, WA.
99208.
A Memorial Service will be held Saturday, October 11, at 11:00 a.m. St. Luke Lutheran Church 9706 N. Division St. Spokane Wa.
99218.
Please sign and view Anna's online registry at www.englishfuneralchapel.com
Local journalism is essential.
Give directly to The Spokesman-Review's Northwest Passages community forums series -- which helps to offset the costs of several reporter and editor positions at the newspaper -- by using the easy options below. Gifts processed in this system are not tax deductible, but are predominately used to help meet the local financial requirements needed to receive national matching-grant funds.
Subscribe to the Coronavirus newsletter
Get the day's latest Coronavirus news delivered to your inbox by subscribing to our newsletter.
---