News > Obituaries
Obituary: Robinson, Marilyn Teresa (Fulfs)
Age 68
Wed., Oct. 8, 2014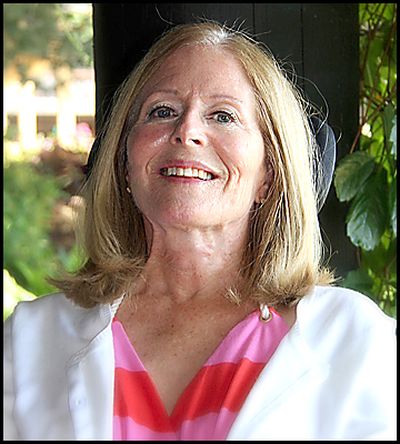 ROBINSON, Marilyn Teresa (Fulfs) Passed away peacefully on October 5, 2014 in her Scottsdale, Arizona home.
She was surrounded by family, friends, and caregivers, who all loved her dearly and admired her strength and amazing attitude during a 17-year long battle with Multiple Sclerosis.
Marilyn was born August 28, 1946 to Robert and Myrtle Fulfs in Pullman, Washington.
She was raised on the farm where her mother still lives.
Marilyn graduated from Pullman High School in 1964 and is still remembered fondly by her classmates who voted her Homecoming Queen.
Marilyn attended Washington State University and was a member of the Delta Gamma Sorority.
After graduating from WSU, Marilyn taught math and science in Pullman.
On February 14, 1971 she married Rick Robinson and together they moved to western Washington and had two children, Kelly and Michael.
After many years of skiing, sailing, and boating in the Gig Harbor area the family moved to Liberty Lake, WA, where they lived for 21 years.
Marilyn's passion was snow skiing and she was a ski instructor at Mt.
Spokane for many years.
She also loved to weave, play bridge, garden and read.
Marilyn helped found a Liberty Lake book club, Women, Words & Wine, which is still active today.
She was also a co-founder of the Liberty Lake 4th of July Parade, now in it's 26th year.
Marilyn was preceded in death by her father Robert Fulfs (2003), and her brother John Fulfs (2012).
She is survived by Rick Robinson, daughter Kelly Klose (Ryan), son Michael Robinson (Kathy), her mother Myrtle Fulfs, sister Robynn McKean (Bob), and her grandchildren, who she adored, Ethan and Avery Klose.
Marilyn's legacy is that she always looked forward to every new day as an adventure.
When faced with a problem she was quick to devise a solution or just get over it, usually with a sense of humor.
She is admired by many for the inspirational attitude she had even while her disease progressed leaving her confined to a wheelchair.
In her time in Scottsdale, Marilyn enjoyed spending time with her grandchildren, eating delicious food, listening to books, and watching Ethan and Avery participate in various concerts, plays, baseball, and football games.
A celebration of her life will be held in the Marie Antoinette Ballroom of the Davenport Hotel in Spokane, WA on Wednesday, October 15th from 1:30 PM until 5:00 PM.
Our intention is to celebrate her life while sharing memories and laughs with her friends and family.
To that end, please wear something comfortable and bright, no black necessary.
The family requests that in lieu of any flowers, donations in her memory be made to the St. Mary's Food Bank in Phoenix, AZ.
We would also like to acknowledge the wonderful care and support of many loyal caregivers, countless friends, and Hospice of the Valley in Phoenix, AZ.
Local journalism is essential.
Give directly to The Spokesman-Review's Northwest Passages community forums series -- which helps to offset the costs of several reporter and editor positions at the newspaper -- by using the easy options below. Gifts processed in this system are not tax deductible, but are predominately used to help meet the local financial requirements needed to receive national matching-grant funds.
Subscribe to the Coronavirus newsletter
Get the day's latest Coronavirus news delivered to your inbox by subscribing to our newsletter.
---