A&E > Food
Dinner together: Seasonal veggies elevate enchiladas
Butternut squash, black beans give traditional dish a healthy upgrade
Wed., Oct. 8, 2014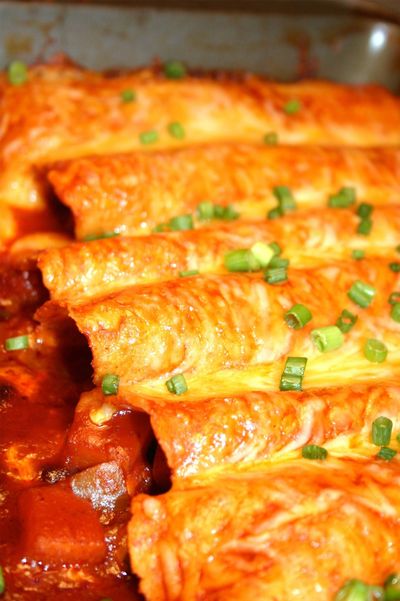 Combine the familiar flavors of enchiladas with seasonal vegetables for a delicious budget fall meal.
I liked this vegetarian version of classic enchiladas which features cubed butternut squash and black beans instead of a heavy meat and cheese filling. The recipe caught my eye while I was lurking around skinnytaste.com to try to find out when author Gina Homolka's new cookbook should be hitting shelves.
Homolka develops healthy, family-friendly recipes for her blog. She is a New York mother, photographer and author who has been blogging about her lightened recipes for the past six years. Her first cookbook, "The Skinnytaste Cookbook: Light on Calories, Big on Flavor," will be on bookstore shelves this month.
Her recipes are easy and don't rely on specialty ingredients. Plus, she shares great ideas for how busy families can still make home-cooked meals if they are crushed for time. (Hint: Buy a slow cooker).
These Butternut Squash and Black Bean Enchiladas filled the kitchen with the smell of simmering enchilada sauce and chilies. Be sure to cut the squash into a 1/2-inch dice so it can cook thoroughly on the stove.
Don't be afraid to substitute corn tortillas (or flour, if you prefer) for the low-carb tortillas in the recipe. Spice it up with more jalapenos if you like heat. Or, leave them out if you or your dinner guests are chili shy.
The result is a satisfying take on enchiladas, with the benefit of extra fiber and antioxidants from the squash.
Butternut Squash and Black Bean Enchiladas
From Skinnytaste.com
1 cup red enchilada sauce
1 teaspoon olive oil
1 small onion, diced
3 cloves garlic, minced
1 jalapeno, seeded and diced
2 1/2 cups peeled butternut squash, cut
1/2-inch-dice
10-ounce can diced tomatoes with green chilies
1 1/2 cups reduced-sodium canned black beans, rinsed and drained
1/4 cup water
1/4 cup cilantro
1 teaspoon cumin
1/2 teaspoon chili powder
Salt and pepper, to taste
8 medium low-carb whole wheat flour tortillas (I used La Tortilla Factory)
1 cup reduced-fat shredded Mexican cheese
2 tablespoons chopped scallions, for garnish
Reduced-fat sour cream, for serving (optional)
Preheat the oven to 400 degrees. Place 1/4 cup enchilada sauce on the bottom of a large baking dish. Heat olive oil over medium-high heat in large skillet. Add onions, garlic and jalapeno and cook 2 to 3 minutes until onions become translucent and garlic is fragrant. Add cubed squash, tomatoes, black beans, water, cilantro, cumin and chili powder and season with salt and pepper to taste. Cover and cook over medium-low heat, stirring occasionally, until the squash is tender, about 30 to 35 minutes.
Place about a generous 1/3 cup filling in the center of each tortilla and roll, place on the baking dish seam side down. Repeat with the remaining filling. Top with remaining enchilada sauce and cheese and bake, covered with foil until hot and the cheese is melted, about 10 minutes. Top with scallions and eat with sour cream if desired.
Yield: 8 servings
Local journalism is essential.
Give directly to The Spokesman-Review's Northwest Passages community forums series -- which helps to offset the costs of several reporter and editor positions at the newspaper -- by using the easy options below. Gifts processed in this system are not tax deductible, but are predominately used to help meet the local financial requirements needed to receive national matching-grant funds.
Subscribe to the Spokane7 email newsletter
Get the day's top entertainment headlines delivered to your inbox every morning.
---