Sports
Cougars receiver Vince Mayle has made tremendous progress
Thu., Oct. 9, 2014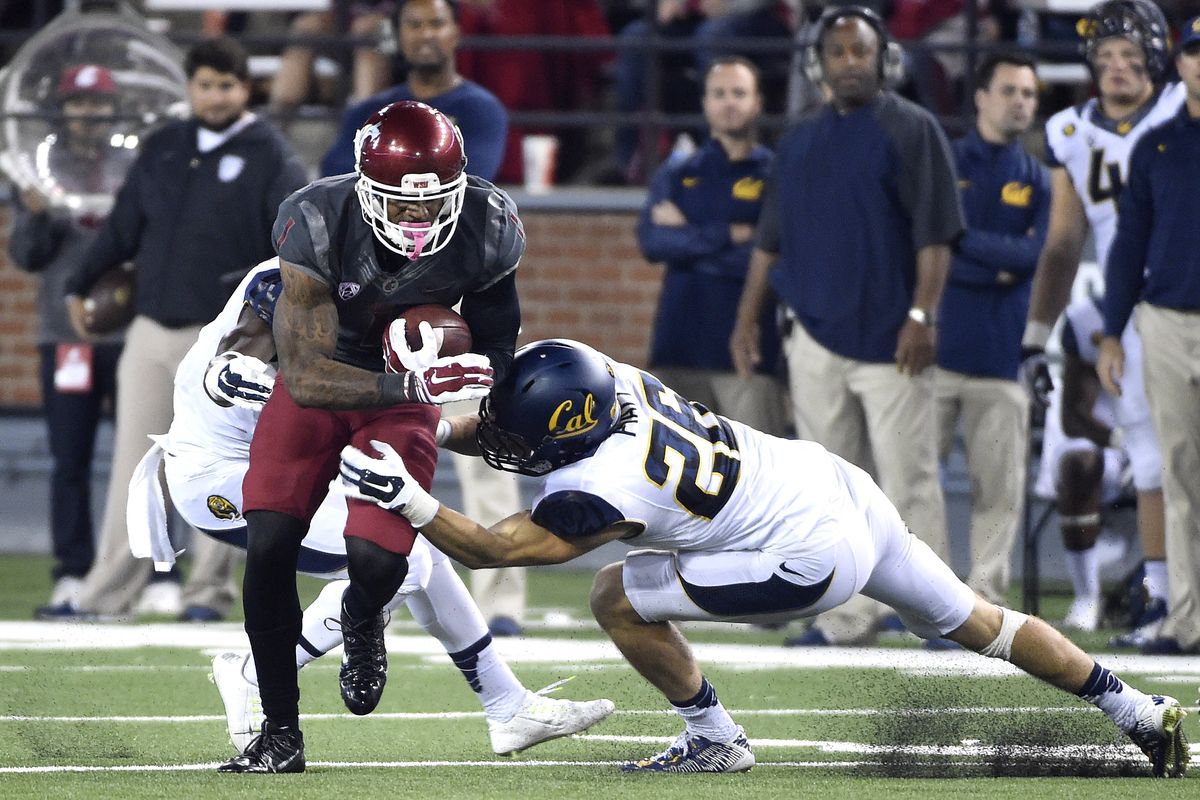 Washington State's Vince Mayle, recently added to the Biletnikoff Award watch list, ranks sixth in the nation with 117 receiving yards per game. (Tyler Tjomsland)
PULLMAN – Many young athletes dream of playing professional sports while growing up. Practically none of them pass the athletic litmus test to have a shot.
They pick up a ball or a bat or a pair of cleats at an early age and put in just as much time, grind just as hard, want to succeed just as badly as the one in 1,000 who actually makes it.
But before work ethic and focus come body composition, size and fast-twitch muscle fibers. It turns out Vince Mayle had the genetic lottery ticket to someday be a dominant athlete. It was the other stuff that's come slowly, but he's changed so much in the past three years he's barely recognizable.
For starters, he was focused on the wrong sport. Mayle said that he was inseparable from a basketball while growing up. He had a respectable community college career, averaging eight points a game and winning a dunk contest.
By Mayle's own admission he "wasn't really into school," so there was a lot of learning to be done in community college. For one, his friends were changing, and he needed to keep himself busy with school, work and sports.
"I got done with high school and I wasn't doing what I thought I would be doing at the time," Mayle said.
Additionally, he realized that he wanted to go to a four-year university and even his basketball coach told him that football was his best chance. So after taking a year off to help care for his mother, Mayle enrolled at Sierra College and set about learning to play wide receiver.
"I just didn't want to be another person just roaming around my home city saying that I could have done this and could have done that," Mayle said.
With less football experience than a veteran Pop Warner player, Mayle led all California colleges with 16 touchdowns on his way to a scholarship offer from Washington State.
The next year he stepped on campus as a 6-foot-3, 240-pound receiver.
"I mean, he was built like a Saturday morning cartoon character – he was all chiseled up," coach Mike Leach said. "He's like one of those figurines your mom bought you as a child. He didn't have a monster face, but it looked like Vince."
The monster still had to learn how to use his strength after years of playing a sport in which he would draw a foul for the same plays his coaches were now encouraging. He was one of the biggest receivers in college football, but was still trying to make finesse plays against defenders he could simply bowl over.
The eureka moment for Mayle came last season when a California defensive back came at full speed and tried to level the receiver as he turned around following a completion. The defender simply bounced off the much bigger Mayle, who then outran another for a 72-yard touchdown, his second score in WSU's 44-22 win.
"I realized that nobody wants to hit me," Mayle said of the play.
Mayle's changed a lot since his basketball playing days. He lost 20 pounds after last season and is a faster, more fluid athlete who is still bigger than the vast majority of defenders he'll face.
Last year he was still getting acquainted with his position and learning what his natural abilities would allow him to do. Through six games this season, he ranks sixth in the country with 117 receiving yards per game and he was recently added to the watch list for the Biletnikoff Award, which is granted to college football's best receiver.
"When he first got here he could (only) run the slant and he could run the vertical, but he'd always turn out for the vertical so the ball would be exposed," Leach said. "Now he's one of the more refined receivers in the conference."
Rob Rang, an NFL draft analyst for CBS Sports, said Mayle will need to continue to improve to be drafted this spring. He also believes that the receiver's best chance to stick with an NFL team may involve a switch to a position such as fullback, H-back or tight end.
Local journalism is essential.
Give directly to The Spokesman-Review's Northwest Passages community forums series -- which helps to offset the costs of several reporter and editor positions at the newspaper -- by using the easy options below. Gifts processed in this system are not tax deductible, but are predominately used to help meet the local financial requirements needed to receive national matching-grant funds.
Subscribe to the sports newsletter
Get the day's top sports headlines and breaking news delivered to your inbox by subscribing here.
---