A&E > Entertainment
A clean path from keg to glass
Beer industry tackles problem of dirty taps, lines
Fri., Oct. 10, 2014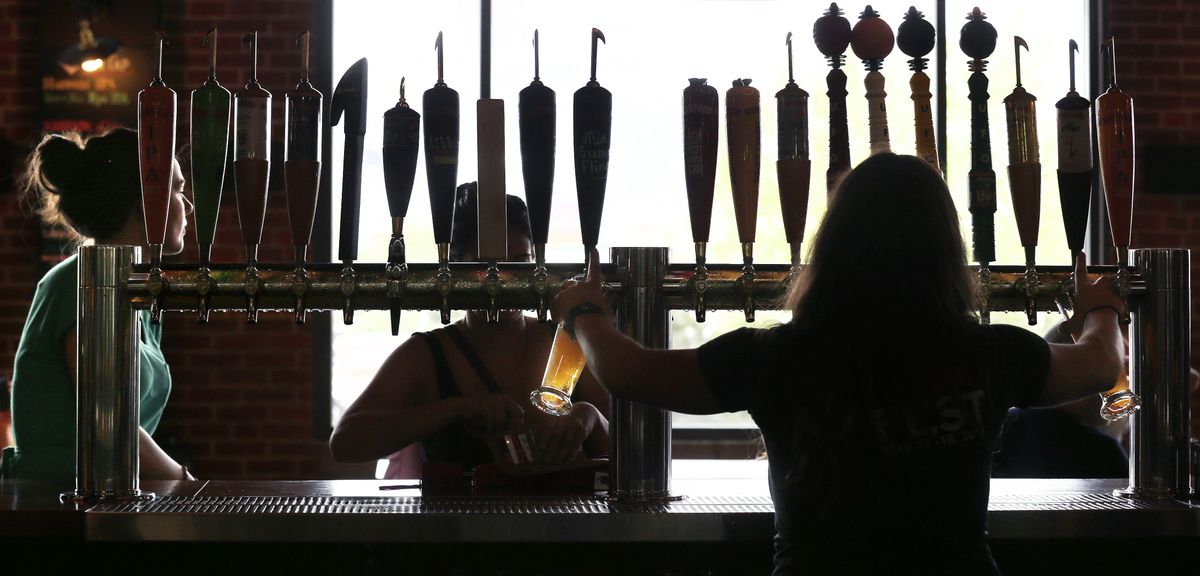 The beer industry is hoping to tackle the growing problem of dirty beer lines and tap faucets. (Associated Press)
That beer in your glass is only as good as the line that carries it from the keg.
Draft system cleanliness is the beer world's dirty little secret. Across America, bars and restaurants are pouring through gunked-up lines and tap faucets that can make the best beers taste like the worst swill.
"We've got people who have never cleaned," said Tim Steinhilber of Oxarc, one of a handful of local businesses that maintain draft systems.
When they do, he said, "The difference in the quality of the product is mind-boggling. But they don't know what they should be doing. They've got nothing to compare it to."
The beer industry is trying to change that. Steinhilber was among the 40 brewers, retailers, distributors and cleaners who attended a Washington Beer Guild workshop on the subject last week at River City Brewing.
"We're really trying to raise the game for everybody out there," said Dave Glor, western field quality manager for New Belgium Brewing, who conducted the session.
It's not just a craft beer thing, he added; the big national brewers are on board as well. "That's the only piece where there's total collaboration," Glor said.
There are two main issues when it comes to contamination. One is diacetyl, typically caused by dirty lines, which can contribute butterscotch flavors and a slick, slippery mouthfeel. The other is acetic acid, commonly a result of contaminated tap faucets, which turns beer sour and vinegary.
Properly cleaning lines every two weeks is enough to keep things under control, Glor said. But that's still far from the reality.
"Until a couple of years ago, I was thrilled if I could get somebody to clean their lines once a month, much less twice a month," Steinhilber said. "If they're doing it every four months now, and they think that's OK, the goal then is to get them to once a month."
In Idaho, beer distributors can pay to have draft lines cleaned at their accounts. If there's a problem with a bar or restaurant there, "I can say something to someone (at the distributor) and get it fixed," said Ely Johnson, area sales manager (aka "beer ranger") for New Belgium.
But in Washington, and 12 other states, that's considered an improper benefit to retailers and isn't allowed.
"Here, I have to hope they take my word for it," Johnson said – which doesn't always happen, he added: "There's definitely accounts that for me, as a salesperson, I would prefer they not sell our beer."
While business owners may think frequent cleaning is too expensive, Glor said, studies show that sales actually increase when lines are given the proper care.
With efforts like the Brewer's Guild workshop, which is being repeated across the state, "We're making headway," said Steinhilber. "We've got some ammunition now to go out and educate people."
Consumers have a role to play, too. They can politely ask their favorite bars how often lines are cleaned, Glor said, and shouldn't be afraid to send back a pint that doesn't taste right.
"Everybody who puts money down for a good beer deserves what they're expecting," he said.
Another at-bat
The Inland NW Craft Beer Festival will return to Avista Stadium in 2015 after almost breaking even for the first time.
The event Sept. 26-27 had a record attendance of 2,784 at its new location after four years in Riverfront Park. Cool, wet weather dampened the crowd to around 2,100 last year, resulting in a loss of more than $10,000 for the sponsoring Washington Beer Commission.
This year, the weather cooperated, the parking was free – the biggest complaint about being downtown – and the baseball atmosphere added a special touch.
"People loved it and the breweries loved it," said Eric Radovich, the commission's executive director. "We're going to keep on working toward building a great event."
This year's attendees knocked back 25,562 5-ounce beer samples from 32 breweries. No-Li Brewhouse led the way with the most pours, followed by River City, Fremont, Twelve String and Iron Goat.
Freshly tapped
• The big, rich 10° Belgian abbey-style quadruple (9.8 percent alcohol by volume, 45 International Bitterness Units) has returned for the season at Selkirk Abbey.
• Another Belgian-style seasonal, Ramblin' Road's Lavender Tripel (9, 12), is a smooth, strong golden ale made with lavender from Green Bluff.
• Big Barn is using fresh caramelized pumpkin from its Green Bluff farm in its Golden Pumpkin Ale (6.6, 20), with subtle spice and vanilla accents.
• The Steam Plant is pouring both its popular seasonal Pumpkin Ale (4.5, 7), light and mildly spicy, and a crisp, malty Oktoberfest lager (5.6, 13).
• The Connie Mack's Reserve at Waddell's (8.5, 80) is big and boozy from oak chips soaked in Maker's Mark.
• River City and Waddell's collaborated on an Easy Green Fresh Hop Pale (6.2, 70), with Simcoe and Cascade hops balanced by plenty of Munich malt, and another version made with all Equinox.
• Iron Goat also has a pair of fresh hops: the annual community Spo-Hop (5.8, 60), made with a variety of homegrown hops contributed by customers, and a more aggressive Simcoe Citra (6.5, 70).
Honor roll
Congrats to Kootenai River Brewing in Bonners Ferry, which took a bronze medal for its McGreagor Scottish Ale last weekend at the Great American Beer Festival in Denver.
The McGreagor will be pouring at a pair of upcoming Spokane events:
• The National Multiple Sclerosis Society's Oktobrewfest, Oct. 18 at the Spokane County Fair & Expo Center. Admission is $15 in advance or $20 at the door, which includes four beer samples and a commemorative mug; call (509) 742-5173.
• The 35th brewer's dinner at Hills' Restaurant and Lounge on Oct. 26, featuring four Kootenai River beers paired with accompanying courses. Reservations are $49 (includes tax and tip); call (509) 747-3946.
Save the date
• The Lantern Tap House's Freshtival, featuring more than 20 fresh hop beers from around the region, continues today and Saturday.
• Republic Brewing's Oktoberfest today and Saturday offers plenty of German-style beer and food along with live music.
• The Oktoberfest on Saturday at Zythum Brewing in Fairfield will include live music, Toby's BBQ Truck and the release of the Bellatore Belgian Dubbel.
• Get some exercise along with your beer at the Running Shoes & Micro Brews fun run, Oct. 18 at Kiwanis Park in Post Falls. Cost is $25, which includes two drink tickets; call (208) 733-0539.
Send beer news, comments and questions to senior correspondent Rick Bonino at boninobeer@comcast.net.
Local journalism is essential.
Give directly to The Spokesman-Review's Northwest Passages community forums series -- which helps to offset the costs of several reporter and editor positions at the newspaper -- by using the easy options below. Gifts processed in this system are not tax deductible, but are predominately used to help meet the local financial requirements needed to receive national matching-grant funds.
Subscribe to the Spokane7 email newsletter
Get the day's top entertainment headlines delivered to your inbox every morning.
---