Sports
Alex Douglas aces in University's GSL volleyball win
Fri., Oct. 10, 2014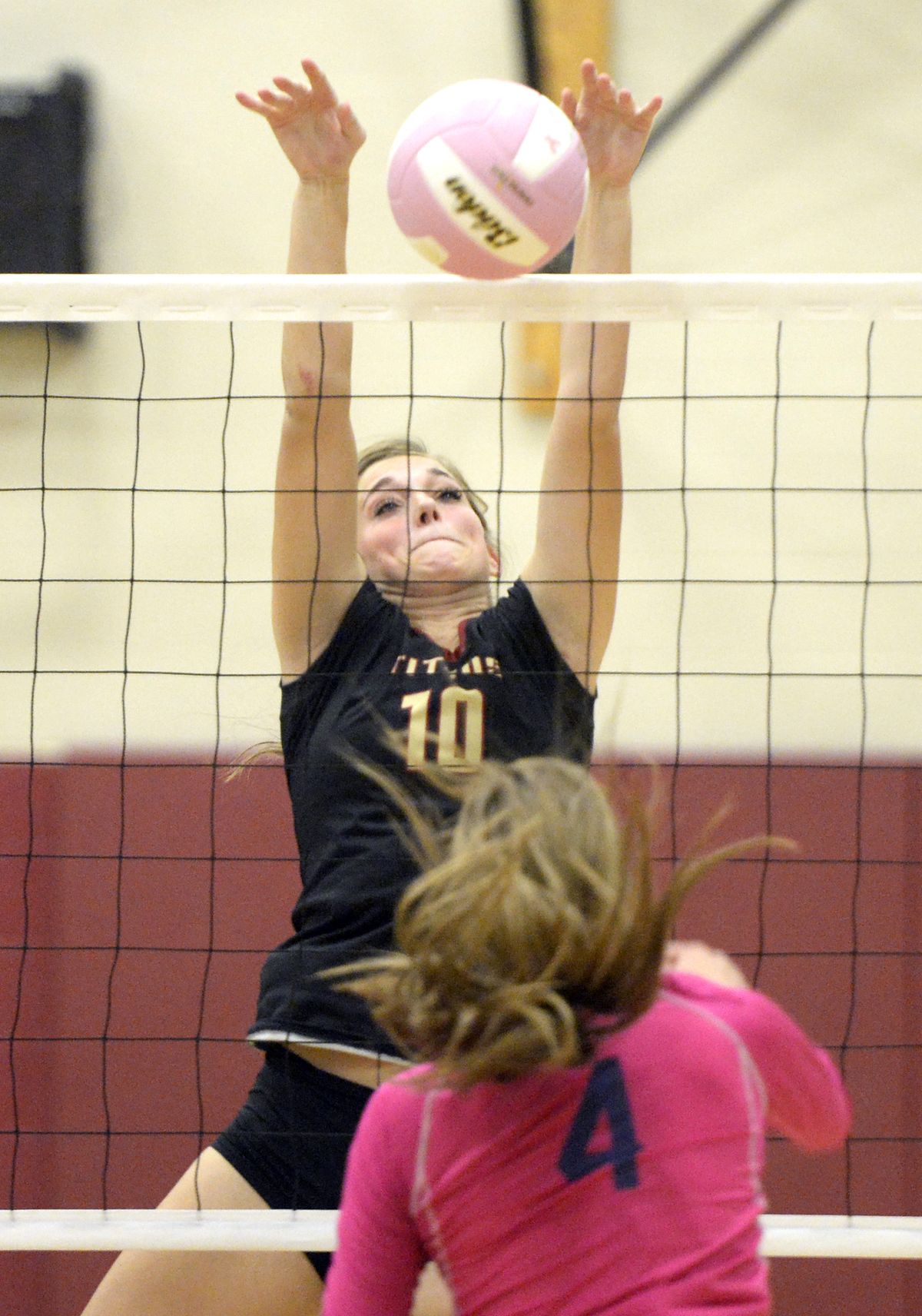 Titans' Brooklynn Tacke blocks shot by Gonzaga Prep's Sophie West (4). (Jesse Tinsley)
Gonzaga Prep and University were dead-even Thursday night when Alex Douglas went to work.
The 6-foot senior setter with a devastating left-handed serve had four of her match-high nine aces during a 10-0 third-game serving run as the host Titans broke away for a 19-25, 25-17, 25-16, 25-23 Greater Spokane League volleyball win over G-Prep's skyscrapers.
U-Hi and G-Prep were tied at one win apiece and 3-all in the third game when Douglas had a kill and rotated to the back row to start her serving streak. Douglas said she also had double-digit serving streaks in two GSL matches last seaason.
"The spin on the ball goes different directions every time, so that helps a lot," said Douglas, who also tied senior Sydney Schlect with a team-high nine kills and combined with senior setter Sarah Carpenter for 34 assists.
"All match we struggled with our passing, just in being inconsistent, and then I think after the first game we got a little more aggressive as well on our serving," Titans coach Mike Summers said.
The victory allowed U-Hi (20-2 overall) to remain tied for first place in the league with Lewis and Clark and Central Valley. U-Hi, ranked sixth among 4A schools in this week's state coaches' poll, travels to LC on Thursday.
G-Prep dropped to 3-1, tied for fourth with Mead. Those two will meet Tuesday at Mead.
The Bullpups, who feature 6-4 freshman Patience O'Neal, 6-2 sisters Sophie and Maddie West, and 6-1 junior Maria Adams, won the first game on the strength of three 4-0 runs and three early kills by Sophie West.
G-Prep led the second game 4-0 and 8-6 before senior Brooklynn Tacke and Douglas had key kills to ignite a rally. An 11-3 run put the Titans in charge at 22-13.
"What we lack in height we make up for in what we're doing at the net as far as being smart, and knowing where the hitters are coming from," Summers said. "We have a lot of girls who have good vertical abilities, and they're smart in what they have to work with."
Douglas sparked the third-game win with her serving and had another ace during a 4-0 fourth-game run for a 10-5 lead. The Bullpups fought back for a 10-all tie and the game was tied 11 times, the last at 23, when Tacke had a big kill.
"Our passing was not very good in the first set and after that we got our passing more in check," Douglas said. "The third set was where we passed the best, and the score showed that."
"We had our opportunities and we just kind of let it slip away," G-Prep coach Jill Benson said. … "It's called youth. Even though we have some big kids there, they're 15, 14 years old, so it's a learning curve."
• Also in the league, Kazlyn Roullier had 14 kills as Central Valley defeated host North Central 3-1 to tie for first place. Malia Conant had eight kills and three aces for the Indians (0-4). … Kristina Volz had eight kills and four blocks to lead Mead (3-1) to a 3-0 sweep over visiting Mt. Spokane (1-3). Hannah Absalonson added 13 assists and two aces for the Panthers. Arianna Newcomb had 13 kills and Karly Cantu 25 assists for the Wildcats. … Josie Walser totaled 47 assists as host Shadle Park (1-3) posted a 3-1 win over Ferris (0-4). Holly Hamblen added 18 kills and Emily Rector 23 digs for the Highlanders.
Local journalism is essential.
Give directly to The Spokesman-Review's Northwest Passages community forums series -- which helps to offset the costs of several reporter and editor positions at the newspaper -- by using the easy options below. Gifts processed in this system are not tax deductible, but are predominately used to help meet the local financial requirements needed to receive national matching-grant funds.
Subscribe to the sports newsletter
Get the day's top sports headlines and breaking news delivered to your inbox by subscribing here.
---