Sports
Eagles' Zackary Johnson found new home and position at EWU
Fri., Oct. 10, 2014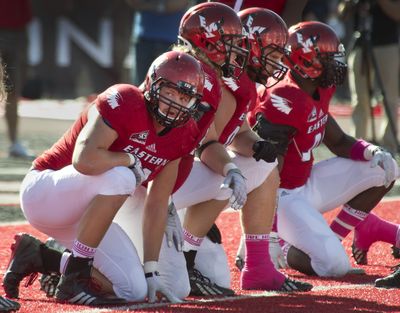 Zackary Johnson had a lot on his plate one fine morning in the spring of 2012.
After two years of toiling on the offensive line at Washington State, he still hadn't played a down, and the new coaching staff seemed inclined to keep it that way.
But Johnson had something else on his breakfast plate that morning at Tam's Place Restaurant in Pullman: a side of well-connected links. Through pure chance, the next booth was occupied by former WSU and Eastern Washington coach Paul Wulff, who advised Johnson to consider a transfer to Cheney.
"It was a pretty crazy story," said Johnson, who took a leap of faith and found himself at Eastern just two months later.
It got crazier. Struggling to gain weight, Johnson took an even bigger leap – across the line of scrimmage. Now he's a senior starter for the Eagles at defensive end, capping his career with the same kind of athleticism he'd shown as a high-schooler.
"It's been a blessing," Johnson said.
Choices and limits
At one point, Johnson was closer to playing college basketball. A 6-foot-4 small forward, he starred at Stanwood High, north of Everett, and played on a select team that traveled up and down the West Coast.
His athleticism was part genetic: His father was an offensive lineman and his sister played volleyball at UNLV.
Johnson, who carried a 3.8 grade-point average, drew interest from several Division III and NAIA schools for basketball even while he was winning All-Wesco honors at linebacker.
"I really didn't know where my career was heading," said Johnson, whose mind wasn't made up until his senior year, when he received an invitation to be a preferred walk-on at Washington State in the fall of 2010.
One year later, the Cougars changed their offensive schemes, lessening the need for a tight end. "But Coach Wulff liked my flexibility," recalled Johnson, who eventually moved all the way to center – and all the way to the top of the depth chart despite weighing only 265 pounds.
That is, until Wulff and his staff were fired. With the arrival of Mike Leach, "everyone was back at zero," said Johnson, who said he enjoyed a strong spring and started at center in the WSU spring game.
Not long after, Johnson got the message that he would soon be displaced by new recruits, including several junior-college transfers.
Now it was Johnson's turn to transfer. "You want to see that field, and that's why you play football," Johnson said.
A new start
Arriving in Cheney just in time for spring workouts, Johnson felt "very welcomed by everyone in a strong family atmosphere." Good thing, because he soon had to make another weighty decision.
Johnson had dropped another 10 pounds since the move from Pullman, and struggled to gain it back.
"Maybe my body just can't carry that much weight," said Johnson, who met with head coach Beau Baldwin, offensive line coach Aaron Best and defensive line coach Ryan Sawyer before taking the leap.
"They were on board right away, and Coach Sawyer welcomed me aboard," said Johnson, who finally saw the field in the fall of 2012; he played in four games and earned a letter.
Last year he played in all 15 games, including a start at North Dakota. At 245 pounds, Johnson has found a home as a field end, usually playing on the strong side and trying to make an impact on running plays while buck end Samson Ebukam is a bigger factor in the pass rush.
The move wasn't seamless, but Sawyer is impressed.
"There's definitely a transition period, a different mentality," Sawyer said. "But the game has slowed down for him, and he's shown consistent improvement."
Working on a defensive line that rotates as many as 10 players a game, Johnson has 15 tackles and a sack.
He has just a handful of games left, but the future is bright. Married for seven months, his wife, Megan, is a schoolteacher he met at Eastern. Johnson is on schedule to graduate with a degree in computer information systems.
"Hopefully, there will be some big opportunities out there," said Johnson, who so far has made the most of them.
Local journalism is essential.
Give directly to The Spokesman-Review's Northwest Passages community forums series -- which helps to offset the costs of several reporter and editor positions at the newspaper -- by using the easy options below. Gifts processed in this system are not tax deductible, but are predominately used to help meet the local financial requirements needed to receive national matching-grant funds.
Subscribe to the sports newsletter
Get the day's top sports headlines and breaking news delivered to your inbox by subscribing here.
---