Sports
No. 13 Georgia suspends RB Todd Gurley indefinitely
Fri., Oct. 10, 2014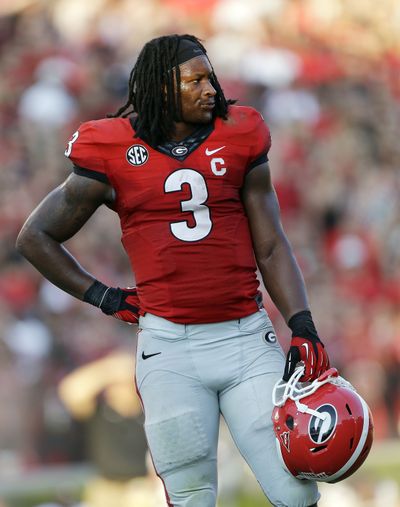 ATHENS, Ga. – Georgia star tailback Todd Gurley was suspended indefinitely on Thursday while the school investigates an alleged violation of NCAA rules.
The stunning announcement came two days before the No. 13 Bulldogs (4-1, 2-1 Southeastern Conference) face No. 23 Missouri (4-1, 1-0) in a crucial Eastern Division game, a huge blow to both the team and Gurley's Heisman Trophy hopes.
Georgia officials did not reveal the alleged violation. SI.com, citing an anonymous source, reported that the school was investigating whether Gurley was paid $400 to sign 80 pieces of memorabilia on the Georgia campus this past spring.
The NCAA requires schools to declare players ineligible if they discover possible rules violations. They can apply for the player's reinstatement after the investigation is completed, which happened in the past with stars such as Cam Newton and Johnny Manziel.
"I'm obviously very disappointed," coach Mark Richt said in a statement. "The important thing for our team is to turn all our attention toward preparation for Missouri."
Gurley leads the Bulldogs with 773 yards rushing and eight touchdowns, averaging 8.2 yards per carry. In addition, he has 11 receptions and a 100-yard kickoff return for a TD.
The junior established himself as a leading Heisman contender with several signature games and moments, including a school-record 293 all-purpose yards in a season-opening victory over Clemson. There was also a hurdler-like leap over a Tennessee defender to pick up an extra 10 yards – a play that was shown repeatedly on national highlight shows. Last week, he surprised Vanderbilt by completing a 50-yard pass – Georgia's longest throw this season.
Freshman Nick Chubb, who ranks second on the team with 234 yards rushing, will likely step in to start against Missouri.
Local journalism is essential.
Give directly to The Spokesman-Review's Northwest Passages community forums series -- which helps to offset the costs of several reporter and editor positions at the newspaper -- by using the easy options below. Gifts processed in this system are not tax deductible, but are predominately used to help meet the local financial requirements needed to receive national matching-grant funds.
Subscribe to the sports newsletter
Get the day's top sports headlines and breaking news delivered to your inbox by subscribing here.
---