News > Obituaries
Obituary: Fackenthall, Allan H.
Age 97
Fri., Oct. 10, 2014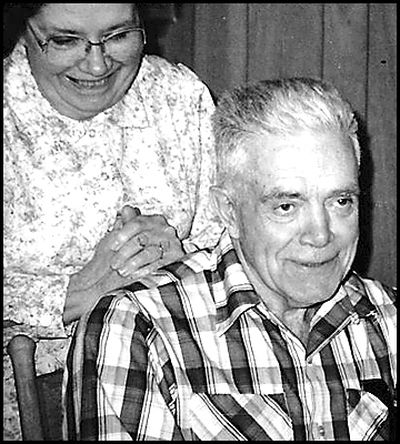 FACKENTHALL, Allan H. (Age 97) Long time Deer Park resident and business owner Allan Fackenthall passed away September 17, 2014 surrounded by family.
Born February 16, 1917 at Nine Mile Falls, Allan was the seventh of eight children born to John and Hilda Fackenthall.
Allan married Frances DeVoe in 1937.
He was a veteran of the 116th Washington Air National Guard Observation Squadron in the 1930's and the Army Air Corps in World War II.
For 56 years Allan and Frances shared raising family, owning and operating OK Rubber Welders Tire Store and Flower Haven Florist - Greenhouse.
This year Allan celebrated 80 years membership in the Washington State Grange.
He was a charter member of the Nine Mile Falls Grange and current member of the Garden Spot Grange.
He served on the Deer Park School Board, was a member of Kiwanis Club, a Boy Scout Leader and active member of St. Mary's Presentation Parish Council.
He was also a Master Gardener and a member of the Clayton-Deer Park Historical Society.
Allan was preceded in death by his wife Frances.
He is survived by his children Thomas Fackenthall (Gina Hamilton), Dick Fackenthall (Starr Tavenner), Mallene Herzog (Johannes), Patricia Annis (Larry) and Terese Schrom (Robert).
Also surviving are 14 grandchildren, 21 great-grandchildren and one great-great-grandchild and one sister, Leoti Harke of Columbia Falls, MT.
plus numerous nieces, nephews and extended families.
The Mass of Christian Burial will be Saturday, October 11, 2014 at 10:00 am at St. Mary's Presentation Catholic Church, Deer Park, WA.
Interment will be at Holy Redeemer Cemetery in Deer Park.
In lieu of flowers, memorial contributions may be made to St. Mary's Presentation Catholic Church or Jens-Kelly Scholarship Fund c/o Betty Reed, 553 D. Aladdin Road., Colville, WA.
99114-9179 or charity of choice.
Local journalism is essential.
Give directly to The Spokesman-Review's Northwest Passages community forums series -- which helps to offset the costs of several reporter and editor positions at the newspaper -- by using the easy options below. Gifts processed in this system are not tax deductible, but are predominately used to help meet the local financial requirements needed to receive national matching-grant funds.
Subscribe now to get breaking news alerts in your email inbox
Get breaking news delivered to your inbox as it happens.
---