A&E > Entertainment
Pianist Yang puts her all into music
Special guest joins symphony for shows with Spanish flair
Fri., Oct. 10, 2014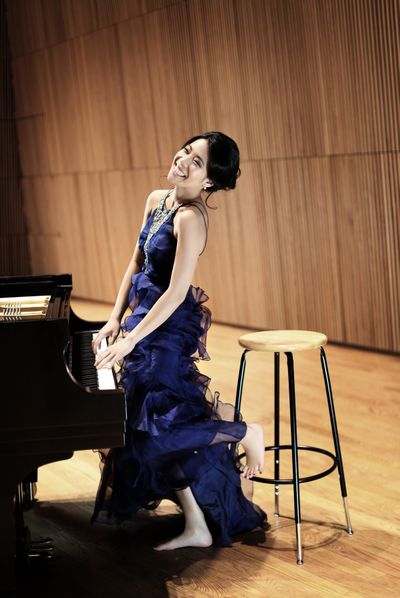 Joyce Yang isn't yet 30 years old, and already the South Korean-born pianist is on her way to becoming one of the most famous and decorated classical musicians in the world. At 19, she won the silver medal at the Van Cliburn International Piano Competition, and she received Juilliard's prestigious Arthur Rubinstein Prize in 2010.
This weekend, Yang will perform two compositions – César Franck's Symphonic Variations and Manuel De Falla's "Nights in the Gardens of Spain" – with the Spokane Symphony as part of its Classics series. Yang, who lives in New York City, answered questions about how she learned to love music, her methods for interpreting a new composition and dealing with success at such a young age.
SR: How did you first become interested in playing music?
Yang: My aunt was my first piano teacher – I was her first student – and I owe my early years of musical training to her. She transformed the piano into my favorite toy; she made the learning process fun and painless. We often played games where the winner got to play the piano for five minutes at the end as the prize. Some call it reverse psychology; I call it sheer magic. Worked on me every time.
SR: What was it like to receive so much recognition and attention at such a relatively young age?
Yang: I started to enter small competitions early on and started winning this and that – and also losing this and that – and this process taught me that I better put my absolute best in what I do or else nobody would want to hear me play again. This thought frightened me – it still does – and it got me working hours a day to be the best that I can be. … I think somewhere in the process, I fell in love with the music that happens in the midst of all the hours of practicing. At one point, repetition for perfection pushes you into finding your point of view. The more you play something and think about something, the more personal it becomes, then you eventually fall in love with all the sounds you make.
SR: Do you think that the United States and South Korea appreciate or embrace classical music differently?
Yang: It's hard to comment on the difference in the level of appreciation between Asia and the U.S., but I do think there is a difference in early musical education between the two cultures. I think South Koreans think of musical education as passionately as the Americans think of sports. It is what all kids do when they reach a certain age. South Korean children go to elementary school, and they go straight to the music lessons. It's built into almost every child's life to learn to play an instrument.
SR: When you are working on or learning a new piece, what is your process for understanding and interpreting it?
Yang: Unless it is a newly commissioned piece, I try to listen to the existing recording of the piece … . I have to find that shade of emotion in my system, and I have to have the confidence that I will be able to find my voice in this music before I dive into it. Some people don't like to be influenced early on in their learning process by someone else's rendition. I don't mind this, because I strongly believe that at the end of the process, I will ultimately sound like myself. … After I choose the piece, I shred it apart and try to understand it. I try to work with smallest building blocks and slowly build it to one giant landscape – decide where to add a mountain, an ocean, a small village – and when the big picture is there, I shred it down again and start thinking in what ways my building blocks could transform themselves.
SR: Tell me about the pieces you will be performing with the symphony. Do you have a personal connection or a history with these pieces?
Yang: Both of these pieces require me to be a part of the orchestra rather than the soloist. I feel like I am an extension of the orchestra, and what they do versus what I do are very closely linked. I don't lead them and they don't lead me; we merely finish each other's sentences and build and release as one unit. Aside from this factor, these are quite contrasting in style and sound. Franck and De Falla definitely have their signature sounds and each explores different soundscapes. Franck takes you through a series of variations, different moods and colors interwoven by thematic unity – serious and melancholy. De Falla introduces sounds that you would hear only from a Spanish garden far, far away. Guitar strumming, Spanish dancing, whiffs of perfume and jewel-toned lights flash before my eyes. Both are tightly interwoven, beautiful works that transport me to a different place.
Local journalism is essential.
Give directly to The Spokesman-Review's Northwest Passages community forums series -- which helps to offset the costs of several reporter and editor positions at the newspaper -- by using the easy options below. Gifts processed in this system are not tax deductible, but are predominately used to help meet the local financial requirements needed to receive national matching-grant funds.
Subscribe to the Spokane7 email newsletter
Get the day's top entertainment headlines delivered to your inbox every morning.
---