A&E > Entertainment
These guys paint the town blue
Blue Man Group brings wordless musical variety act to INB stage
Fri., Oct. 10, 2014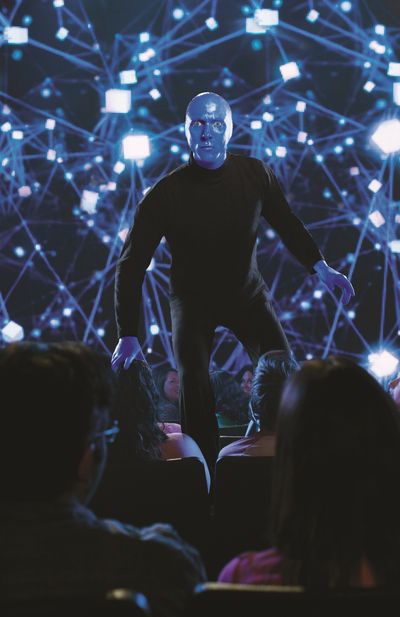 For 11 years, Mike Brown has become a Blue Man.
"I like to think I've been a Blue Man my entire life," Brown said in a recent telephone interview.
He caught a Blue Man show in 1997 and was hooked, he said. He knew it was something he wanted to work toward. He played drums in high school and studied theater at Old Dominion University, and when he landed with Blue Man, he said it was a "dream come true."
For 10 years, Brown was a member of the resident Blue Man Group in Boston. Lately, however, he's been on the road, bringing the Blue Man Group's blend of comedy, music and magic to stages around the country.
"I'm really enjoying the touring experience," he said. He likes seeing new places and meeting new people, and also being able to "take the show to smaller cities or places where they don't usually have Blue Man Group around."
For the uninitiated, a Blue Man show is part rock concert, part performance art piece. Each show features three Blue Men – blue heads, blue hands – decked out in simple black outfits and a backing band. Their most iconic routines involve playing paint-laden drums to cool visual effect.
Blue Man Group first formed in 1987 in New York. Now there are resident companies in Boston, Chicago and New York, as well as at the Monte Carlo Resort and Casino in Las Vegas, and at Universal Orlando Resort in Florida. The touring group heads across the U.S. and around the globe.
Brown, who hails from Virginia, said that in his mind, "the show is about having fun and welcoming that. The show is also about looking at the world around you and saying "I'm a part of it, too … How can I make it more fun or more beautiful or more artistic or more musical?"
He added, "It's inspiring, and what can be better than inspiring fun?"
For those who have seen the show on earlier tours, or have seen it in one of the resident cities, Brown said each show is different.
"We like to think that we're constantly evolving; we're trying to stay in tune with the culture and modern technology," he said. "The show has expanded technologically, not only in what we interact with on stage, but even down to the lighting design and audio design of the show. It's bigger, very clean and bright, and beautiful."
And while his Blue Man character never says a word, Brown describes him as a silly character.
"He's a little bit of a wild card. He would maybe just like to run out and give someone a hug and dance with them," Brown said. "I'm an instigator. My Blue Man loves to have fun."
Local journalism is essential.
Give directly to The Spokesman-Review's Northwest Passages community forums series -- which helps to offset the costs of several reporter and editor positions at the newspaper -- by using the easy options below. Gifts processed in this system are not tax deductible, but are predominately used to help meet the local financial requirements needed to receive national matching-grant funds.
Subscribe to the Spokane7 email newsletter
Get the day's top entertainment headlines delivered to your inbox every morning.
---