Sports
Meyer leaves Shock for San Jose
Sat., Oct. 11, 2014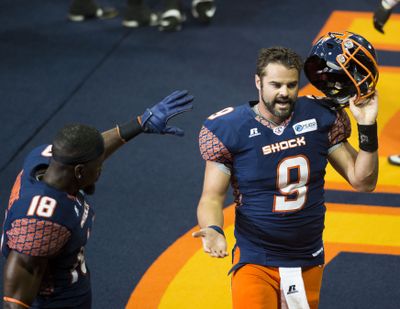 Some of quarterback Erik Meyer's best games have come against the San Jose SaberCats. That won't be possible next season.
Meyer, the former Eastern Washington Eagle who helped Spokane reach the Arena Football League playoffs the last two seasons, signed with San Jose on Friday.
Meyer, the league MVP in 2013, was Spokane's starting quarterback from 2011-14, but he missed nearly all of the 2012 season due to injury.
Meyer's move wasn't a surprise to Shock head coach Andy Olson.
"We kind of had the impression the entire time, even before free agency, that Erik was looking to pursue options elsewhere," Olson said. "We did everything within our power and within the rules to keep him here. At the end, we didn't have the willingness to do things that perhaps other teams were willing to do for him. In the end, that was his decision to make and we can't do anything but wish him the best."
Meyer was 3-0 in his career against San Jose before the SaberCats blasted Spokane 55-28 in the 2014 playoffs.
Spokane has two QBs on its roster and Olson indicated the team hopes to sign at least one veteran prior to training camp. West Virginia product Jarrett Brown was injured most of last season and didn't play in a regular-season contest. Joe Southwick, a former Boise State Bronco, also didn't appear in a game last season.
Meyer passed for 2,519 yards and 54 touchdowns and added a franchise-record 20 rushing scores.
"It's a big loss," Olson said. "Erik was a huge part of our success the last couple seasons."
Local journalism is essential.
Give directly to The Spokesman-Review's Northwest Passages community forums series -- which helps to offset the costs of several reporter and editor positions at the newspaper -- by using the easy options below. Gifts processed in this system are not tax deductible, but are predominately used to help meet the local financial requirements needed to receive national matching-grant funds.
Subscribe to the sports newsletter
Get the day's top sports headlines and breaking news delivered to your inbox by subscribing here.
---