A&E > Food
Celebrate with DIY pumpkin spice syrup
Wed., Oct. 15, 2014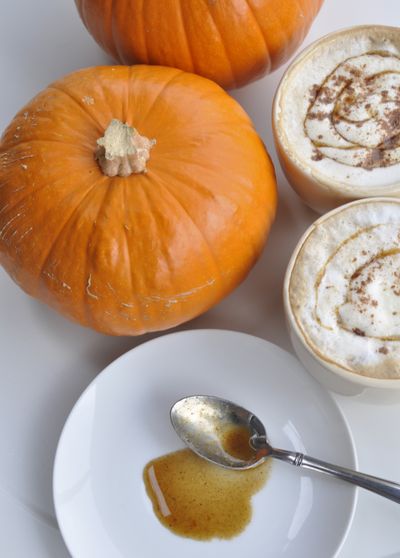 Pumpkin spice has become a symbol of autumn. Love it or hate it, it has staying power.
On Twitter, Starbucks's pumpkin spice latte – @TheRealPSL – has some 95,000 followers. This year, the company brought the beverage back for the season in August, a month before the official start of fall.
While warming spices are sprinkled on whipped cream atop the coffee drink, there's no actual pumpkin in the syrup used to flavor the pumpkin spice latte – unless, that is, you add it yourself.
Do-it-yourself pumpkin spice syrup isn't difficult to make, and most of the ingredients are pantry items most home cooks keep on hand year-round.
I experimented with a couple of store-bought blends as well as my own combination of spices – and even tried DIY pumpkin spice syrup without the pumpkin.
While I found the homemade pumpkin-free syrup more flavorful than the commercial kind, the same combination of spices with pumpkin puree offered the richest, creamiest, most velvety homemade taste of autumn.
I've been adding two or three teaspoons to my homemade morning lattes lately. And I'm hoping the four jars in my refrigerator will last through Christmas.
In the works: homemade pumpkin spice syrup with pantry staples and real pumpkin in the @spokesmanreview test kitchen
Homemade Pumpkin Spice Syrup
Adapted from themessybakerblog.com
This syrup isn't only for lattes. Use it to flavor whipped cream. Or, drizzle it on ice cream, pancakes, waffles, oatmeal or even a piece of pound cake, just before serving.
But be sure to strain the mixture while it's hot, and use a cheesecloth or ultra-thin tea towel in addition to a fine-mesh strainer. Coffee filters won't work.
If you skip the cheesecloth and only use a fine mesh strainer, ground spices will get through, making the syrup thick, viscous and dark brown. It will still taste good, but it won't have the consistency of simple syrup, nor the rich orange color of pumpkin.
1 1/2 cups water
1 cup brown sugar
1 cup granulated sugar
2 teaspoons ground cinnamon
1/2 teaspoon ground ginger
1 teaspoon ground cloves
1/2 teaspoon ground nutmeg
1/2 teaspoon dried orange peel
1/2 teaspoon ground cardamom
1½ tablespoons vanilla extract
1/4 to 1/2 cup pumpkin puree
In a medium saucepan, add water and both sugars. Simmer on medium-low heat until the sugar dissolves, about 4 minutes.
Turn down heat to low and whisk in spices and pumpkin. Simmer for 8 minutes, stirring occasionally. Do not allow the mixture to come to a boil.
Remove from heat and strain through a mesh strainer lined with cheesecloth or a very thin, clean tea towel.
Allow syrup to cool to room temperature before stirring in vanilla extract. Store in a jar or airtight container for up to three months in refrigerator.
Local journalism is essential.
Give directly to The Spokesman-Review's Northwest Passages community forums series -- which helps to offset the costs of several reporter and editor positions at the newspaper -- by using the easy options below. Gifts processed in this system are not tax deductible, but are predominately used to help meet the local financial requirements needed to receive national matching-grant funds.
Subscribe to the Spokane7 email newsletter
Get the day's top entertainment headlines delivered to your inbox every morning.
---