News > Features
Animator Jorge Gutierrez turns 'Day of the Dead' into 'Book of Life'
Thu., Oct. 16, 2014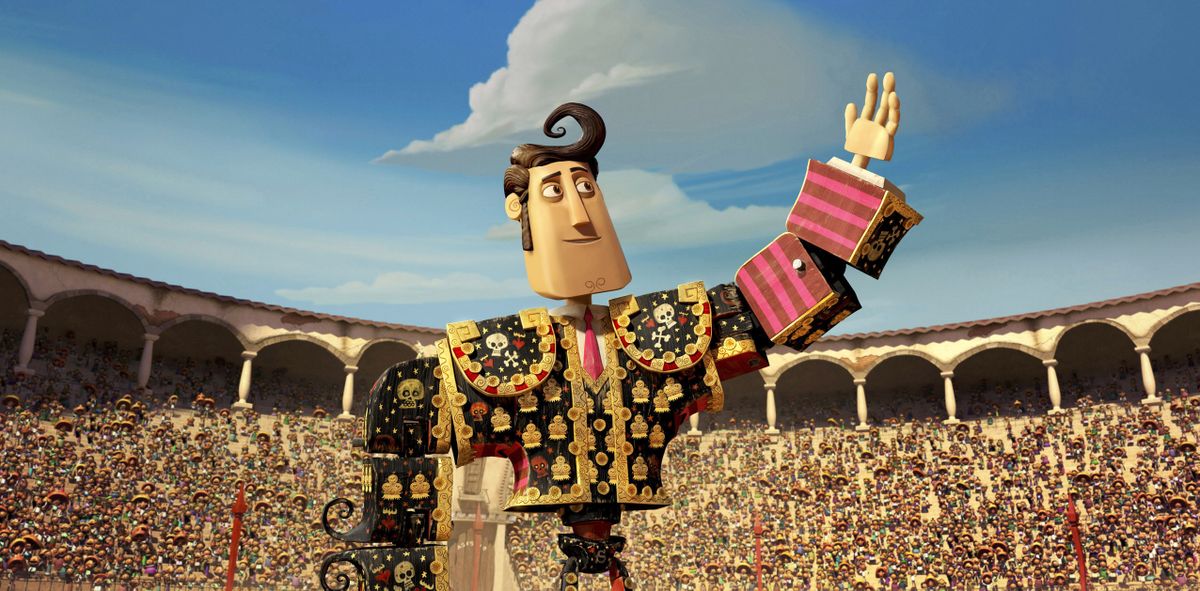 The character Manolo, voiced by Diego Luna, in a scene from "The Book of Life," which opens on Friday.
Face sweating, heart pounding, Jorge Gutierrez began to deliver the worst pitch of his career.
It was 2012, and the Mexico City-born animator had arrayed skulls, flowers and ornate drawings around the San Fernando Valley backyard of his idol, director Guillermo del Toro. His aim was to persuade del Toro to produce his first film, a movie centered on the Mexican Day of the Dead holiday.
As one of Hollywood's most bankable Mexican filmmakers and leading fantasists, del Toro had already passed on umpteen pitches on the same topic. Even so, he offered the young animator five minutes of his time.
"The moment my mouth opens, the gardeners next door start blowing their leaf blowers," said Gutierrez, who is best known as the co-creator of the Nickelodeon cartoon "El Tigre: The Adventures of Manny Rivera." "I'm yelling. I almost fall in the pool. … At the end, Guillermo goes, 'Jorge, that was the worst pitch I've ever heard.'
" 'But … I know your version of Mexico. I want to work with you.' "
The result of that partnership is the animated movie "The Book of Life," which opens Friday.
With a voice cast that includes Mexican actors Diego Luna and Kate del Castillo, a soundtrack containing mariachi versions of Radiohead and Biz Markie songs and a plot and characters as intricate as an Aztec textile, "The Book of Life" is one of the bolder and more authentic examples of a Hollywood studio reaching out to the growing audience of Latin moviegoers in the U.S. and Latin America.
Co-financed by Fox Animation and Dallas-based studio Reel FX from a script by Gutierrez and Doug Langdale, the multi-layered fantasy begins with a framing story about a group of schoolkids who visit a museum on the Day of the Dead, the Mexican holiday of remembrance that falls on Nov. 2. A tour guide voiced by Christina Applegate explains to the students that on this day "spirits pass between worlds and anything can happen."
Gutierrez, 39, has been trying to persuade skeptics about the idea of an animated Day of the Dead movie since he made it his master's thesis film at the California Institute of the Arts in Valencia 15 years ago.
The son of an architect father who didn't consider animation a "real art" and a guitar-playing mother, Gutierrez spent much of his youth on the border, living in Tijuana while attending high school in San Diego. He watched Japanese animation, black-and-white Popeye cartoons and Cantinflas movies.
"I had a foot in each country," Gutierrez said. "I never saw Mexicans or Latinos up on the screen, so I was just happy when we would show up. But then I would go, well, that's not what we are. I started questioning the portrayal of the culture. When I got older I said, 'I want to play with that. I want to make fun of how we're perceived. I want to turn that around.' "
One of Gutierrez's winks at his audience in "The Book of Life" happens when a goth-styled boy at the museum asks the docent in exasperation, "What is it with Mexicans and death?"
"I'd see these Mexican kids obsessed with the Cure and goth bands," Gutierrez said of growing up on the border. "That scene, it's me telling this kid, 'You're all obsessed with this goth stuff. Look at where you're from.' We couldn't be more gothic."
Gutierrez was accepted into the prestigious experimental animation program at Cal Arts and stayed there to get his master's, receiving financial aid from the Mexican government. After he graduated, he had a one-year work visa to stay in the U.S.
"If you don't get a studio to sponsor you, you go back," Gutierrez said. "When I would go to job fairs, other kids were looking for a job, I was looking to … not get deported. My motivation was a lot bigger."
He began doing character design on several TV shows before creating "El Tigre" with his wife, Sandra Equiha. The award-winning Nickelodeon show followed a 13-year-old superhero growing up in Mexico, and his adventures were modeled on Gutierrez and Equiha's.
Brad Booker, a friend and fellow animator working as a development executive at Reel FX, brought Gutierrez to the studio as it was beginning to branch out from creating visual effects and animation for other companies to producing its own features. (Reel FX's first feature, "Free Birds," hit theaters last year but started development after "The Book of Life.")
"Jorge pitched the entire film scene by scene over the course of 90 minutes," said Reel FX CEO Steve O'Brien. "He didn't have a note card or any kind of outline. It was clear to us that this gentleman had been with this idea for some time. We liked the fact that it was very unique and distinct from the historical look of CG (computer graphics) animation."
The match between a first-time director and a first-time studio carried the risk of the blind leading the blind, which is why Gutierrez and Reel FX hoped del Toro would come aboard.
"I'd been saying no to pictures with this theme for at least 15 years," del Toro said. "Every time I heard a pitch, they were coming completely from the outside in, saying, 'We have calculated this to attract this audience,' or they had a really ill-advised take on it. There was no sense of joy in the project. But when Jorge came in, the world and his passion for it and his personal connection to it were all completely evident."
Working outside the traditional bastions of CG animation in Hollywood allowed Gutierrez to retain creative control, he said.
"I had to go outside of L.A. to make something this personal," Gutierrez said. "When I met with other studios, they said they'd assign a co-director. 'You're gonna design the characters? Don't worry. We have a whole design department who can do that for you.' "
As Gutierrez got to work on his film, a potentially dream-killing piece of news dropped, however: Pixar Animation announced that "Toy Story 3" director Lee Unkrich was also working on a Day of the Dead movie. The film, which Pixar announced in 2012, does not yet have a release date.
Rather than feel defeated, Gutierrez seized on the news as validation.
"To have your heroes do a film on a subject you're doing, it was a huge, huge thing," Gutierrez said. "I felt like I had to send a muffin basket to those guys 'cause it in a way let people know, 'Hey, if this big studio is willing to do this, then you guys are on to something.' "
In contrast to the early skepticism that greeted Gutierrez's pitch in Hollywood, movie studios are now increasingly aware of the box-office power of Latino audiences in the U.S. and internationally. The box office in Latin America was up 78 percent last year over 2009, according to the Motion Picture Association of America.
"Now the marketing people keep telling me, 'The giant has awoken. The Latin audience is exploding,' " Gutierrez said.
Indeed, last week's premiere for "Book of Life" in Mexico City had to be expanded from five screens to 12 to accommodate demand.
"It was emotionally intense for me to go back to my hometown," Gutierrez said. "My father sat next to me and put his hand on my arm. … At the end of the film he said, 'This is the best conversation we've ever had.' "
Local journalism is essential.
Give directly to The Spokesman-Review's Northwest Passages community forums series -- which helps to offset the costs of several reporter and editor positions at the newspaper -- by using the easy options below. Gifts processed in this system are not tax deductible, but are predominately used to help meet the local financial requirements needed to receive national matching-grant funds.
Subscribe now to get breaking news alerts in your email inbox
Get breaking news delivered to your inbox as it happens.
---