Sports
Cooking your catch: A new spin on rod and reel cooking
Thu., Oct. 16, 2014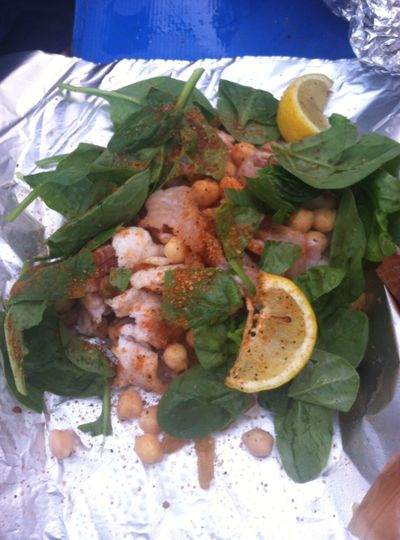 Downriver, along the western horizon, the sun lay a soft boil atop pine-hemmed mountains, a tangency that spoke the harsh truth: quitting time.
Creel count: zero. Lures and streamers lost to rocks and snags: I willfully lost track.
The North Fork of the Clearwater had dropped 3 to 4 feet since midsummer. It seemed at least a foot lower than its September average. Perhaps shallow channels were the reason for the smaller kokanee, which were now heading upstream for this year's spawn.
Two years ago we could see kokanee – flickering patches of ruby – from the road. An average 14 inches in length, they attacked anything we floated past their heads. This year, podded up in pools, they looked like the gold fish you win for your sweetheart at the fair – fish content to turn circles in a small patch of water and do nothing else besides wait to die.
Having reeled in nothing red – our main objective for the day – we headed back to camp for dinner.
In the dark the same caddisflies that floated the water's surface earlier fluttered about our table lamp. Fellow angler and friend Matt Furst picked one off and examined the colors of its belly. After dinner we sat by lamplight and tied flies to match.
While we had traveled over four hours for the run, we left the kokanee to their fate. Our new target was cutthroat.
The patter of rain atop our tent woke us at dawn, and we waded into the river a quarter-mile from camp. On our second or third cast our rods were bent over, thrashing with the attempted escapes of cutthroat.
From there on out, it seemed every other cast meant a fish on.
In less than an hour, between the three of us, we brought 10 fish to hand and added two 14-inch cutthroats to our possession. (Please note: While cutthroat are protected, requiring catch and release, in many rivers throughout our region, on the North Fork Clearwater River from the upper end of flat water of Dworshak Reservoir upstream, from the Saturday of Memorial Day weekend until November 30, the trout possession limit is two, no cutthroat under 14 inches. Barbless hooks required.)
We headed downriver, to deeper water and intermittent pools. Matt and I, fishing solely for cutthroat now, caught more, some over 14 inches. Amid the cutthroat, we reeled in and released a few bull trout and pike minnows.
We waited for our lunker. We wanted our second and last cutthroat of the day to be something epic.
Mine never came, but a couple hours later Matt came along with a 17-incher dangling from his thumb.
At camp, I filleted the fish and placed all fillets in a gallon bag of marinade to sit in the cooler for three hours. At dinner time, I set a large pan of vegetable oil to heat over a propane burner. I had two meals in mind for tonight's dinner: Seared marinated trout with my special red trout rub, and a simpler foil pack. My friend Gabe, a former Eagle Scout, taught me the secret of the campfire foil pack a couple years ago – a mash-up of vegetables and ground beef stuffed inside aluminum foil and tossed at the coals of the fire. I made a few tweaks to accommodate the trout.
The key to the foil pack, especially with this recipe, is to keep the ingredients that require the longest time to cook on the outside, closest to the foil. Therefore, when piling on your ingredients atop the foil, before wrapping, place the bacon, followed by the trout. Make certain the raisins, beans, and spinach are at the center, as they will burn when placed near the coals.
Bacon grease will sear the trout and everything else inside the foil once placed a couple inches from the coals. Rotate regularly, checking every half hour to determine when it's finished cooking. The trout should be flaky when done, while the bacon may more so resemble ham, not necessarily the crispy brown you're used to at home.
Next, I threw my remaining diced onions into the hot oil of my pan to both cut the initial heat and also infuse the oil with an onion flavor. I fished out the onions after a few minutes, grabbed my marinated trout, sprinkled a healthy amount of rub atop, then placed them facedown to sear in the pan.
Once I achieved a golden brown, I flipped the fish to allow them to finish cooking, again looking for a flaky texture. I squeezed a lemon wedge overtop when done and served it with the fish.
Variations of these recipes and methods can be performed at home. This marinade (while atrocious on its own before cooking) will work great with any trout or salmon, even Mahi Mahi.
The foil pack can be transformed into a spinach salad at home. Apply your favorite dressing (I recommend something of the Southwest variety) and enjoy.
Local journalism is essential.
Give directly to The Spokesman-Review's Northwest Passages community forums series -- which helps to offset the costs of several reporter and editor positions at the newspaper -- by using the easy options below. Gifts processed in this system are not tax deductible, but are predominately used to help meet the local financial requirements needed to receive national matching-grant funds.
Subscribe to the sports newsletter
Get the day's top sports headlines and breaking news delivered to your inbox by subscribing here.
---