Sports > Outdoors
Don't let hunting season keep you from enjoying fall hikes
Thu., Oct. 16, 2014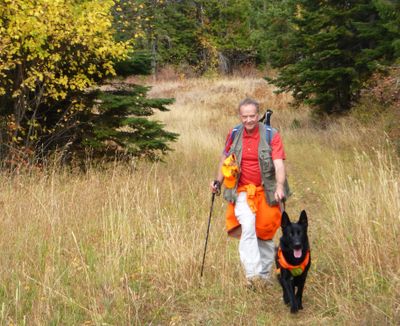 Do you shy away from hiking trails in the beautiful season of autumn because the hunting seasons are underway?
You're not the only one. Having written hiking guidebooks for this region as well as being a hunter, I often get tapped for advice from area backpackers.
Here's a query I received from area hiker Randy Gosline:
"I'm looking for some advice from a hunter. I hike and backpack a lot of miles during the spring and summer. Fall is probably the prettiest time of the year to hike with all the trees and foliage changing colors. Here in lies the problem: Hiking during hunting season scares the "Bajeepers" out of me.
"Even though I always wear bright colors and make lots of noise along the way I can't help but be very nervous about hiking this time of year.
"Do you have any advice for those of us who want to continue to enjoy hiking during hunting season?  I hate to put my backpack away when we are having beautiful fall weather to hike in."
My answer:
First, if you're genuinely afraid, you can hike in state and national parks and wildlife refuges where hunting is prohibited.
My best advice for you is to stay on trails and to continue what you're already doing: Wear bright colors, (avoid black, which looks too much like a bear) make noise  – and keep hiking!  
I've hiked or hunted virtually every week during the fall for decades and I've never had a problem.
Local journalism is essential.
Give directly to The Spokesman-Review's Northwest Passages community forums series -- which helps to offset the costs of several reporter and editor positions at the newspaper -- by using the easy options below. Gifts processed in this system are not tax deductible, but are predominately used to help meet the local financial requirements needed to receive national matching-grant funds.
Subscribe to the sports newsletter
Get the day's top sports headlines and breaking news delivered to your inbox by subscribing here.
---