Sports
EWU's Mario Brown steps up on and off the field
Thu., Oct. 16, 2014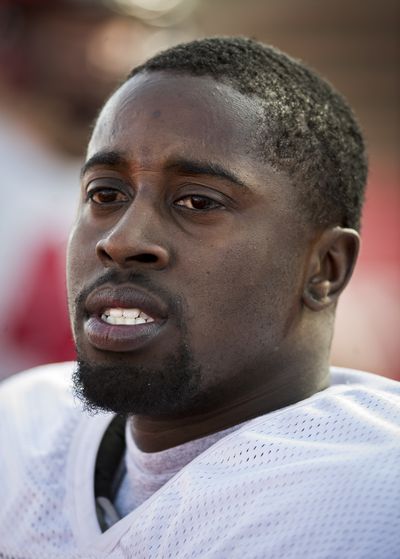 The game of football is slowing down for Eastern Washington running back Mario Brown. If only life would do the same. These days, Brown hugs a textbook in the morning, a football in the afternoon and his newborn son at night – and he wouldn't have it any other way. It's called taking care of business, and it's a point of pride for Brown, currently the Eagles' top rusher this season and the school's reigning Scholar-Athlete of the Month. So it was no surprise that on the day after son Peyton Brown was born on Sept. 23, Brown hustled back from the hospital to the practice field. "I only missed one practice – I was glad to be there for the birth, but I still had to handle business," Brown said. But if life is moving faster, Brown is appreciating it more. It wasn't always that way.
In the fast lane
Less than four years ago, a 19-year-old Brown found himself starting in the backfield in the FCS championship game, easily the biggest moment in Eastern's athletic history. He made several big plays, raised the trophy – and promptly got back to business. "At the time it was so surreal … but it still didn't hit me," said Brown, who at the time was a true freshman replacing injured star Taiwan Jones. "But as I look back now, I realize that I was part of something pretty big," Brown said. And as he looks around the Eastern lockerroom this year, Brown is the last link to that team – the only current Eagle to play for the title. "It was an amazing opportunity," said Brown, who could say the same thing about his career in Cheney. Despite rushing for 1,200 yards during his senior year at Bishop O'Dowd High School in Oakland, he got more recruiting attention for his skills as a cornerback. Arizona offered a full ride, "but I said to myself 'I'm a running back, and I want the ball in my hands,'" Brown said. Brown was already committed to play at nearby Sacramento State when he got a call in January 2010 from former EWU assistant Junior Adams. Once he looked past the snow on the ground, Brown saw the kind of family atmosphere that's attracted others to Beau Baldwin's program. The family drew closer when Brown's redshirt was burned, and closer still when Jones was injured during the Eagles' playoff drive. "I felt bad for Taiwan, but it was an amazing opportunity," said Brown, who rushed for a career-high 104 yards in a semifinal win over Villanova, then got his third career start in the title game against Delaware. As Eastern passed its way back from a 19-0 deficit, Brown was in the middle of it all. He had a crucial 35-yard reception on the Eagles' first scoring drive – "a spark that got things rolling," he recalled – and another on the game-winning march. Looking back on the landmark 20-19 win, Brown still shakes his head. "Heck, in high school I didn't even get past the second round of playoffs," he said.
A slight detour
After starting the first two games of 2011, Brown became part of the committee on what turned out to be the most pass-heavy team in Eastern history. Injuries to the offensive line were a big factor, but Brown too was hurting. Ultimately, a sports hernia the following spring forced him to redshirt in the middle of his collegiate career. Surprisingly, Brown calls it "one of the best choices I ever made." While his body healed, he moved ahead in the classroom. Now, with a communications degree already in hand, he's looking forward to graduate school if pro football doesn't work out. Back on the field in the fall of 2013, Brown found the Eagles deeper than ever at running back. UW transfter Demitrius Bronson, fellow junior Quincy Forte and newcomers Jabari Wilson and Jalen Moore all wanted a piece of the ball. "It's a friendly competition, but I don't think anybody thinks of themselves as a second-stringer," said Brown, who played sparingly early in the season but took the lead role in mid-season as injuries took their toll. By season's end he had 77 carries for 482 yards and five touchdowns, second behind Quincy Forte. The 5-foot-9, 185-pound Brown also offered a change of pace from Forte's outside-running style. He's a smaller back with a big-back mentality," Eastern running backs coach Kiel McDonald said.
Seeing the whole field
This year, the 22-year-old Brown has been the only constant in an ever-shifting backfield. He had just 24 carries in the first four games, but took over the lead duties when Forte suffered a shoulder injury on Sept. 20 at Montana State. He's gaining steam: 78 yards at UC Davis with his mother cheering from the stands, 126 against Idaho State and a career-best 134 last week at Southern Utah. Sophomore Jalen Moore, another longtime backup, added 133 yards as the Eagles worked hard to take the pressure off new quarterback Jordan West. "If you start thinking you're second-string, then you start playing like a second-stringer," says Brown, who's moved to the front of pack, statistically: 77 carries for 464 yards and four TDs. A bigger stat: Brown's 3.29 grade-point average, the product of time management and attention to detail. "It's easy to be a good player on the field, but being a student comes first. There's more than one way to handle life, and if it isn't football, then grad school here I come," Brown said. That attitude caught the attention of McDonald. "The excellence you have in your personal life is going to show in how in how you're executing on the field, and Mario is able to accomplish things that a lot of people won't be able to do," McDonald said. Even as he takes care of business, Brown is trying to appreciate the moment: the "awesome" day when his girfriend Vanessa gave birth to Peyton, his mother's appearance three days later for the game at Davis, and the September Scholar-Athlete award. "It's been a wonderful experience," Brown said.

Local journalism is essential.

Give directly to The Spokesman-Review's Northwest Passages community forums series -- which helps to offset the costs of several reporter and editor positions at the newspaper -- by using the easy options below. Gifts processed in this system are not tax deductible, but are predominately used to help meet the local financial requirements needed to receive national matching-grant funds.
Subscribe to the sports newsletter
Get the day's top sports headlines and breaking news delivered to your inbox by subscribing here.
---