Sports
Giants beat Cardinals 6-4, move 1 win from Series
Thu., Oct. 16, 2014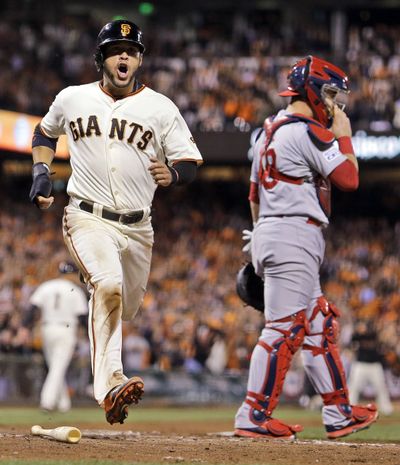 SAN FRANCISCO – Buster Posey and the Giants already know how to win in October – even without all this help from the St. Louis Cardinals.
Even without home runs, or even hits.
Posey drove in three runs and San Francisco took advantage of some clunky defense by first baseman Matt Adams, beating the Cardinals 6-4 on Wednesday night to move within one victory of the World Series.
Chasing a third title in five years, the Giants lead the best-of-seven N.L. Championship Series 3-1 after poor throws cost the Cardinals yet again.
October ace Madison Bumgarner can pitch San Francisco to another pennant tonight at home in Game 5. Struggling All-Star Adam Wainwright starts for St. Louis, now facing the same daunting deficit the Giants overcame to beat the Cardinals in the 2012 NLCS.
Wild Card Kansas City will host the NLCS winner in Game 1 of the World Series on Tuesday after sweeping aside Baltimore in the ALCS.
San Francisco climbed out of an early three-run hole, with back-to-back bad throws by Adams in the sixth inning helped the Giants rally – one night after a wild toss by St. Louis reliever Randy Choate allowed the winning run to score in the 10th inning.
"I think any time you can put pressure on the defense, you've got the opportunity for good things to happen," Posey said. "We're able to come up with some big two-out RBIs to get back in the game."
Minus injured catcher Yadier Molina again, the Cardinals were clinging to a 4-3 lead when San Francisco put runners at second and third in the sixth. Playing in with one out, the lumbering Adams backhanded Gregor Blanco's bouncer and stumbled as he tried to set himself to throw home.
Adams had trouble with the transfer, and his toss short-hopped catcher Tony Cruz as Juan Perez slid across with the tying run.
Joe Panik then hit a grounder right to Adams, who stepped on first base before firing wildly to second in trying for a double play. Brandon Crawford stopped about halfway between third and home, yet was able to score easily when Adams threw wide of the bag.
Cardinals shortstop Jhonny Peralta came way off the base to catch the ball and had no play at home.
"The play at home, there's a fast runner at third and I was going in on the ball and threw on the run," Adams said. "Just should've made the throw, though. The second one, I should've just touched first and checked home."
Posey added an RBI single off Seth Maness to make it 6-4. The star catcher also had a sacrifice fly in the first and a run-scoring single in the third.
These wild-card Giants joke about not needing hits and home runs to win, and they're showing that with timely bunts, small ball and a few miscues from the opponent. The tying and go-ahead runs scored on balls that didn't leave the infield.
Yusmeiro Petit pitched three scoreless innings to win in relief of an ineffective Ryan Vogelsong. Petit has been a valuable long man – he delivered six shutout innings in an 18-inning NLDS victory at Washington.
"He's been really good for us for a long time and he's finally getting some recognition. What a weapon to have," Posey said.
Sergio Romo worked the eighth and Santiago Casilla finished for his second save of the series.
A total of six Giants relievers held St. Louis scoreless the final six innings.
Local journalism is essential.
Give directly to The Spokesman-Review's Northwest Passages community forums series -- which helps to offset the costs of several reporter and editor positions at the newspaper -- by using the easy options below. Gifts processed in this system are not tax deductible, but are predominately used to help meet the local financial requirements needed to receive national matching-grant funds.
Subscribe to the sports newsletter
Get the day's top sports headlines and breaking news delivered to your inbox by subscribing here.
---