News > Obituaries
Obituary: Richlie, Ernest A.
Age 86
Thu., Oct. 16, 2014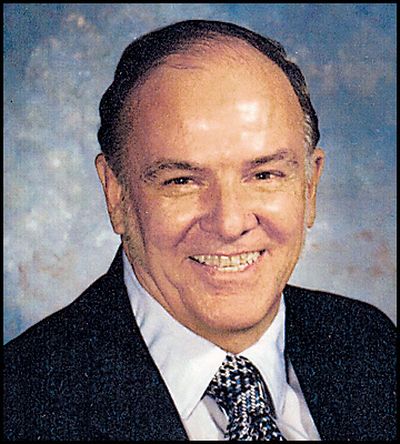 RICHLIE, Ernest A. Ernest A. Richlie passed away at St. Joseph Care Center, Spokane, on Monday, October 13, 2014.
He was born May 23, 1928, in Missoula, Montana, to Ernest J. and Anna May (Caplis) Richlie.
The oldest of four children, he completed his grade school education at Saint Francis Xavier in Missoula.
In the summer of 1942, the Richlie family relocated to an uncle's farm in Oregon where Mr. Richlie completed his freshman year of high school.
Upon the family's return to Missoula a year later, he transferred to Gonzaga High School in Spokane, graduating in 1946.
In September of the same year he entered the Jesuit Order at Sheridan, Oregon, for years of study and spiritual training.
Making good use of his spiritual training with the Jesuits, and in preparation for his teaching career, Mr. Richlie completed both his BA and MA by taking classes at Gonzaga University, Spokane, and the University of Montana, Missoula.
For 38 years he taught in the states of Montana, Washington and Oregon, retiring in 1992 from University High School in the Spokane Valley.
His scholarly academic background became a firm foundation for his life and his teaching career.
A man deeply committed to his wife, his family and his faith, his quiet humor was a source of joy to those who knew him.
A gentle man, he appreciated the simple things in God's creation: sunsets, parks, flowers and children.
All in all, he lived life in his own style and lived it to the fullest.
Preceded in death by his wife, Mary M. (Diederichs), whom he married in 1964, his brothers, Robert and Harold.
Mr. Richlie is survived by his sister Carol Ann Richlie; his sisters-in-law, Rose (Mudd) Richlie, Janice (Thaxton) Richlie and Catherine (Diederichs) Mitchell and many loving nieces and nephews.
Memorial contributions are suggested to Our Place Ministries, 1509 W. College Ave, Spokane, WA 99201.
Vigil services will be Friday, October 17, 2014 at 7pm with visitation beginning at 6pm at St. Augustine Catholic Church, 428 W. 19th, Spokane.
Funeral Mass will be celebrated Saturday, October 18, 2014 at 11am at The Chapel at Gonzaga Prep, 1224 E. Euclid, Spokane.
Interment will take place at Holy Cross Cemetery, 7200 N. Wall St., Spokane.
Arrangements have been entrusted to:
Local journalism is essential.
Give directly to The Spokesman-Review's Northwest Passages community forums series -- which helps to offset the costs of several reporter and editor positions at the newspaper -- by using the easy options below. Gifts processed in this system are not tax deductible, but are predominately used to help meet the local financial requirements needed to receive national matching-grant funds.
Subscribe to the Coronavirus newsletter
Get the day's latest Coronavirus news delivered to your inbox by subscribing to our newsletter.
---