Sports > Seattle Seahawks
Commentary: Seahawks take gamble trading Harvin
Sat., Oct. 18, 2014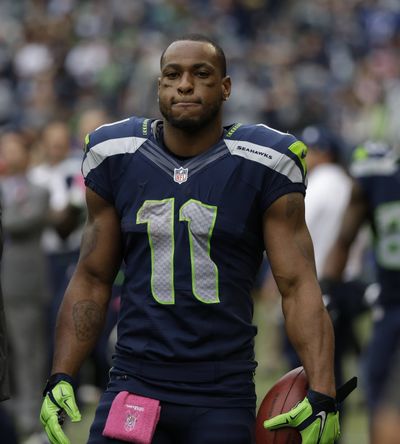 SEATTLE – We don't yet know for certain precisely what made Percy Harvin's continued presence in Seattle untenable, and his imminent departure a necessity.
Right now, it's just rumors, innuendo, a general sense that Harvin was increasingly perceived as a cancer who had worn out his welcome in grand fashion.
But we know this: The Harvin experiment is the first great flop of the Pete Carroll/John Schneider regime, when measured in resources expended versus results accrued.
And this: The Seahawks' hasty, stunning trade of Harvin to the New York Jets on Friday for a conditional 2015 draft choice is now the pivotal event in their effort to repeat as Super Bowl champions.
It's a disruptive move, that's undeniable. Now we'll wait to see if the seismic jolt will result, long term, in a more cohesive locker room and a more focused offense.
If so, then bully on the Seahawks for admitting their failure and cutting their losses. It's a trait they've exhibited before in waiving draft choices such as Chris Harper and Kris Durham. But this is a much riskier gamble.
The Seahawks are taking away their most dynamic playmaker in midseason – even though, with Harvin, that has been mostly a theoretical designation, save for a few flashy plays like the kickoff return for a touchdown in the Super Bowl victory over Denver.
They'll always have that TD, just like Rick and Ilsa always had Paris in "Casablanca." But more and more it has seemed like the Seahawks were stripping away their offensive identity in desperate pursuit of a Harvin big play. Just look at the Dallas game plan for the most egregious example of that trend.
Maybe now they can return to their run-first roots. Maybe the absence of whatever disorder Harvin was causing – and rest assured, the Seahawks don't get rid of a talent like Harvin without provocation – will manifest itself in improved performance across the board.
But it could go the other way, which is why this is a make-or-break move for the 2014 season.
Harvin was supposed to be a centerpiece of the Seahawks' efforts to repeat, electrifying their offense this season in a way he only showed glimpses of last year.
It was on that promise they acquired Harvin in the first place, giving up three coveted draft choices before signing him to a six-year deal. They've already paid him an estimated $25.5 million.
It was on the premise of a healthy Harvin this year, to a large extent, that the Seahawks allowed Golden Tate to sign with the Detroit Lions. Tate has caught 38 passes for 495 passes for the Lions, compared to 22 for 133 yards for Harvin (plus 11 carries for 92 yards). Much sizzle, little steak so far.
Harvin, of course, had caused turmoil throughout his career, and arrived with a warning label. But the Seahawks have such faith in the redemptive powers of Carroll to deal with all personality types that they banked on the fact they would find a way to make it work.
Carroll almost always had, but this time, the Seahawks were unable to coax more than just sporadic magic out of Harvin. For the Seahawks, wide-receiver acquisitions continue to be a black hole, from Deion Branch to T.J. Houshmandzadeh.
Harvin was going to change all that, but he got off to a rocky start with the immediate hip injury, then the subsequent setbacks that limited him to just three games last year. The fact that one was the Super Bowl whetted Seattle's appetite for a sustained dose of Harvin this year, and all the havoc he could wreak.
Harvin scored on a 51-yard touchdown run in a loss to San Diego. He showed more flashes of his big-play potential in Washington with three touchdowns – all called back because of penalties – before being mysteriously absent for 11 of the final 17 plays last week while the Seahawks were trying to rally against Dallas.
That will stand as his final game with the Seahawks. Harvin's departure gives the team more financial flexibility to rework the contracts for Russell Wilson, Bobby Wagner and K.J. Wright. It will open playing time for rookie receivers Paul Richardson and Kevin Norwood. And the Seahawks have shown what they can do with draft picks below the first round.
But this move is all about subtraction, not addition. You don't trade a keystone player in a season of championship aspirations without getting a present-day return unless you've deemed it paramount to get him out of the mix.
Harvin, it seems, had become too high-maintenance, the potential risks too great.
Remember: The Seahawks went all the way to the Super Bowl last year with a minimal contribution from Harvin.
Now they'll try to win it without him around at all.
Local journalism is essential.
Give directly to The Spokesman-Review's Northwest Passages community forums series -- which helps to offset the costs of several reporter and editor positions at the newspaper -- by using the easy options below. Gifts processed in this system are not tax deductible, but are predominately used to help meet the local financial requirements needed to receive national matching-grant funds.
Subscribe to the sports newsletter
Get the day's top sports headlines and breaking news delivered to your inbox by subscribing here.
---