Sports
Gonzaga Prep goes on roll
Bullpups have plenty of offense in 49-24 win
Sat., Oct. 18, 2014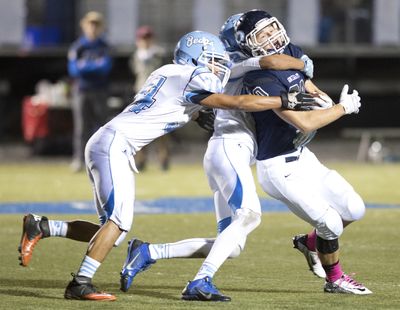 Gonzaga Prep took a couple of drives to get rolling Friday night before finding answers on both sides of the ball as the host Bullpups crushed Central Valley 49-24.
Central Valley (3-4, 2-1) held the lead at 3-0 for just over 5 minutes before the Gonzaga Prep (6-1, 3-0) offense started rolling for a huge Greater Spokane League win.
"Our offense rallied and picked us up," G-Prep coach David McKenna said. "I'm proud to coach these kids on senior night."
The Bears had some success on offense. Braedon Orrino found chunks of yards on the ground and Tanner Sloan completed 30 of 45 attempts for 294 yards, including two touchdown strikes to Tucker Stout.
But Central Valley couldn't stop Liam Bell, Nick Johnson and Jack Bamis, who each scored two touchdowns.
"We started figuring things out a little slowly," said Johnson, a 6-foot-2, 180-pound junior. "But once we did, we started rolling."
Bamis struggled to find any running room early against the Bears' defensive front. But the holes opened later. Bamis raced around the right end for a 22-yard touchdown at 8:49 in the second quarter.
Just over 5 minutes later, Bamis broke free for an 84-yard touchdown that was negated by a penalty.
In the third quarter, after Central Valley scored to close within 35-24, Bamis took a handoff from Bell and raced 80 yards up the middle to put the game out of reach.
Gonzaga Prep finished with 403 yards rushing.
"Any GSL win is a great win," said Johnson, who caught a pass for one touchdown and ran for another. "Both the offense and defense played very well tonight."
The play of the night came on a Sloan pass that appeared to be a sure interception. However, the ball skipped off the G-Prep defender's hands and landed in the arms of P.J. Bowden who raced untouched for a 78-yard score.
But the rest of the night, the Bullpups' defense made the Bears earn every yard. Evan Weaver harassed Sloan all night and Jordan Rathbone and Jack Machtolf each had an interception for the Bullpups.
"I'm proud of the entire defense," McKenna said. "They played together. They are figuring out that trusting your teammates is a beautiful thing."
Local journalism is essential.
Give directly to The Spokesman-Review's Northwest Passages community forums series -- which helps to offset the costs of several reporter and editor positions at the newspaper -- by using the easy options below. Gifts processed in this system are not tax deductible, but are predominately used to help meet the local financial requirements needed to receive national matching-grant funds.
Subscribe to the sports newsletter
Get the day's top sports headlines and breaking news delivered to your inbox by subscribing here.
---