News > Nation/World
Obama's credit card declined for non-use
Sat., Oct. 18, 2014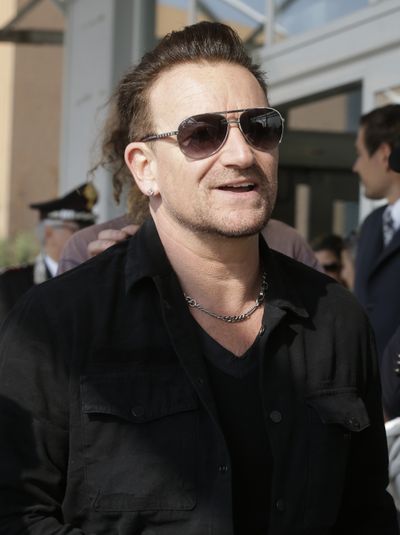 President Barack Obama said he was at a New York restaurant recently eating out with first lady Michelle Obama during the United Nations General Assembly.
But when it came time to pay the bill, some poor waitress had to tell the president the bad news: His credit card had been declined.
"It turned out, I guess, I don't use it enough," the president said Friday. "They thought there was some fraud going on."
Obama was at the Consumer Financial Protection Bureau in Washington to sign an executive order strengthening security for consumer transactions when he told the story.
"I was trying to explain to the waitress, 'No, I really think that I've been paying my bills,' " Obama joked.
Luckily, Obama said, his wife had her credit card and picked up the tab.
Employees at Estela, the New York restaurant where Obama dined on Sept. 24, said they couldn't discuss the credit card issue.
Bono's shades aren't just fashion
U2 singer Bono says his ever-present sunglasses aren't a rock-star affectation – he has suffered from glaucoma for 20 years.
The condition – a buildup of pressure that can damage the optic nerve – can make the eyes sensitive to light.
Bono told the BBC's "Graham Norton Show" that he had the condition, but "I have good treatments and I am going to be fine."
He said people would now think of him as "poor old blind Bono."
Queen bestows rare honor on Smith
British royalty has met acting aristocracy, as Britain's Queen Elizabeth II bestowed an honor on Maggie Smith during a ceremony at Windsor Castle.
Smith, who plays the imperious Dowager Countess of Grantham on "Downton Abbey," was made a member of the Order of the Companions of Honor on Friday in recognition of her six decades in theater, cinema and television.
The award is limited to 65 living people "of distinction." Other members include physicist Stephen Hawking, actor Ian McKellen and artist David Hockney.
The 79-year-old actress has won two Academy Awards, for "The Prime of Miss Jean Brodie" and "California Suite."
She is currently filming "The Lady in the Van," reprising her stage role as a homeless eccentric who parked for years on the driveway of playwright Alan Bennett.
The birthday bunch
Rock 'n' roll performer Chuck Berry is 88. Sportscaster Keith Jackson is 86. Actress Dawn Wells is 76. College and Pro Football Hall of Famer Mike Ditka is 75. Actor Joe Morton is 67. Actress Pam Dawber is 64. Actor Jean-Claude Van Damme is 54. Actress Erin Moran is 54. Jazz musician Wynton Marsalis is 53. Olympic gold medal skier Lindsey Vonn is 30. Actor Zac Efron is 27. TV personality Bristol Palin is 24.
Local journalism is essential.
Give directly to The Spokesman-Review's Northwest Passages community forums series -- which helps to offset the costs of several reporter and editor positions at the newspaper -- by using the easy options below. Gifts processed in this system are not tax deductible, but are predominately used to help meet the local financial requirements needed to receive national matching-grant funds.
Subscribe to the Coronavirus newsletter
Get the day's latest Coronavirus news delivered to your inbox by subscribing to our newsletter.
---