Powers in 1955: 'The Row' Belongs to Broken Men, Shattered Dreams
Sat., Oct. 18, 2014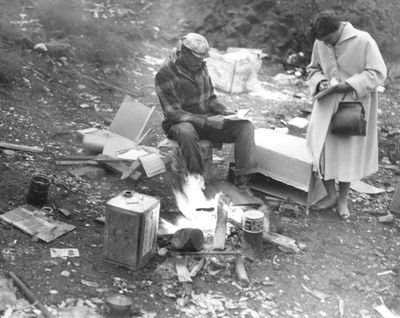 Editor's note: This article, by Dorothy R. Powers, first appeared in The Spokesman-Review on Nov. 21, 1955. Powers, who died this morning at the age of 93, was probably the area's most-known journalist in her era. She wrote many stories about the homeless during her career. The article was topped with the following: "Who and what make up the legendary words "Skid Row," or Road? To find out, a Spokesman-Review reporter went "inside" the Row – into dreary 50-cent hotel rooms, taverns and back alleys. Here is the answer."  In the dank twilight that fills the place, the man shoves a trembling hand deep into ragged, filthy pockets. He pulls it out again – empty. "Ain't got it tonight, I guess, Mac," he mumbles to the "hotel" keeper, and stumbles back down the stairway – back into the slashing wind. The stairways are all alike down here – long and black and stale – and, for the men who climb them, stairways to nothing. This is "heartbrak strip"' this is Skid Row. Down on the street, it's the dusk-to-dark hour when each man must decide how hel'll handle an old enemy, the night. His choices are few. He can mooch it through, "mission it" if he's lucky – or hope for enough free drinks to keep him warm as he slumps in a doorway. Each man makes his own decision. There's little camaraderie down here. "They're hard to figure," a bartender explains. "If they've got money, they'll share it with somebody they know is broke. But that's about it. They don't want any buddies; they don't want any questions." Only one thing is certain, and it's an old, old saying along the Row: "For every guy down here, there's a reason. He don't ask you yours; don't ask him his." Nobody does, in the crowd that hovers around the fat-bellied iron stove in a tavern. They turn slowly, warming every portion of themselves before making their stand against the cold. A man carrying a pin-striped, shabby suit rushes into their midst. "Two buck," he urges, patting the fabric. "Two bucks, anybody. Take it or leave it." Nobody takes. "He gets 'em at the rummage sales, for 80 cents," somebody says wearily after the vendor leaves. "I'm goin'," volunteers a graying man on the far side of the stove. "I know where I can get me a room for 52 cents. At the Logan, you can – if you go early." Out in the alley, arms flail greedily as three men split a pint of "Apple Andy" (wine). The bottle emptied, they walk in three separate directions – strangers again. The man in the clean overcoat waits a long while before he gathers courage to pluck at your sleeve. Then, "Do me a favor, lady? Don't write that everybody down here is a bum." "I had a home – I won't say where – but it was as good as most. I'm just tryin' to say, well, there are guys down here that could have been somebody else – but something went wrong. "Something's got to happen, before a man ends up here. "Ever get off the Row?" he replies to your question. "No, not now. I'm all through, and I know it. I'm absolutely alone." Down the block, there's more evidence that the Row has strange tenants. "See that fellow that just left?" a bar-keep asks. "Ex-chairman of one of the biggest banks in the country. He's been down here years now; he'll never go back. We used to have an ex-attorney general from out-of-state, and a former deputy sheriff. "Lots of them have college educations. Some of them are so smart you just can't carry on a conversation with them." It's getting later now, and the street's filled with the shuffling feet of men looking for one small cranny in a world that finds no place for them. They turn into any doorway they see, if only for a moment's warmth. Up in the Lea hotel, an 82-year-old "sidewalk preacher" rocks by the stove in a narrow hallway. "It's too cold now," he says, in a voice raw from shouting against the wind. "Nobody will stand and listen. But ordinarily, I preach every night from 6 to 7. I been a-doin' that for 14 years." Out of a grimy pocket he pulls a license to hold street meetings, exhibits it proudly. He hurries to his room, shows you his Bible. Every corner is filled with junk, collected on the street. His bedding is as dirty as his clothes. The window is broken. A soiled wash cloth hangs above the rickety dresser. In the midst of this, he begins an impromptu testimonial. Tears stream down his face. "I love the Lord, Sister. God saved my soul on October 8, 1932, and I haven't had a drink since. Lots of times, down on the street, they shout all kinds of things at me. I just answer 'Dear ones, you wouldn't do that if you'd been saved as I have.'" "Hey Pop," comes a gruff voice from one of the rooms, "knock it off!" The night won't be a kind one for Bill and Joe. They're shipping out – heading for one more Row, in one more town, somewhere. "Gotta get where the climate suits our clothes. One blanket between us. We get enough brown wrapping paper, though, we'll be all right – if the bulls don't roll us out of the boxcar." A cup of hot coffee loosens his thoughts. "I never saw a Skid Row," he muses, "till me and my wife split up. A guy gets disgusted with things, see? Once you get down and out, you don't come back easy. There don't seem no way to it." Despair is a climate here. A freezing wind sweeps the street almost clear now. The men huddle inside, wherever they can find shelter. They slip out only to check the alley garbage cans full of empty wine bottles – hoping for a few dregs. The best explanation you hear comes from a regular. "I can handle the days all right. It's usually night when I need it, when I start remembering. …" "Rockin' chair" is every man's passport. On this railroad unemployment insurance, the ghandy dancers exist from one job to the next. They talk about it like a kid does Santa Claus – "good ole rockin' chair." Some men "choose" the Row. "Listen, I'm living how I want to live. When I need to, I work. Maybe I pick apples and maybe I work in a coal shed. And maybe I don't work at all. But nobody butts in – because nobody cares." Tomorrow is the biggest word they know. For 35 years, it's been coming for Jack. "Thirty-five years." He wonders aloud at it himself, rubbing his stubbled chin. "I'm 58 now. I used to drive a cab. Had a good job driving for a big highway bus company, too. I was married then, and working steady all the time. "Well, I started drinking. Now I do just whatever comes up – pick apples, ghandy dance, anything. I wonder where my family is. "Lonesome? Sure, I'm lonesome. Nights are the worst. There's no place to go but some hotel room. I keep changing hotels, just so I'll have something different to look at. "Mornings you feel terrible. You wake up sick and you need a drink. Usually, I'm in a four-bit hotel room. That means it's an inside room, no windows – and no heat. "I still think I'll get off the Row. I can quit; I know I can. Yessir, one of these days – Real soon now – I'm goin' home. …" The Row's entirely in darkness now. Far down the block, a bottle tinkles against the pavement.
Local journalism is essential.
Give directly to The Spokesman-Review's Northwest Passages community forums series -- which helps to offset the costs of several reporter and editor positions at the newspaper -- by using the easy options below. Gifts processed in this system are not tax deductible, but are predominately used to help meet the local financial requirements needed to receive national matching-grant funds.
Subscribe now to get breaking news alerts in your email inbox
Get breaking news delivered to your inbox as it happens.
---