News > Features
Artist shares beauty of generosity
Corbin Park area comes alive with artwork by Doug Sutherlin
Sat., Oct. 18, 2014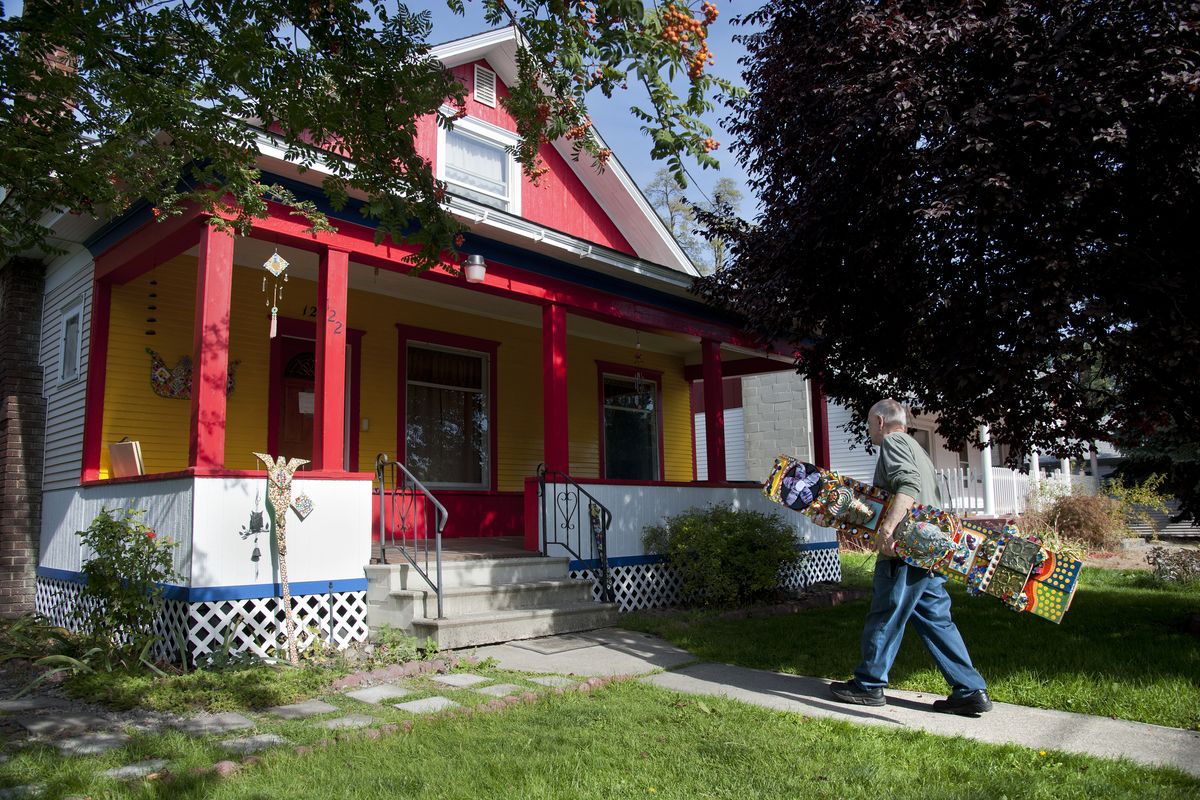 Doug Sutherlin delivers artwork to the UCF Buddhist Studies and Meditation House a few blocks from his home near Corbin Park on Oct. 9. (Dan Pelle)Buy a print of this photo
Doug Sutherlin, 75, creates a prolific amount of bold mosaic artwork at his home across from Corbin Park, and now his signature pieces sprinkle color across neighbors' yards and porches.
His canvases include fence posts, window panes, even ordinary ceramic tiles. Using super-strength construction adhesive, he covers surfaces with brightly-colored glass stones in a mosaic pattern, sometimes adding in figurines or other decorative elements.
"I like the bright colors – yellows, reds and oranges," Sutherlin said. "I'm still channeling my inner child, who is alive and well at 75."
Sutherlin started making art about 10 years ago, and he can only guess that he's given away hundreds of mosaics, including some in painted patterns. Many are scattered within blocks as garden decor, fence ornaments, porch hangings, or art placed prominently inside a home's hallway.
His craftsmanship recently found a new dwelling place, adorning a house two blocks away that also serves as a residential Buddhist temple on Saturday nights. Sutherlin met the homeowner, Francesca Firstwater, in May while she was walking her family's dog to the park.
Last week, he gave Firstwater art pieces as gifts for a Buddhist blessing event scheduled for 6:30 p.m. today. One item Sutherlin crafted is a large, bejeweled, tulip-shaped piece now hanging near the front door of the Universal Compassion Foundation Buddhist Studies and Meditation House, at 122 W. Euclid Ave.
"My artwork ties in really well with Tibetan Buddhism," Sutherlin said. "They use primary colors. I think this is a very special occasion for Francesca and her family."
Firstwater lives in the home with her son and his family. Since moving there in May, the family has opened the home on Saturdays for guests to learn from Geshe-La Thupten Phelgye, a Buddhist monk who also teaches at Eastern Washington University.
"Doug's great," Firstwater said, "he loves the Tibetan colors. If you were in Tibet, they'd use these colors to signify a Dharma teaching center."
The home is painted in bright yellow, red and blue colors. Sutherlin also gave Firstwater a chime, a garden post, and a 6-foot-tall mosaic that includes an owl figurine in the midst of glass and tile patterns.
"Tibetan Buddhists are all about compassion to humans and animals, to all sentient beings," he said.
Phelgye, a former member of the Dalai Lama's Tibetan Parliament in-exile, also will hold a pet blessing at 10 a.m. Saturday on the east side of Corbin Park for leashed dogs and animals in carriers.
Sutherlin said some of his art hangs at another residential Buddhist temple closer to the park.
"Within three blocks of each other, there are two homegrown Buddhist venues," Sutherlin said, adding that he's not a practitioner of that faith. "I like to take the best things from various faiths. It's fascinating to have these different faiths in one neighborhood."
He said that mix includes Buddhists, Catholics, Evangelicals – many of whom have his mosaics – because Sutherlin enjoys offering them as gifts to friends and neighbors. He and his wife, Georgiana, have lived at their home near Corbin Park for 40 years and attend St. Aloysius Catholic Church, he said.
"It's a very eclectic neighborhood," Sutherlin said. "I've met a million people here at the corner of the park."
A retired accountant, he never studied art formally, although he learned some techniques from friends.
Sutherlin said much of his latest artwork is benefiting from a super-strength construction adhesive he found in June. A Loctite product, the adhesive is advertised as eight times stronger than similar materials. Sutherlin also uses another Loctite adhesive that has a thicker consistency.
"The eight-times adhesive allows me to do really finer pavé work," he said.
Sutherlin buys the jewel-like glass pieces from dollar stores or online, and he shops at Wonders of the World in Spokane for art depicting nature to blend into his work. He also recently started using kilns to fuse glass pieces and bottles for mosaics to gain more of a stained-glass effect.
"I've never sold any of my pieces," he said. "I have joy in giving it away. It's all around the neighborhood."
Local journalism is essential.
Give directly to The Spokesman-Review's Northwest Passages community forums series -- which helps to offset the costs of several reporter and editor positions at the newspaper -- by using the easy options below. Gifts processed in this system are not tax deductible, but are predominately used to help meet the local financial requirements needed to receive national matching-grant funds.
Subscribe now to get breaking news alerts in your email inbox
Get breaking news delivered to your inbox as it happens.
---