Sports
World Series: Seasoned Giants vs. fresh Royals
Sat., Oct. 18, 2014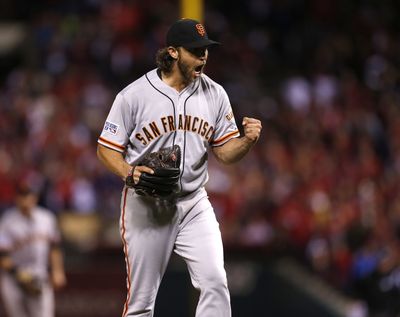 Alex Gordon, Lorenzo Cain and the go-go-go Kansas City Royals played perfect ball to zip through the playoffs. Plus, they recently flattened Buster Posey and his Giants.
So how come this bunch that's rapidly become a fan favorite all across the country isn't the favorite against San Francisco in the World Series?
"When I look at the Royals, I see a team on a terrific run. There was magic on their side, where everything they did went absolutely right," said Las Vegas oddsmaker Johnny Avello, head of the sports book at the Wynn.
"But I don't get into the 'darling' stuff," he said Friday. "I have to encompass everything and figure out who's the better team, and that's the Giants."
We'll see what's next in this tight, tense postseason starting Tuesday night when the seasoned Giants visit the fresh Royals at Kauffman Stadium.
A pair of teams with dominant bullpens, the talent to make tremendous catches and a touch for grinding out key runs.
Both of them wild-card teams, too. Of course, come this late in October, no one is really a wild card anymore.
Reigning N.L. Championship Series MVP Madison Bumgarner, former World Series MVP Pablo Sandoval and Giants manager Bruce Bochy are aiming for their third ring in five seasons.
At 39, Tim Hudson is headed with them, going to his first World Series. A four-time All-Star with 214 wins, he left his longtime home in Atlanta and signed with the Giants last November.
Hudson was swayed by an intangible that he'd seen from the other side – San Francisco's knack for playing especially well at this time of year.
"They know how to win when it matters. There's something different whenever this team gets in the playoffs," Hudson said. "That's why I decided to come to the Giants."
Already 8-0 this postseason, the Royals are back in the Series for the first time since George Brett and Bret Saberhagen helped them win it all in 1985.
There were a lot of lean years in the interim.
Giants reliever Jeremy Affeldt, the winning pitcher in the NLCS clincher Thursday night against the Cardinals, played for Kansas City from 2002-06 – the Royals lost 100 games in three of those seasons.
"Well, I'm sure there's a lot of excitement," said Affeldt, who was a standout at Northwest Christian High in Colbert. "There's a lot of people that have been fans for a long time in that area and been waiting to see this since 1985.
"When I played there, I think they thought they were overdue then, and that was, I don't know, seven, eight years ago," he said. "There's going to be some energy in that stadium. … It's pretty impressive to see the amount of blue in these seats during those games."
Affeldt and the Giants got a close-up at these Royals in August, getting swept in a three-game series at Kansas City.
Gordon homered twice in the series, outfielder Nori Aoki threw out two runners in an inning, the Royals stole seven bases in a game and they beat Bumgarner, Hudson and Tim Lincecum.
"It doesn't matter what it was," Royals manager Ned Yost said Friday. "This is a whole different ballgame now. This is the World Series. This isn't a three-game series in August."
Local journalism is essential.
Give directly to The Spokesman-Review's Northwest Passages community forums series -- which helps to offset the costs of several reporter and editor positions at the newspaper -- by using the easy options below. Gifts processed in this system are not tax deductible, but are predominately used to help meet the local financial requirements needed to receive national matching-grant funds.
Subscribe to the sports newsletter
Get the day's top sports headlines and breaking news delivered to your inbox by subscribing here.
---