News > Spokane
Fixing Foster Care: Fostering stability
Washington foster families help form the backbone of a system dedicated to helping victims of 'a broken society'
Mon., Oct. 20, 2014
As Diana Stegner lay in a hospital bed, alone, homeless and suicidal, she acknowledged her newborn son would be better off with someone else.
Within hours Michelle Trotz cradled baby William as she welcomed him into her home.
Trotz and her husband, David, first became foster parents four years ago. They wanted to help babies who needed them. Their home is among more than 500 across Spokane County licensed to care for children taken from their parents.
Communities need foster homes because "we live in a broken society," said Linda Rogers, a former foster care recruiter who got the Trotzes involved. Foster parents are the backbone — some say heroes — of a system tasked with the toughest of jobs: caring for the children of broken homes.
"There are never enough," Rogers said. "You are asking people to completely change their lives."
The future of a foster child like William begins in the hands of many: social workers, attorneys, judges and advocates. And after the legal work is done, they are swept into the homes of people willing to fix dinners, help with homework, read bedtime stories and provide solace from nightmares – real or imagined.
Foster care can be a child's one constant during an often lengthy court process that leads to one of three destinations: reunification with the child's birth parents, adoption, or freedom from state or parental oversight.
Now there are new efforts to keep children with their families while state officials attempt to address mild neglect and abuse stemming from poverty and drug addiction.
If successful, this push could one day ease the pressing demand for foster homes. Yet right now there is a flood of children entering the system.
"The need is continuous," said Amber Sherman, a foster parent recruiter. "Children are returned home all the time, but there are always children coming in." She is always looking for more families like the Trotzes.
Sherman is a former foster parent and is now a supervisor with Fostering Together, a nonprofit that recruits and supports foster families.
"Finding the right fit for every child that needs a home is hard," said Sherman, a foster parent for nine years. "Not all babies have the same needs."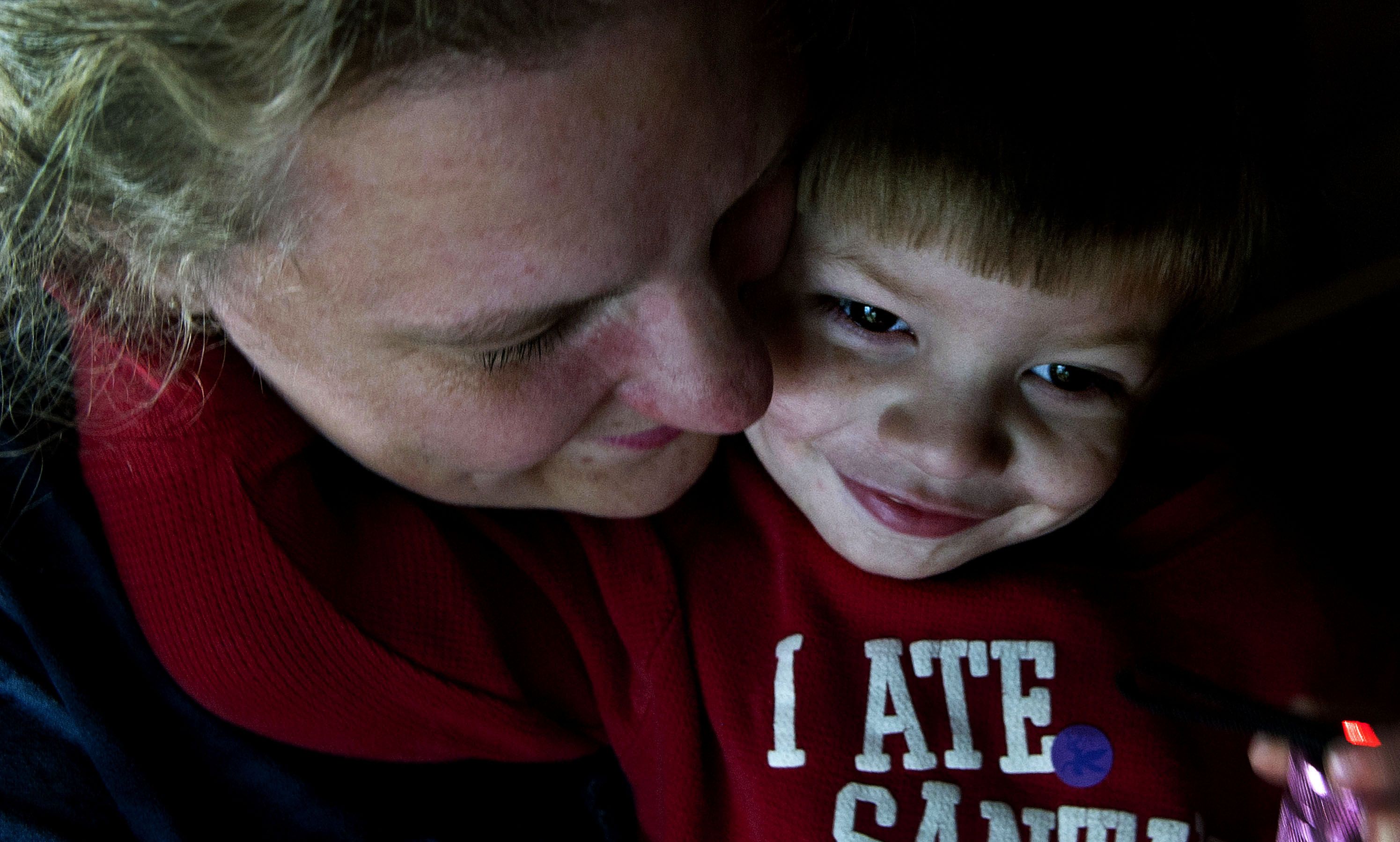 The Trotzes have five children of their own; the oldest is 15. They had been caring for William for several months when his biological mother signed away her parental rights as she sat in jail following a physical fight with her boyfriend.
So the Trotzes adopted William, who is now 2.
The percentage of children adopted from foster care varies from year to year, but it hovers around 30 percent, according to state data.
Stegner, who was in her mid-40s when she gave birth to William and refers to him as Trae, doesn't regret her decision to give him up.
"Hell yes, I made the right decision," she said. "He's much happier.
"I didn't even know where I was going to sleep."
Stegner, 47, didn't think she'd ever see her son again. But Trotz wanted to give her the chance and made regular visitation part of the adoption agreement.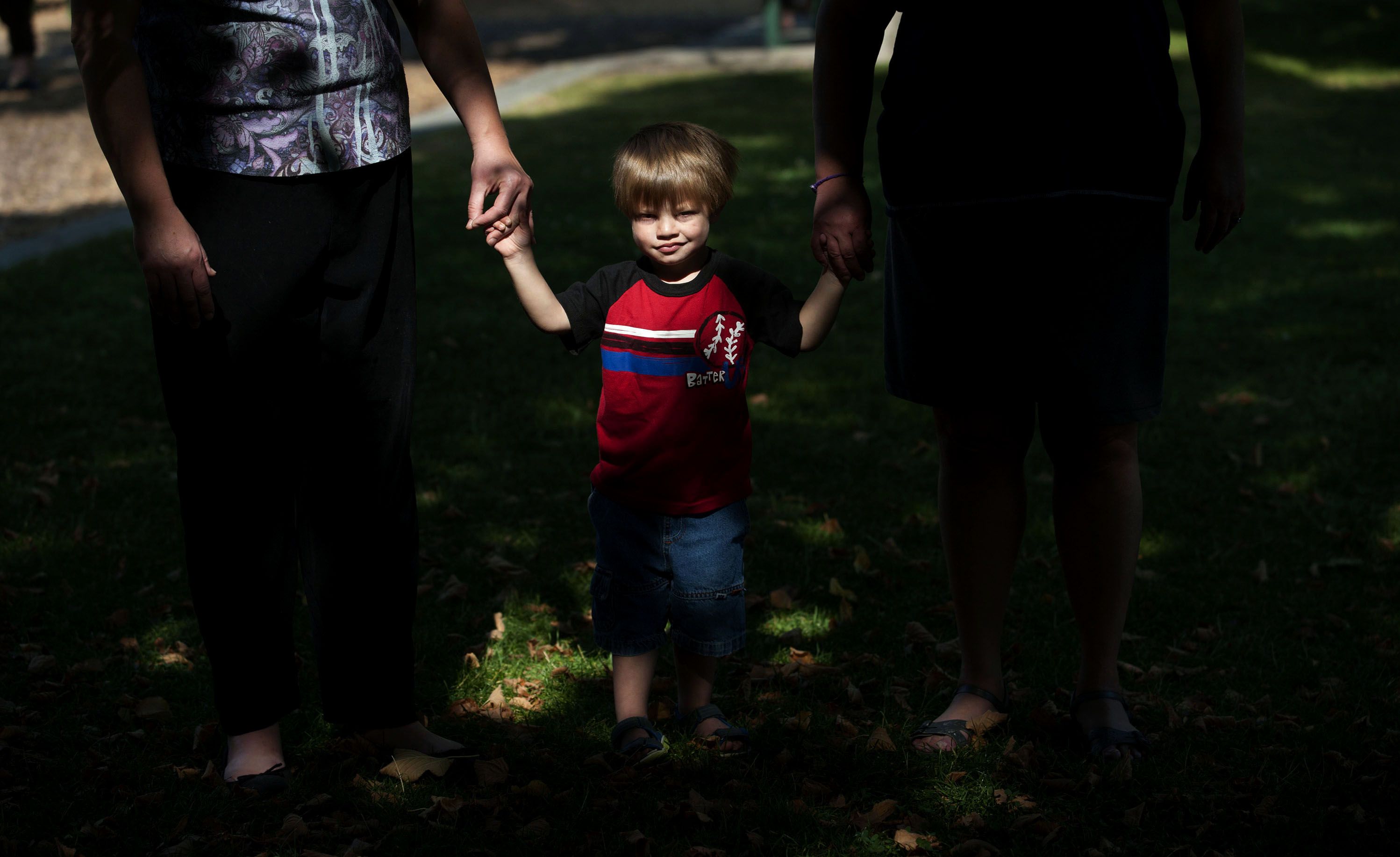 Stegner has been meeting William and the Trotzes at Mission Park since early summer.
"He's the sweetest little guy that you could ever know," said Stegner, who also has grown children. "He runs up to me now. He actually calls me Mama D."
As William thrives, the Trotzes have taken in another foster baby, and know a social worker could call at any time looking for yet another spare crib for yet another infant.
Rogers understands. After caring for more than 100 foster children across the years, she still hears from the state each week.
"I know the need for foster care is up," she said. "That need never goes away."
'I let myself cry when they leave'
From the time a person expresses interest in being a foster parent to being licensed takes about a year and includes scrutiny by the state and the FBI. The actual licensing process takes 90 days.
Homes are checked three times amid requirements to lock up medications and weapons, and have a fire escape plan.
Potential foster parents also must take a 24-hour caregiving course.
In return they have a say in the ages and genders of the kids they take into their homes.
"We have foster parents who it's important to them to take siblings, so they get licensed for four to six beds," Sherman said.
"Since kids are already experiencing trauma, we want the home to be successful," she said. "The highest portion of children are young, so they are more vulnerable."
Some foster parents chafe at state oversight of the children in their care.
Decisions regarding the child are made by the state, not by the foster parents even though they are responsible for the child's care, Sherman said.
Trotz said she tries to "do some good" for each foster child even though she won't be offering most of them a permanent home.
"You can't help but get attached," she said. "I try to keep it in my mind that it is better for kids to be in their own home even if it's not great."
But, "I let myself cry when they leave."
Lawsuits have sparked changes
Not all foster parent placements are idyllic.
Some foster parents are in it for the money – the basic monthly rate ranges from $423 to $575 per child. Others are abusive, having slipped through the state's rigorous checks.
Earlier this year, a former foster child who's now in her early 20s filed a federal lawsuit claiming sex abuse at three foster homes in Western Washington. The girl alleged the state didn't do enough to protect her. Two of her foster fathers and a foster brother have since been convicted of sexual molestation, according to news reports.
The state did not answer specific questions about the lawsuit but noted that it has since changed how foster home applicants are reviewed. The case is still pending in federal court.
Another high-profile case unfolded in Eastern Washington.
Tyler DeLeon died of dehydration in 2005. The 7-year-old had been denied food and water as punishment by his Stevens County foster mother. Carole DeLeon had a history of abuse complaints and there had been concerns about the health of foster children in her care, according to a lawsuit filed against the state, social workers and others. Carole DeLeon spent more than three years behind bars for Tyler's death and for mistreating another boy in her care.
Procedures used by the Children's Administration division of the state Department of Social and Health Services today might have helped prevent the boy's death, such as maintaining foster care complaint records for six years and requiring multistate checks before licensing a foster parent.
As the result of a different foster care lawsuit filed 16 years ago, the state has corrected several aspects of care, including monthly health and safety visits to foster homes, placing siblings together, annual mental health and substance abuse screens, and a reduction in caseloads for social workers.
The state is investigating 22 cases of alleged neglect or abuse within foster homes reported between Sept. 1, 2013, and Aug. 31, 2014.
During that time, DSHS received 136 complaints from children coming out of foster homes. An investigation determined that only one of those complaints had merit, DSHS spokesman John Wiley said.
All reports are retained by the department for six years.
"Last year was a good year," Wiley said. "Other years, that might have been higher."
Coming Tuesday: Spokane is at the forefront of efforts to keep children and parents together.
Local journalism is essential.
Give directly to The Spokesman-Review's Northwest Passages community forums series -- which helps to offset the costs of several reporter and editor positions at the newspaper -- by using the easy options below. Gifts processed in this system are not tax deductible, but are predominately used to help meet the local financial requirements needed to receive national matching-grant funds.
Subscribe to the Coronavirus newsletter
Get the day's latest Coronavirus news delivered to your inbox by subscribing to our newsletter.
---