Sports
Lock-down bullpen trio propels Royals
Better be ahead of K.C. before Herrera, Davis, Holland enter
Mon., Oct. 20, 2014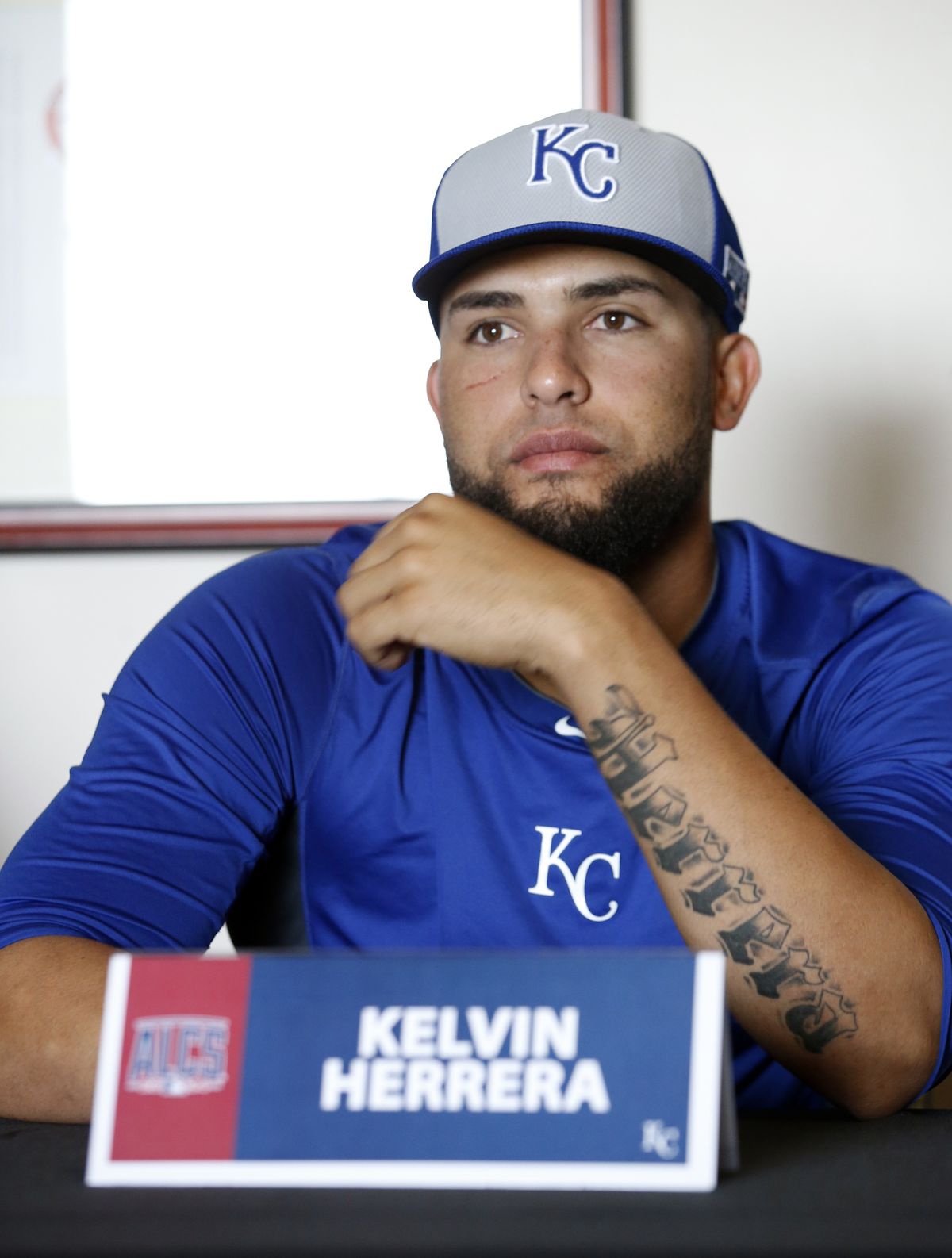 Kelvin Herrera, seventh inning: 1.41 ERA in 70 games
KANSAS CITY, Mo. – Buck Showalter knew he was in trouble when the seventh inning rolled around and his Orioles were trailing the Kansas City Royals in Game 4 of the American League Championship Series.
Three innings later, Baltimore's season was over.
In each game of the series, the three-headed monster of Kelvin Herrera, Wade Davis and All-Star closer Greg Holland had slammed the door on the Orioles. They did it again in the clincher, a 2-1 victory that propelled Kansas City into the World Series after a 29-year absence.
Game 1 is Tuesday night against the San Francisco Giants.
"That's one of the biggest reasons they're playing here," Showalter said of the "Big Three."
The Royals had one of the stingiest bullpens in baseball this season, but the back end was especially dominant. Herrera, who usually handles the seventh inning, had a 1.41 ERA in 70 games. Davis, the eighth-inning guy, had a 1.00 ERA in 71 appearances. And Holland had a 1.44 ERA while saving 46 games, one shy of his franchise record set last season.
They were at their best in sending the Royals to the World Series, too.
Herrera pitched 5 2/3 scoreless innings against Baltimore, allowing just two hits. Davis went five scoreless innings, also giving up two hits. Holland was the only one to give up a run, but he still managed to save all four games, joining Hall of Famer Dennis Eckersley as the only pitchers to accomplish the feat since the ALCS went to a best-of-seven format.
"At the end of the game," Royals starter Jason Vargas said, "we like our chances."
All three relievers have four-seam fastballs that approach 100 mph, and all three have a devastating secondary pitch. Herrera has a lightning-quick two-seamer, Davis's new cutter has been dynamic, and the vicious slider that Holland can unleash leaves hitters waving at air.
But that's where the similarities end. The three of them took very different paths to reach this point, key cogs in a perfectly tuned strikeout machine.
Herrera exploded onto the scene two years ago, a fireballer who never seemed to quite know where his fire balls were headed. What little command he had finally failed him last season, and he was banished to the minor leagues, where he was able to rein everything in.
Since returning to the Royals, the 24-year-old right-hander from the Dominican Republic has been solid. At one point this season, he had a streak of 30 consecutive scoreless appearances.
"He's meant so much to this team over the last few years," Holland said. "He's tough."
Just about as tough is Davis, who at one point was considered an after-thought in the trade that brought staff ace James Shields over from Tampa Bay in December 2012.
The Royals tried to use him as a starter, but for some reason he couldn't get on track. So almost out of desperation, they sent him back to the bullpen, where he'd had success in Tampa Bay. Everything suddenly clicked. By the time the Royals were climbing into contention last season, Davis had become a lock-down eighth-inning reliever.
His electric stuff had the Royals thinking about starting him again. But a season-ending injury to Luke Hochevar in spring training scuttled that plan, and Davis was turned loose in the bullpen. He began mowing down hitters at a record-setting rate.
Davis didn't allow a run from April 23-June 25, a streak of 20 appearances and 22 1/3 innings. It took 43 appearances, 45 1/3 innings and 179 batters before he allowed an extra-base hit. When Holland sustained a minor injury late in the season, Davis closed out three games.
"He's a guy that just comes in and goes right after you with his stuff," Royals manager Ned Yost said. "He's a guy that's a tremendous competitor."
In that respect, he's a bit like Holland, who has come out of nowhere to become one of the game's top closers. He was drafted by the Royals in the 10th round out of Western Carolina, and was in the big leagues three years later. But after scuffling during that first-call up, Holland proved he belonged in his first full season, eventually taking over the ninth inning.
He never gave it up, compiling a 1.86 ERA in 246 games over the last four seasons.
No wonder Showalter and every other opposing manager have learned the best chance of beating the Royals is to beat their starters. If they have the lead by the seventh inning, the chances of mounting a comeback against their "Big Three" aren't very good.
"Just get us through six in the ballgame and we can turn it over to the bullpen guys," Yost said. "We've got a lot of confidence in everybody we've got down there. Our offense has a lot of confidence in everybody we've got down there, too, because they know, hey, look, let's keep it close, let's get it to the bullpen, and if we can take a lead and get it to the bullpen, odds are we're going to be celebrating a victory at the end of the day."
Local journalism is essential.
Give directly to The Spokesman-Review's Northwest Passages community forums series -- which helps to offset the costs of several reporter and editor positions at the newspaper -- by using the easy options below. Gifts processed in this system are not tax deductible, but are predominately used to help meet the local financial requirements needed to receive national matching-grant funds.
Subscribe to the sports newsletter
Get the day's top sports headlines and breaking news delivered to your inbox by subscribing here.
---