News > Features
Father launches Bread Tie Challenge to erase stigma of depression
Tue., Oct. 21, 2014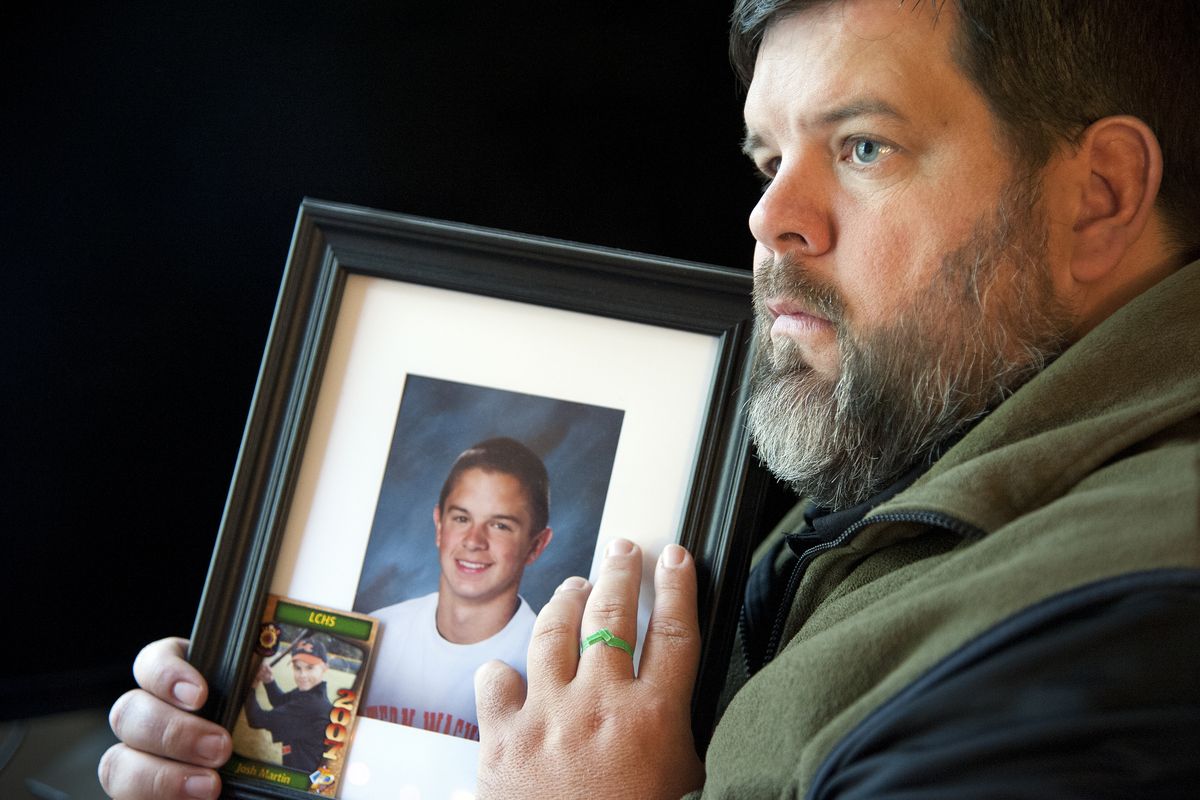 Three years ago, Joe Martin's son, Josh, committed suicide. Working with friends, Martin launched a grass-roots campaign called the Bread Tie Challenge to help erase the stigmas associated with depression and suicide. The idea is simply to wear a twist-tie around your finger, shown below, to let people know suicide or depression has touched your life and it's OK to talk about it. (Dan Pelle)Buy a print of this photo
Joe Martin's son Josh was a quiet leader – "the anti-bully," he said – with a great sense of humor.
He was "a ball of fun," Josh's best friend Dean Neilson said. When Josh walked into the room, Neilson said, you'd get happy.
"He was always just the carefree guy, always smiling, always up for an adventure," said another best friend, Donnie Santos.
People at risk for killing themselves often exhibit warning signs. But Josh Martin didn't, his father and friends said. He was 19 – a lifelong athlete who played baseball for Spokane Falls Community College – when he committed suicide on Oct. 27, 2011. His memorial service at St. Augustine Parish drew 2,000 people.
Three years later, his father and friends are running a monthlong, grass-roots campaign called the Bread Tie Challenge that's reaching people throughout the region and aims to help lift the stigma surrounding depression and suicide.
The initial gesture is tiny: Wrap a twist tie around your finger as a signal that depression or suicide has touched your life. The organizers hope the gesture sparks conversations that could lead suffering people to ask for help, ultimately saving lives.
"We want these bread ties to show that it is OK to not be OK," said Neilson, 23, a senior at Central Washington University in Ellensburg. "It is OK to talk to your family, talk to a friend, go get help," Neilson said. "Talking really, really does help."
Neilson, Santos and Josh Martin played sports and went to school together at Sacajawea Middle School and Lewis and Clark High School, their homes blocks apart on the South Hill.
"We want to let people know it is OK to have those thoughts, and we can get you help," said Santos, 23, also a senior at CWU. "You don't have to be alone for this."
The campaign is racking up followers on social media. Its Facebook page and Instagram account (search for "suicide_awareness509") include photos of bread-tie-wearing sports teams and cheerleaders at Gonzaga, Washington State and Central Washington universities. Others who've taken up the challenge: University of Washington sorority members. WSU's Crimson Girls. A CWU class studying drugs and sports.
More people have posted photos of their bread ties taken in their homes and in front of national landmarks. Some add text explaining their experience with depression or suicide.
The campaign seems to be reaching people, said Joe Martin, 43, a salesman for a lumberyard. Strangers have spotted his bread tie and talked with him about the campaign, without knowing his connection. People are sending their personal stories to the Facebook page. The organizers keep lists of suicide-prevention resources on hand to pass along.
Suicide is the second-leading cause of death for people age 10 to 24 in Spokane and Washington overall, according to the Spokane Regional Health Department. It's the eighth-leading cause of death for all age groups. 
Through counseling, Joe Martin has accepted that he'll never know exactly why Josh took his life. But he believes his older son was probably depressed.
"Parents have asked me, because they know I'm so involved in my kids' life, what would you have done differently?" said Martin, whose other son is 16. "The last thing I can tell them is 'I never had a discussion about suicide and depression.' I talked about drugs. I talked about alcohol. I talked about sex. I talked about driving safely.
"I'm not saying it would have saved him," Martin said. "But at least it would have opened the dialogue."
It may be a scary subject. But depression is also treatable with therapy, medication or both.
Neilson said he suffered from anxiety and depression, suffering his first panic attack as he visited another close friend in the hospital who'd attempted suicide.
"I had this trembling feeling. My heart rate was through the roof," Neilson said. "I thought I was having a heart attack. I turned myself in to the hospital thinking I was having a heart attack."
Unable to leave his apartment, he missed classes and baseball for a couple of months.
"Anxiety just kind of took over my life, and I didn't know how to deal with it," Nielson said, "until I finally sought help with a counselor and was able to talk and was able to hear, 'Dean, what you're going through is normal. People go through this stuff.' "
Local journalism is essential.
Give directly to The Spokesman-Review's Northwest Passages community forums series -- which helps to offset the costs of several reporter and editor positions at the newspaper -- by using the easy options below. Gifts processed in this system are not tax deductible, but are predominately used to help meet the local financial requirements needed to receive national matching-grant funds.
Subscribe now to get breaking news alerts in your email inbox
Get breaking news delivered to your inbox as it happens.
---