Sports > Seattle Mariners
TSN gives Young comeback award
Tue., Oct. 21, 2014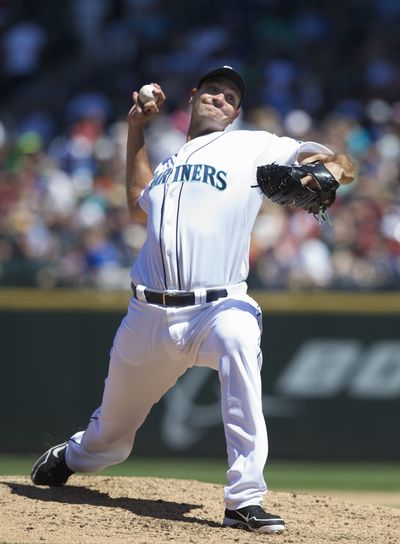 SEATTLE – Veteran right-hander Chris Young, who resurrected his career this season with the Mariners, was selected Monday as the American League Comeback Player of the Year by The Sporting News.
"It means more than I can articulate now," said Young, who battled shoulder injuries over much of the previous six seasons. "I think we all understand how hard this game can be, and the challenges it presents." Miami third baseman Casey McGehee was the National League recipient.
Young received 49 of the 112 votes cast by A.L. players, followed by Detroit outfielder J.D. Martinez (22), Oakland pitcher Scott Kazmir (14) and New York shortstop Derek Jeter (11).
McGehee got 26 of the 64 N.L. votes. San Francisco pitcher Tim Hudson was second with 17, and Los Angeles outfielder Matt Kemp was third with 15.
Young is a pending free agent but has expressed interest in remaining with Seattle, which has exclusive negotiating rights with him through the fifth day after the World Series.
General manager Jack Zduriencik previously identified the need to acquire a veteran starting pitcher, such as Young, as one of Seattle's off-season priorities.
"I would love to be back," Young said. "This was the most fulfilling and gratifying season of my career.
"I would love to be part of finishing off what we've started. That being said, I understand that it's a business, and it might not be in the best interest of the Mariners or vice versa."
Young, 35, was 12-9 with a 3.65 ERA after missing much of 2013 while recovering from a third shoulder operation. He signed March 27 as a free agent after being released by Washington.
Saunders honored
Outfielder Michael Saunders is this year's recipient of the Moose Clausen Award, which is given by the Mariners RBI Club in recognition of "significant contributions" to the community.
The Real Baseball Involvement Club is an organization of season-ticketholders who are active in the community.
The organization cited Saunders' involvement in Fred Hutchinson Cancer Research Center, and Major League Baseball's "Going to bat against breast cancer" initiative.
Walker heads for home
Mariners right-hander Taijuan Walker left his club in the Arizona Fall League after two starts to return home to California, club officials confirmed Sunday night in a news release.
"Taijuan is completely healthy and was very impressive in his two outings," Zduriencik said, "but made a personal decision that he needed to return home at this time.
"He will continue with his off-season program, and we look forward to seeing him at spring training in February."
Local journalism is essential.
Give directly to The Spokesman-Review's Northwest Passages community forums series -- which helps to offset the costs of several reporter and editor positions at the newspaper -- by using the easy options below. Gifts processed in this system are not tax deductible, but are predominately used to help meet the local financial requirements needed to receive national matching-grant funds.
Subscribe to the sports newsletter
Get the day's top sports headlines and breaking news delivered to your inbox by subscribing here.
---