News > Nation/World
'Blade Runner' gets five years in shooting death of girlfriend
Wed., Oct. 22, 2014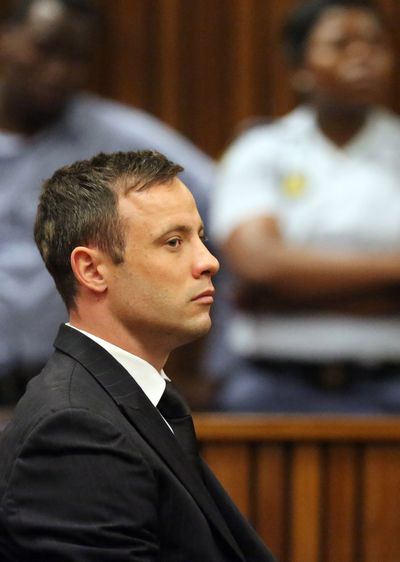 PRETORIA, South Africa – Oscar Pistorius was sentenced to five years in prison Tuesday for killing girl- friend Reeva Steenkamp, completing a transformation from an acclaimed sprinter at the 2012 Olympics to a convicted criminal led away in a police van with barred windows.
Wearing a dark suit, the double-amputee athlete was subdued when Judge Thokozile Masipa announced the punishment in a Pretoria courtroom, ending a televised trial that was closely followed at home and abroad by those who once admired him.
The man known as the "Blade Runner" because of his carbon-fiber running blades will have to serve 10 months, or one-sixth of his sentence, in prison before he is eligible to be moved to house arrest, legal analysts say.
Even if he leaves prison early, his running career is in doubt. The 27-year-old Pistorius, who has won six Paralympic gold medals, will be ineligible to compete in those events during the entirety of his five-year prison sentence, "regardless of where it is served," the International Paralympic Committee said. Pistorius still could challenge that decision.
In reaching the verdict against Pistorius last month, Masipa accepted his account that he accidentally shot Steenkamp, a 29-year-old model and television personality, through a closed toilet door in his home after mistaking her for an intruder on Valentine's Day 2013.
At the sentencing, Masipa delivered an hourlong, nuanced argument that dwelled on case law, the principle of clemency, the danger that a light sentence could embolden victims to take the law into their own hands, and the difference between public opinion and what is in the interests of society.
"I am of the view that a noncustodial sentence would send a wrong message to the community," she said. "On the other hand, a long sentence would not be appropriate either, as it would lack the element of mercy."
Pistorius also received a three-year, suspended jail term for negligent handling of a firearm in a separate case – the discharge of a gun in a crowded restaurant in January 2013, shortly before he killed Steenkamp.
Local journalism is essential.
Give directly to The Spokesman-Review's Northwest Passages community forums series -- which helps to offset the costs of several reporter and editor positions at the newspaper -- by using the easy options below. Gifts processed in this system are not tax deductible, but are predominately used to help meet the local financial requirements needed to receive national matching-grant funds.
Subscribe to the Coronavirus newsletter
Get the day's latest Coronavirus news delivered to your inbox by subscribing to our newsletter.
---