News > Obituaries
Obituary: Johnson, Louise (Shake)
Age 88
Wed., Oct. 22, 2014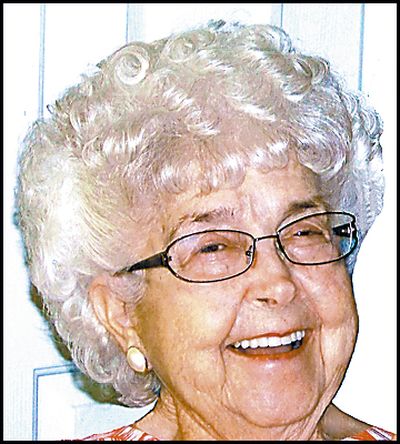 JOHNSON, Louise (Shake) Ora Louise Johnson passed away peacefully Wednesday evening October 8, 2014 at Parkview Retirement Assisted Living in Colville, Washington.
Louise was born to Max and Leta Shake on November 7, 1925 in Florence, Colorado, joining older brother, Ken.
Five months later, the young family moved to Ray, Arizona where Max had found employment with Kennecott Copper Corporation.
Louise spent the next 22 years of her life in this small mining town living an idyllic life.
Another brother, George, was born there.
These were the depression years, but her Dad always had a job and her resourceful Mom stretched his paycheck to make it last.
Louise attended grade school and high school in Ray, graduating from Ray High School in 1943, during war times, as Valedictorian of her class of 13.
Several of her classmates had already joined the service.
After attending the University of Arizona for a year, she moved to Phoenix where she sold war bonds in a large department store.
After the war, she moved back to Ray and went to work as a telephone operator for Kennecott.
She was living at home, so at age 20, she was there to welcome baby "Susie" Elaine, the sister she had always wanted.
It was also about that time that Philip Johnson, a newly graduated mining engineer, came to Ray to work.
They met on a blind date arranged by a friend and that was it!
They married on May 22, 1948 and left for a coal mining job that paid more in Pekin, Illinois.
Her daughters, Anita and KiKi, were both born there.
That mine closed and they spent a year in western New York with Phil working in a gypsum mine.
In 1952 they moved to Rice, WA, where Phil joined his Dad, Emery, and brother Mick in their farming operation.
Their son, Mike was soon born and Louise settled most happily into being a wife, mother and homemaker.
She and Phil bought an adjoining 160 acres and the "town girl" soon became an avid gardener and was delighted with all of the vegetables and fruits she was able to process.
She also had an extensive flower garden.
She always said "we have 160 acres but 120 of it is in yard and garden".
She received many plant starts from ladies in the neighborhood, and when her flower garden was well established, she was most generous with sharing starts with friends.
Louise was very active in the community, becoming members of the Rice Community Church, the Rice Rhododendron Club and the Queen Esther Rebekah Lodge, and serving as a Republican on the Election Board for many years.
She also went through training to become an Emergency Medical Technican.
She was most honored by being awarded a Decoration of Chivalry from her Rebekah Sisters-the highest award bestowed by the Rebekahs for service to family, Lodge, community and country.
She spent many enjoyable hours doing sewing, knitting and crafts with her friends.
She made many of her daughters' clothes and sewed beautiful clothes for the girls' dolls too.
She made a Cathedral Window pattern quilt which won top prizes at the Stevens County Fair one year.
She loved to make things to give as gifts for loved ones.
Phil, while still farming, went to work for the Stevens County Road Department, starting as a part time surveyor and later becoming the Road Engineer and Director of Public Works.
Louise enjoyed traveling with him around the State, making new friends.
Phil developed heart problems causing him to retire early.
In 1995, they moved to the Elm Street Condo in Colville, where Phil passed away in 1997.
They had enjoyed 49 years of a wonderful marriage.
Louise continued to live at the Condo.
She joined the Colville United Methodist Church and was active with the women's organizations.
She also did some fund raising for Habitat for Humanity.
She enjoyed a Hawaiian cruise with friend, Pauline Battien, and a European trip with another friend, Irmgard Seideman.
In 2008, when spinal fractures ended her driving and kept her more housebound, she loved to play Scrabble, read mystery novels, work crossword puzzles, and root for the Gonzaga basketball boys and girls.
She loved baseball and was a fan of the St. Louis Cardinals and the Seattle Mariners.
She enjoyed regular Bible Study with her Bible Study group at her condo.
She always felt that she lived a long and wonderful life, thanking God daily for her many blessings, chief of which was her family who took such loving care of her.
She is pre-deceased by her parents, Max and Leta Shake, her beloved husband, Philip Dale Johnson, and by her son-in-law, Michael Johnson, and by grandson, Buzz Johnson.
She is survived by daughters, Anita Johnson, Christine "KiKi" Johnson Welfel (and her husband Michael) and by son, Mike Johnson (and his wife, Susan), and by eight grandchildren: Reila Armstrong, Lauren Keller (Geoff), Stephanie Hare (Jeremy), Travis Pratt, Nicole Welfel, Eric Johnson (Christine), Evan Johnson (Ericka), Ethan Johnson (Diann), and by eight great-grandchildren: Chance Leuphold, Jayvin Krzych, Sigur Keller, Sophie Hare, Milo Pratt, Mai-Le Johnson, Sarah Johnson, and Lincoln Johnson.
She is also survived by her two brothers, Kenneth and George Shake (Betty) and sister "Susie" Elaine Christiansen (Richard), sisters-in-law, Marge McKinney and Jill Johnson, brother-in-law, Mick Johnson, her Aunt Meg Knauff, and numerous nieces and nephews (many of whom call her Grandma), great nieces and nephews, dear cousins, and many close friends.
A Celebration of Life Memorial will be held Saturday, October 25 at 1:30 PM at the Colville Community Church, 930 S. Elm Street, Colville, WA 99114.
In lieu of flowers, memorial contributions may be made to the Colville Community Church, Habitat for Humanity, Hospice of Spokane or to the charity of your choice.
Local journalism is essential.
Give directly to The Spokesman-Review's Northwest Passages community forums series -- which helps to offset the costs of several reporter and editor positions at the newspaper -- by using the easy options below. Gifts processed in this system are not tax deductible, but are predominately used to help meet the local financial requirements needed to receive national matching-grant funds.
Subscribe to the Coronavirus newsletter
Get the day's latest Coronavirus news delivered to your inbox by subscribing to our newsletter.
---