News > Obituaries
Obituary: Shriner, Rodney L.
Age 87
Wed., Oct. 22, 2014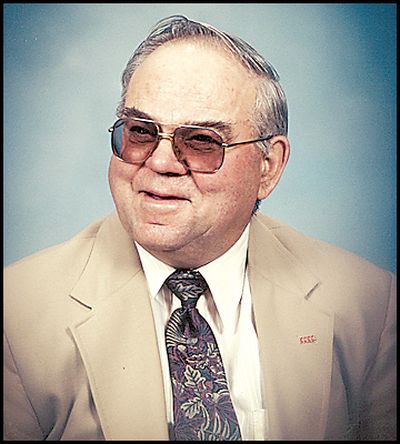 SHRINER, Rodney L. (Age 87) Passed away October 15th, 2014 in Coeur d'Alene, Idaho.
He was born July 29th, 1927 in Martin, South Dakota to Charles Shriner and Nettie Spears.
Rodney attended Bellgrove and Worley High School.
On April 3rd, 1946, he married the love of his life, Evelyn Lacy.
He was involved with the Bellgrove Grange for 71 years and was a National Grange 7th Degree.
Rodney was also involved in the Eagles #486 for 66 years.
He was also a Lutheran and attended Trinity Lutheran here in Coeur d'Alene.
Rodney enjoyed farming and he was active in many agricultural organizations such as the Kootenai County Agricultural Stabilization Committee and the Spokane Bulk Producers Board.
He also served on the Kootenai Electric Co-Op Board for 21 years.
Rodney is survived by his children: Darlene and Donald Shriner.
He is also survived by his sister, Deloras Sullivan and his brother, Jerry Shriner; as well as three grandchildren and four great-grandchildren.
Rodney is preceded in death by his wife, Evelyn M. Shriner.
In lieu of flowers, please make contributions to either Coeur d'Alene Homes or Trinity Lutheran Memorial.
A Memorial Service will be held on Saturday, October 25th at 1:00 pm at Trinity Lutheran Church in Coeur d'Alene.
ENGLISH FUNERAL CHAPEL is handling arrangements.
Please visit Rodney's online memorial at www.englishfuneralchapel.com
Local journalism is essential.
Give directly to The Spokesman-Review's Northwest Passages community forums series -- which helps to offset the costs of several reporter and editor positions at the newspaper -- by using the easy options below. Gifts processed in this system are not tax deductible, but are predominately used to help meet the local financial requirements needed to receive national matching-grant funds.
Subscribe to the Coronavirus newsletter
Get the day's latest Coronavirus news delivered to your inbox by subscribing to our newsletter.
---