News > Business
With sales slumping, CEO outlines change
McDonald's will 'simplify' menu
Wed., Oct. 22, 2014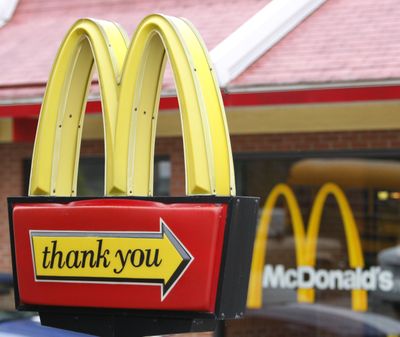 NEW YORK – After posting yet another disappointing quarter, McDonald's CEO Don Thompson said Tuesday the company hasn't been keeping up with the times and that changes are in store for its U.S. restaurants.
Thompson said starting in January McDonald's will "simplify" its menu to make room for restaurants to offer options that are best-suited for their regions. To offer greater customization, he also said the company planned to expand its "Create Your Taste" offering that lets people pick the buns and toppings they want on burgers by tapping a touch screen. The program is currently being offered in Southern California, and McDonald's has said it will roll it out nationally in Australia.
"We haven't been changing at the same rate as our customers' eating-out expectations," Thompson conceded during a conference call outlining the changes.
The remarks came after McDonald's said sales at established locations fell 3.3 percent globally and in the U.S. division, marking the fourth straight quarter of declines in its home market. Profit sank 30 percent.
The changes come as McDonald's continues to struggle with myriad problems. One of its biggest challenges in the U.S. is long-held perceptions around the freshness and quality of its ingredients. The chain has been fighting to boost sales as people gravitate toward foods they feel are more wholesome. As a result, people have been gravitating to places like Chipotle, which markets its ingredients as being of superior quality.
In fact, Chipotle's sales at established locations surged 19.8 percent in the third quarter. Steve Ells, Chipotle's co-CEO, said the results show people are realizing "there are better alternatives to traditional fast food" and that he expects the trend to continue.
Some analysts questioned whether the moves that McDonald's has in store will be enough to fix its problems. Sara Senatore, a Bernstein restaurant analyst, noted that the company efforts seem focused on marketing around its food, rather than changing recipes.
In China, an undercover TV report this summer showed one of its major suppliers repackaging expired meat. The plant stopped operations and many of McDonald's restaurants in the country were left unable to sell burgers, chicken nuggets and other items. The chain's reputation took a hit as well.
In the division encompassing Asia, sales at established stores sank 9.9 percent.
McDonald's, which has more than 35,000 locations around the world, said it expects its challenges will continue into the current quarter, with global sales down for October as well.
For the quarter, revenue declined to $6.99 billion, short of the $7.23 billion Wall Street expected. Net income declined to $1.07 billion, or $1.09 per share. Adjusted for one-time costs, earnings were $1.52 per share. Analysts expected $1.37 per share.
Local journalism is essential.
Give directly to The Spokesman-Review's Northwest Passages community forums series -- which helps to offset the costs of several reporter and editor positions at the newspaper -- by using the easy options below. Gifts processed in this system are not tax deductible, but are predominately used to help meet the local financial requirements needed to receive national matching-grant funds.
Subscribe to the Coronavirus newsletter
Get the day's latest Coronavirus news delivered to your inbox by subscribing to our newsletter.
---