Sports
Young Eagles defense beginning to hit stride
Wed., Oct. 22, 2014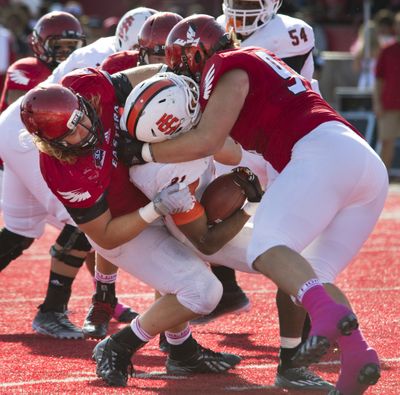 Perhaps a few Eastern Washington football fans are guilty of judging a book by its cover, coach Beau Baldwin says.
That book would be the story of this year's Eagle defense, which added a few plot twists in a 26-18 win Saturday over Northern Colorado: stout run defense, seven sacks and a new attitude of aggressiveness.
And the tale could get better at the end, thanks to some character development on the defensive line.
"Sometimes fans base their perception of what you are after one or two games," Baldwin said before Tuesday's practice at Roos Field, where the second-ranked Eagles were preparing for Saturday's game at Northern Arizona.
To be fair, the defense continued to struggle into midseason – the Eagles have given up 500-plus yards in five of eight games – but the numbers are improving. In the last four games, Eastern has given up 423 yards per outing, but just 105 on the ground.
In wins over Southern Utah and UNC, the Eagles (7-1 overall, 4-0 in the Big Sky Conference) conceded a combined 144 rushing yards and just 2.8 yards a carry. In the last four games, third-down defense has been a respectable 41.5 percent (22 for 53).
"We felt from the get-go that our defense was going to get better, that was the expectation," Baldwin said.
On Saturday at least, expectations were realized. "When you get on a roll in a game like that, and you look at the film, you say 'heck, we should have had 10 sacks,' " D-line coach Ryan Sawyer said.
"The kids played with a ton of energy and played consistently through the game, so I was proud of them," said Sawyer, who added that much of the groundwork is mental, beginning early in the week with attention to detail in the film room and on the practice field.
"I'd say it's 95 percent mental," agreed true sophomore end Samson Ebukam, who added two sacks on Saturday to boost his season total to six, a team high.
"You can have the physical aspects, but if you don't have the right mentality, you can't be a true defensive lineman," Ebukam said.
More are on the way, said Graham and Sawyer, who have six true freshmen in the D-line rotation: Marcus Saugen, Jay-Tee Tiuli, Dylan Donahue, Patiole Pesefea, Nick Foerstel and Conner Baumann.
"That's a big part of it – the young kids getting more comfortable," Graham said. "The cupboard is full, not just the D-line but a lot of young kids that are playing – we should be getting better every week, and we are."
People are noticing. End Zackary Johnson had a sack and four tackles against the Bears, and was named the Big Sky special teams player of the week after he blocked a punt against Northern Colorado. The ball was recovered by Ebukam and led to a touchdown that gave the Eagles a 20-3 lead.
"It felt really good to take control," Johnson said. "We talked about that as a defense … that teams we play in the future will look at film and ask what do we have to do to stop us."
Notes
The Eagles got some good news on the injury front Tuesday. Running back Quincy Forte – sidelined since the Montana State game on Sept. 20 with a shoulder injury – is expected back for NAU, Baldwin said. Wide receiver Cory Mitchell, who suffered a broken collarbone at Washington on Sept. 6, also may return. Safety Todd Raynes, who suffered a knee injury against Idaho State on Oct. 4, was showing improvement on Tuesday. Quarterback Vernon Adams Jr. is "progressing very well" with the broken foot suffered against ISU, but Baldwin stuck to the same three-to-six-week timetable that was given the day after the injury. "He's doing the right things to be on pace," Baldwin said.
Local journalism is essential.
Give directly to The Spokesman-Review's Northwest Passages community forums series -- which helps to offset the costs of several reporter and editor positions at the newspaper -- by using the easy options below. Gifts processed in this system are not tax deductible, but are predominately used to help meet the local financial requirements needed to receive national matching-grant funds.
Subscribe to the sports newsletter
Get the day's top sports headlines and breaking news delivered to your inbox by subscribing here.
---