News > Features
Hasbro hopes to take 'Ouija' to the bank
Thu., Oct. 23, 2014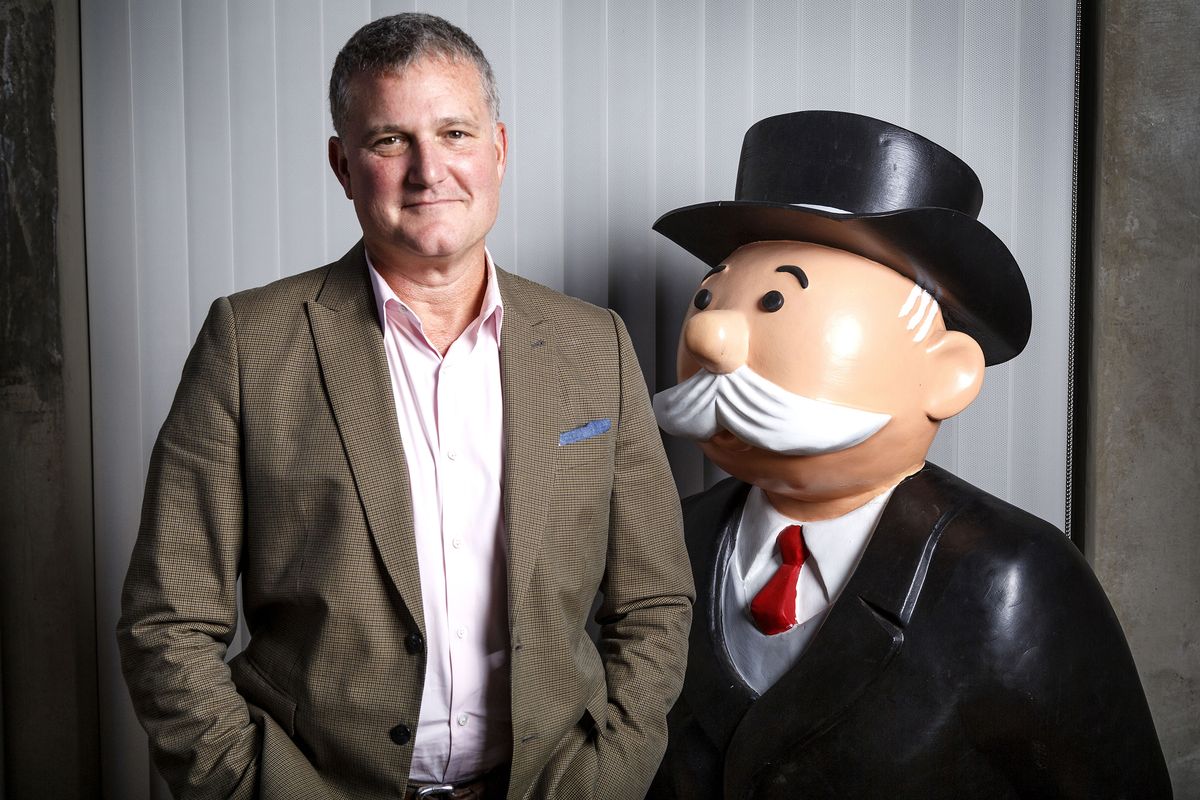 Hasbro Studios CEO Stephen Davis is photographed next to Mr. Monopoly at their headquarters in Burbank, Calif.
Hollywood has a fascination with turning classic board games into movies.
There was "Clue" and "Battleship," and now "Ouija" is about to hit theaters this week. Filmmakers are working to get "Monopoly," "Candy Land" and "Risk" off the toy store shelves and into cinemas.
The big studios hope to cash in at the box office as these familiar titles resonate with grown-ups and teenagers alike who played the games as children. And, for toy makers like Hasbro Inc., it could help boost sales of games that have been around for decades.
"What they're hoping is that if they can figure out a way to turn these games, which are essentially interactive, into narratives and possibly luck into a franchise," film historian Wheeler Winston Dixon said. "Even if they only hit one, it still works for them."
The problem: Audiences have yet to buy in.
Movies based on board games have not done much business at cinemas, in contrast with the hits Hasbro has generated with some of its toys and action figures. "Transformers" movies have grossed about $3.75 billion in ticket sales worldwide, according to Box Office Mojo, and "G.I. Joe" has also become a film franchise.
Hasbro is not alone in trying to profit off the toy craze. This year, rival Lego broke into Hollywood in a big way with Warner Bros. and Village Roadshow's "The Lego Movie." Barbie and Hot Wheels maker Mattel Inc. is also busy making TV shows and movies based on its toys.
But board games have proved to be tricky. Of the multiple games Hasbro has primed for development in the last few years, just one has been released – the 2012 dud "Battleship." Much earlier, the campy 1985 version of "Clue" bombed at the multiplex.
Now Hasbro hopes that its Ouija board will divine a better fortune.
The box-office prospects for "Ouija," which opens Friday, have Hasbro Studios President Stephen Davis in high spirits as he sits in his Burbank office filled with Optimus Prime, My Little Pony and Action Man toys.
On his wall hangs a framed New Yorker cartoon in which a child with a Ouija board says "It's like texting, but for dead people."
The PG-13-rated "Ouija," produced by Blumhouse Productions and distributed by Universal Pictures, is poised to gross $20 million or more at the box office through the weekend, according to people who have seen pre-release audience surveys – a strong result considering it only cost $5 million to make.
After Michael Bay's first "Transformers" movie blew up at the box office, Hasbro took an aggressive swing at the film market. Hasbro and Universal Pictures in 2008 announced plans to turn at least four game titles into feature films, including "Monopoly," "Candy Land" and "Magic, the Gathering."
Universal had committed huge sums to make tent-pole features out of "Battleship" and "Ouija" and pledged to churn out one board game movie a year. "Battleship" ran aground at the U.S. box office with just $65 million in domestic ticket sales on a production budget of more than $200 million.
At one point, "Ouija" was expected to cost more than $100 million, and a top-notch director had been brought on to see the movie through. Universal scrapped the grand plans in 2011 over concerns that the budget would make it hard to turn a profit.
The Hasbro-Universal pact has since fallen apart. Although Hasbro is still planning movies for Universal, other projects have been scattered throughout the studio system.
"Candy Land" is in the hands of Adam Sandler and his company, Happy Madison Productions, which is developing the film for Sony Pictures Entertainment. Sony also has "Monopoly." 20th Century Fox Film has "Magic: The Gathering," based on the fantasy trading card game.
"Ouija" came back to life under the hand of low-budget horror producer Jason Blum, who runs Blumhouse. He said the board, which has made memorable appearances in the first two "Paranormal Activity" movies he produced, offered plenty of fodder for a scary movie.
"It's literally a board for talking to dead people," Blum said. "It lends itself to a movie in a very natural way, certainly more naturally than a lot of other board games."
Toy analysts say Hasbro should benefit from its film efforts because they can help boost sales of old-school board game brands that have faced heavy competition from cheap and easy-to-learn video games on smartphones and tablets.
When the films work, they can provide a big sales boost to the company overall. Thanks in part to the popularity of movie-powered brands like "Transformers," "Star Wars" and Marvel, sales for Hasbro's toys category increased 22 percent in the third quarter compared with last year, the company said Monday in an earnings report.
Local journalism is essential.
Give directly to The Spokesman-Review's Northwest Passages community forums series -- which helps to offset the costs of several reporter and editor positions at the newspaper -- by using the easy options below. Gifts processed in this system are not tax deductible, but are predominately used to help meet the local financial requirements needed to receive national matching-grant funds.
Subscribe now to get breaking news alerts in your email inbox
Get breaking news delivered to your inbox as it happens.
---