Sports
Cougars, Wildcats all about offense
Sat., Oct. 25, 2014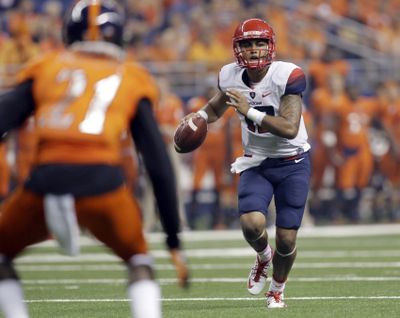 PULLMAN – It's a good thing the Cougars are about to play their earliest game of the season – Washington State and Arizona will need the extra time just to fit in all that offense.
Two of the game's most up-tempo offenses will try and pack as many plays as possible into four quarters of football today. The Wildcats average 87.8 offensive plays per game.
The Cougars nearly keep pace with the Wildcats, averaging 81.6 offensive plays per game.
"(Arizona is) the Indy 500 of offenses," WSU defensive line coach Joe Salave'a said. "Tempo never slows down one bit so I think our tempo in our practices is going to be critical and our work this week is going to be critical. We don't half-step anything and we're trying to keep up with the pace of the offense."
At West Virginia, Michigan and now Arizona, coach Rich Rodriguez's offenses have always played at a breakneck pace. This is, after all, the coach who once said that huddles are the "biggest waste of time in college football." But his spread style typically revolved around an explosive running game, with quarterbacks Pat White and Denard Robinson doing nearly as much rushing as star running backs Steve Slaton and Ka'Deem Carey.
Although redshirt freshman quarterback Anu Solomon has some speed, it's his arm that has caused Rodriguez to change his style and put the ball in the air more than before. Last year the Wildcats attempted slightly fewer than 30 passes per game; this year they're averaging almost 47.
"Traditionally that's what they've done, spread it to run it," coach Mike Leach said, adding that the Wildcats have faced a number of defenses that are susceptible against the pass this season. Arizona has a play-making receiver in Cayleb Jones, who is averaging 98.7 receiving yards per game and has six receiving touchdowns. Austin Hill, Nate Phillips and Samajie Grant highlight the rest of a dangerous receiving corps, while The Son of The Kid, Trey Griffey, has 15 receptions for 144 yards.
The Cougars, of course, outpace everyone when it comes to throwing the ball. Solomon may be No. 4 in the country in total offense, accounting for 382.7 yards per game, but he's nowhere near WSU's Connor Halliday, the national leader with 460.6.
Washington State is finally playing under the sun and the extra light will illuminate what everything indicates should be a shootout. Ignore the fact that last year's 24-17 WSU win was a defensive battle – this year's rematch will be all about offense.
Local journalism is essential.
Give directly to The Spokesman-Review's Northwest Passages community forums series -- which helps to offset the costs of several reporter and editor positions at the newspaper -- by using the easy options below. Gifts processed in this system are not tax deductible, but are predominately used to help meet the local financial requirements needed to receive national matching-grant funds.
Subscribe to the sports newsletter
Get the day's top sports headlines and breaking news delivered to your inbox by subscribing here.
---