News > Obituaries
Obituary: Surette, Katharine Lee (Broyles)
Age 74
Sat., Oct. 25, 2014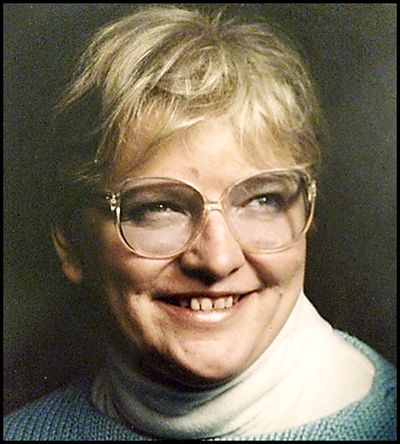 SURETTE, Katharine Lee (Broyles) Died peacefully on October 23, 2014 in Spokane, WA.
Born in Henryetta, OK on November 20, 1939 to Mabel Broyles and James C. Broyles, she was the youngest sister of Mary Lou Burns, Patricia Sue Palmer and Jo Ann Kennedy all of whom preceded her in death.
Kathy attended Arkansas Enterprises for the Blind and Elms College in Chicopee, MA, from 1977 to 1985.
Her entrepreneurship and advocacy for the blind was evident throughout her life.
She was Director of Volunteer Services for Massachusetts Association for the Blind in Springfield, MA.
In 1986 a Board of Advisors was formed to establish The Western Massachusetts Radio Reading Service and Kathy was selected as the Founding President.
Most recently she founded and was president of Blind Mice Designs, where her creativity and sight for beauty and color shined through her jewelry.
In 1988 she married Jon Louis and they lived in Massachusetts, Connecticut and Pennsylvania prior to moving to Spokane, Washington in 2007.
In addition to Jon, she is survived by her many loving children; daughters Paula Ramer, Jahn Marie Surette, Arlene Jones and Karin Redmond and sons, Lyman and Brian Louis and Gibb Surette.
Kathy has six surviving grandchildren, Taylor Surette, Shelby Ramer, Veronica Jones, Hogan Jones, Meaghan Redmond and Eric Redmond.
Her grandson Christopher Redmond predeceased Kathy.
In addition Kathy has many nieces and nephews.
Kathy has left a legacy of friends old and new.
Her deep faith in God has been an anchor through challenges and triumphs.
She is reunited with her sisters and her vision and will continue to watch over her family that meant so much to her.
Her laughter, spirit and love for life will continue to inspire.
A memorial celebration of Kathy's life will be held at Westminster United Church of Christ, 411 South Washington Street, Spokane, WA on Monday October, 27th at 1:30PM.
In lieu of flowers memorials gifts may be given to Hospice of Spokane, Seeing Eye of Morristown, New Jersey or Westminster Congregational United Church of Christ.
To view Kathy's online memorial, please visit www.hennesseyfuneralhomes.com.
Local journalism is essential.
Give directly to The Spokesman-Review's Northwest Passages community forums series -- which helps to offset the costs of several reporter and editor positions at the newspaper -- by using the easy options below. Gifts processed in this system are not tax deductible, but are predominately used to help meet the local financial requirements needed to receive national matching-grant funds.
Subscribe to the Coronavirus newsletter
Get the day's latest Coronavirus news delivered to your inbox by subscribing to our newsletter.
---