News > Spokane
Spokane doctor Craig Morgenstern faces federal charges
Sat., Oct. 25, 2014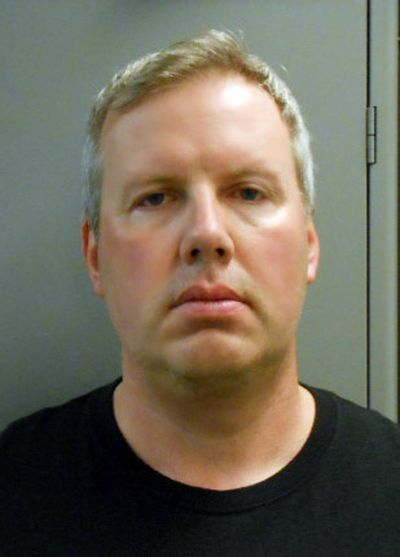 A Spokane doctor accused of drugging and raping a teen last weekend at his Nine Mile Falls home now faces federal charges after authorities say he took young boys on trips to Idaho and molested them at a hotel connected to an amusement center.
Dr. Craig Morgenstern, 45, appeared in court dressed in a neon green jail jumpsuit and leg irons to hear the federal charges of transporting a minor across state lines for aggravated sexual abuse and production of child pornography.
He told U.S. Magistrate Judge John T. Rodgers: "I'm very tired."
Six days ago, a 13-year-old boy called 911 while fleeing Dr. Craig Morgenstern's home alleging he'd been molested while the doctor filmed the act.
During the past week, the physician has been jailed twice after posting bond following his first arrest, appeared in courts three times and is suspected of destroying or disposing of evidence – some of which Stevens County investigators recovered from trash bins.
He will remain in jail on the federal charges until at least next week when he can argue for release on bond.
His county bond is $250,000.
Morgenstern has been suspended from his job as an emergency room physician at the Spokane Veterans Affairs Medical Center.
The Big Brothers Big Sisters of the Inland Northwest confirmed Friday that Morgenstern had served as a mentor for a boy in their program through March 2013. Chief Executive Officer Darin Christensen said his organization was cooperating with law enforcement.
"We are deeply saddened by the allegations and want to express our wishes of support to the young man, his family and any others who may have been affected by this," Christensen said in a written statement.
The 25-page federal criminal complaint filed Friday lists many of the same allegations already filed in Stevens County. The 13-year-old, who tested positive for a sedative, was also allegedly filmed in a hotel room connected to the Triple Play attraction in Hayden, Idaho.
A video recovered from a memory card found in Morgenstern's residence showed what appeared to be the same boy from the Saturday incident and another boy lying on a bed, apparently asleep, while Morgenstern molested the first boy, according to court documents.
Stevens County detectives initially questioned Morgenstern at his home and photographed evidence early last Saturday, according to court records. The boy told police he'd been watching scary movies with Morgenstern when the physician handed him a mug of hot chocolate with what appeared to be "flakes" on the surface. The boy said Morgenstern told him it was "cinnamon," according to court records.
The boy tested positive for benzodiazepines, a family of drugs used to treat anxiety and insomnia, according to court records. The drugs act as sedatives.
Morgenstern denied to police any sexual contact took place, saying the boy fell asleep during the film and he placed him in bed to keep warm.
Morgenstern did not allow police to seize his electronic devices early last Saturday before his arrest. When they returned with a warrant later in the weekend, detectives found several pieces of evidence missing, according to court records.
Morgenstern stayed at a home in Spokane from Sunday through Monday afternoon, according to court records. He stowed his iPad and iPhone there, the homeowner told police. The homeowner drove Morgenstern to jail Monday after a warrant had been issued for Morgenstern's arrest, and they stopped at a Dumpster for Morgenstern to break a laptop and remove the hard drive, the homeowner told police.
Detectives also seized a desktop computer and a digital camera at Morgenstern's residence. A forensic examiner in Spokane County said Thursday both of those devices contained video and picture files consistent with the boy's story and the video of the alleged molestation in the Hayden hotel room, according to court documents.
Tim Rasmussen, Stevens County prosecuting attorney, said early Friday his office would continue to prosecute the child rape case. "I'm tremendously proud of the detectives in Stevens County," he said.
Local journalism is essential.
Give directly to The Spokesman-Review's Northwest Passages community forums series -- which helps to offset the costs of several reporter and editor positions at the newspaper -- by using the easy options below. Gifts processed in this system are not tax deductible, but are predominately used to help meet the local financial requirements needed to receive national matching-grant funds.
Subscribe to the Coronavirus newsletter
Get the day's latest Coronavirus news delivered to your inbox by subscribing to our newsletter.
---