News > Spokane
Police investigate attacks on Spokane's homeless
Sun., Oct. 26, 2014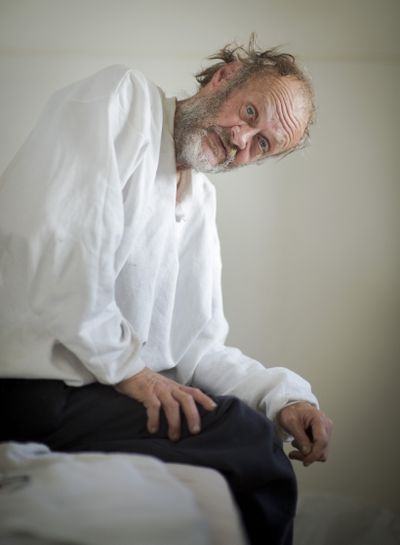 William Faust was asleep when the beating began.
A rock cracked down on his skull once, then again. The attacker kept hitting, not letting up until most of Faust's clothing and blankets were soaked with blood.
"He was out to kill me," said Faust, a homeless man who sometimes camps near High Bridge Park.
In his injured state, Faust had trouble keeping himself upright. He felt dizzy and fell over when he tried to stand. He might not have gotten medical attention if advocates from the CHAS outreach team, who regularly check homeless camps, hadn't found him and called for help.
The responding police officer wrote that Faust's "hair was soaked in blood and he had blood all over his face and clothing." The back of his head had several large cuts that took 12 staples to close.
Just five days earlier, Faust had been attacked by the same man. That time, the man approached him with a can of pepper spray and yelled "You (expletive) scum don't belong in my town" before spraying the entire can in his face. He kicked Faust in the torso repeatedly before running off.
Faust is the most well-known victim in a string of similar attacks, mostly on homeless people, over the past month. He was first attacked Oct. 10 and reported both incidents to police.
Spokane police have received four other reports of a similar suspect attacking or threatening people with pepper spray in late September and early October. Three of those assaults occurred downtown, and all but one of the victims were homeless.
Police are investigating the possibility that the incidents are linked.
"This is a case that we're taking very seriously," police Capt. Brad Arleth said.
Many people who lined up last week for a hot meal at the City Gate downtown said they'd heard of the attack on Faust through the grapevine, as well as other similar incidents. No one seemed sure of the total number of victims – Faust himself said he knows of four or five, while others say they've heard rumors it's as high as a dozen or more.
But most agreed on two things: The attacker, they say, is a young man in his late 20s or early 30s who's "too clean-cut to be homeless." And people are worried he might target them next.
"We're tired of it. There's a lot of people arming themselves," said John Whechik, who's been homeless in Spokane for about 30 years.
Faust reported his first assault from the House of Charity. The shelter's security coordinator, Allison Hawn, told police she'd heard of other assaults near downtown churches, but many victims didn't want to talk to police.
Advocates say violence against homeless people by others is all too common. A 2014 report by the National Coalition for the Homeless documented 109 attacks committed because the victim was homeless in 2013, including three in Washington. Eighteen of the attacks were fatal.
In Spokane, there have been several high-profile attacks on homeless people during the past eight years. A Spokane teenager was sentenced to 10 years in prison in 2010 for setting a homeless man on fire after a dispute about beer money. And in 2006, homeless amputee Doug Dawson died after a 23-year-old man set some grass on fire near him while he was asleep in his wheelchair. The fire spread onto Dawson and killed him. That man, Matthew Trammell, received 18 years in prison.
Many of Spokane's homeless people say they're common targets for random violence. Whechik said he's seen people seeking thrills or young men who have been drinking attack homeless people for no reason.
Police statistics show a citywide drop in violent crime this year, including aggravated assaults. In the downtown service area, violent crime is down about 24 percent year to date. In the southwest district, where Faust's assaults took place, violent crime is down 31 percent.
Those statistics only track homicide, rape, robbery and aggravated assault. Arleth, the Spokane police captain, said an incident where someone is pepper-sprayed doesn't meet the FBI-defined threshold for aggravated assault, though it could be counted as a robbery if something was stolen from the victim.
"Ever since this has gone down, people have disappeared," Faust said. Many people are camping further outside of downtown and sticking together in larger groups for safety. And some don't report assaults to police, either because they fear retribution from perpetrators or they don't believe the crimes will be taken seriously. But Arleth said police have been investigating for several weeks and have a detective assigned to the case.
"We take assaults on anybody very seriously," Arleth said. "(Homeless people) are included as citizens in the city of Spokane. We'd like to see that trust level go up."
Faust is now sleeping at the House of Charity while he recovers. Most of the staples have come out of his head, but he's still having nightmares about his attack.
"I'm scared for other people. If he's done this to me, what's he going to do to somebody else?" he said.
Local journalism is essential.
Give directly to The Spokesman-Review's Northwest Passages community forums series -- which helps to offset the costs of several reporter and editor positions at the newspaper -- by using the easy options below. Gifts processed in this system are not tax deductible, but are predominately used to help meet the local financial requirements needed to receive national matching-grant funds.
Subscribe now to get breaking news alerts in your email inbox
Get breaking news delivered to your inbox as it happens.
---