Sports
UA-WSU notes: Five Cougars make collegiate debuts as 'youth movement' hits another level
Sun., Oct. 26, 2014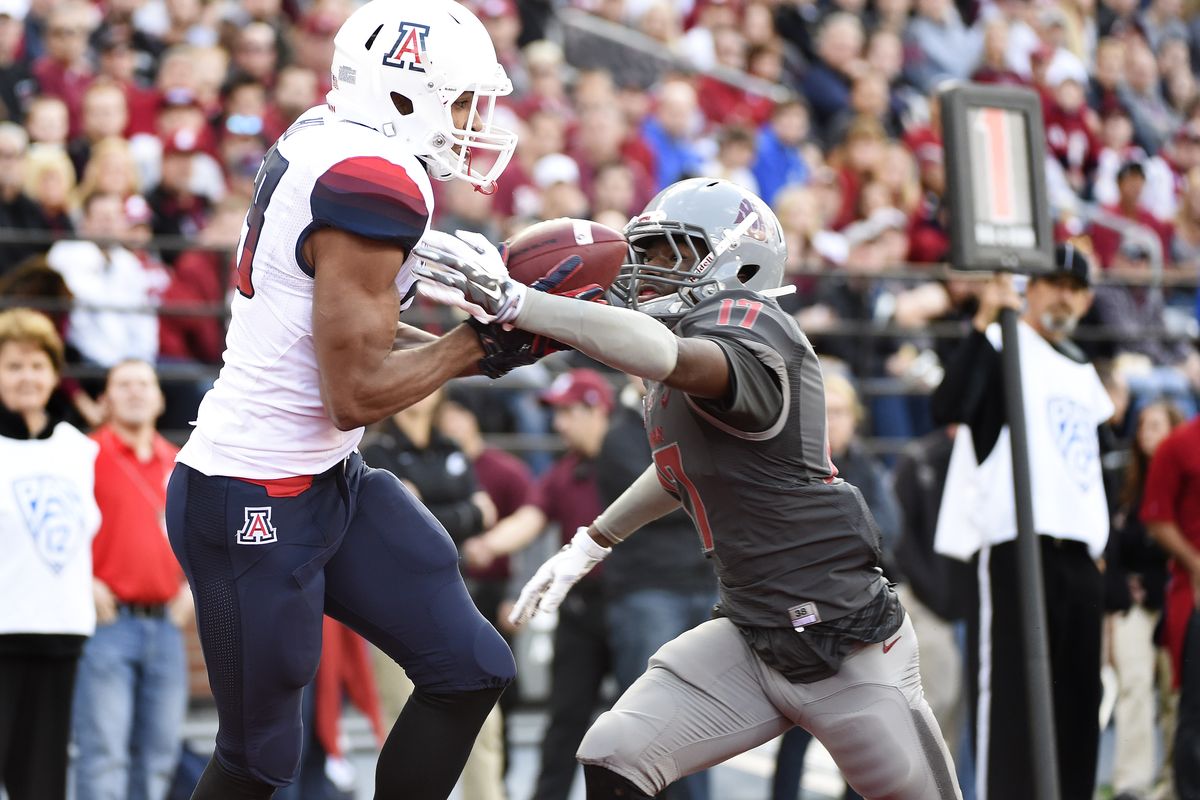 Washington State freshman CB Pat Porter, right, breaks up pass intended for Arizona's Austin Hill. Porter and three other WSU defenders saw their first action Saturday. (Tyler Tjomsland)Buy a print of this photo
PULLMAN – Three Washington State players made their first career starts on Saturday and two more made their collegiate debuts. Of those five players, four were on the defensive side against a team ranked No. 4 in total offense heading into the weekend. The Cougars have been young on defense all season, typically starting three freshmen and a sophomore in the secondary. But against Arizona the Cougars' youth movement was taken to another level.
Redshirt freshman linebacker Peyton Pelluer started at 'Mike' LB for the Cougars, with true freshman Pat Porter starting at cornerback in place of Charleston White, who was injured two weeks ago against Stanford. Defensive backs Willie Roach and Kevin Griffin also made their collegiate debuts. The inexperience likely contributed to the success of Arizona quarterback Anu Solomon, who completed 26 of 38 passes for 294 yards and five touchdowns.
"I think (the inexperience affected us) quite a bit," Leach said. "We've got a lot of inexperience out there and I think that's part of why we're erratic so as a result it gets exposed at times."
More records for Halliday
The Cougars played a football game so of course more passing records fell to quarterback Connor Halliday, who has set all-time school, conference and national bests this season.
Halliday broke Alex Brink's school record of 10,913 career passing yards easily, throwing for 489 yards to finish with 11,264 and counting for his career. He also threw four touchdowns. He now ranks fourth all-time on the Pac-12 career passing list and his 90 career touchdowns are third all-time in the conference.
Arizona's defense did give Halliday some trouble, sacking the quarterback four times and intercepting him twice. The quarterback said the Wildcats defense did a good job of disguising their coverages and that he would check into a play that then wasn't open when the ball was snapped.
"That's exactly what they do, that's one of their strengths," Leach said. "I think they're a simple defense and the play with really good technique."
Daquawn Brown pulled
If you don't know who the most vocal WSU defender is Daquawn Brown will tell you. The Cougars' leading tackler is also their greatest on-field orator and his game appears to be driven by emotion.
Washington State coaches say they don't mind his jawing with opponents or his penchant for opinionated motions following good or bad plays, as long as the energy is productive and it doesn't hurt the Cougars. On Saturday, Brown's emotions likely got the best of him, it hurt the Cougars and his coaches weren't happy about it. He was called for three penalties, including a pass interference in the first quarter that extended an Arizona scoring drive. He was called for a second pass interference in the third quarter and then committed a personal foul on the ensuing play. That sequence caused the WSU coaches to take him out of the game.
"He's one of the toughest players that I've seen," defensive lineman Xavier Cooper said. "He may get beat but he's always fighting and that's just his demeanor … he doesn't like to lose."
Leach was more ominous, saying, "(the penalties are) going to affect him big time tomorrow when I get ahold of him."
Local journalism is essential.
Give directly to The Spokesman-Review's Northwest Passages community forums series -- which helps to offset the costs of several reporter and editor positions at the newspaper -- by using the easy options below. Gifts processed in this system are not tax deductible, but are predominately used to help meet the local financial requirements needed to receive national matching-grant funds.
Subscribe to the sports newsletter
Get the day's top sports headlines and breaking news delivered to your inbox by subscribing here.
---