Sports
Carroll: No truth to Lynch rumors
Seahawks put focus on upcoming games
Tue., Oct. 28, 2014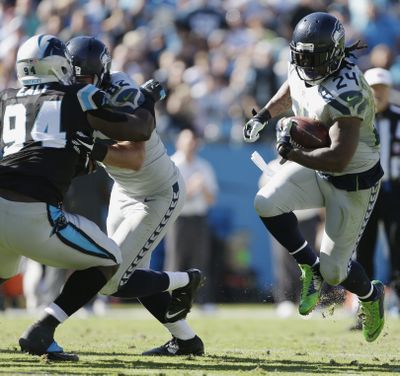 RENTON, Wash. – No, the Seahawks aren't trading Marshawn Lynch. No, we don't hate him or think he's useless.
No, you can't believe everything you read and hear.
Yes, that is what Pete Carroll had to say Monday about the latest round of what he says is fabricated fun being debated across the country about the Super Bowl champions. The most recent, unsubstantiated one Carroll addressed was from Sunday, an ESPN report saying the Seahawks want to either a.) trade their four-time Pro Bowl running back before today's 1 p.m. PDT league deadline for deals, or b.) get rid of Lynch as they did Percy Harvin following this season because they are tired of his act.
"I have nothing to say about that, because there is nothing to that," Carroll said Monday one day after Seattle improved to 4-3 with a 13-9 win at Carolina. "I have no idea where that came from. We have nothing to say about that."
It was the latest in two weeks' worth of stories with anonymous sources claiming the Seahawks have everything from pro- and anti-Russell Wilson factions in the locker room to teammates who think their quarterback "isn't black enough."
To Carroll, it all seems like a circus at this point, a needless sideshow to ignore as the team heads into home games against Oakland (0-7) and the New York Giants (3-4) the next two weekends. This is a mammoth chance for Seattle to get to 6-3 before a six-game stretch that will define their season: at Kansas City (4-3), versus Arizona (6-1), at San Francisco (4-3) on Thanksgiving night, at Philadelphia (5-2), versus the 49ers and at the Cardinals.
"At this point, I don't think it behooves us to try and respond to all these kinds of things in the locker room," Carroll said. "Our players have told you how they feel. Our coaches have told you how we feel about it. We are in a really good place right now. … It's just not worth it.
"There's nothing to that (report on Lynch). I don't know where that came from."
Asked if he talks to the marches-to-his-own-(booming-rap)-beat Lynch "regularly or semi-regularly," Carroll interjected: "Whenever I need to."
"Look, what do you want me do … you asking me about my personal relationships with my players now?" the coach said, clearly and unusually perturbed.
"We are doing great."
Reminded the media doesn't get the opportunity to get Lynch's feelings directly on this – or any – matter, Carroll said: "He's doing fine. He works his tail off. I've been reporting on him all the time because he's done a great job."
Lynch conspicuously skipped the team's visit to the White House in May. In late July, he missed the first week of training camp with a contract holdout into August that increased his guaranteed money from $5 million to $6 million and added another $500,000 in guaranteed cash up front.
Since then he's had 482 yards rushing with three touchdowns on 111 carries and another three touchdowns receiving, the last statistic tying his career high for a season. He spent much of his sideline time during Sunday's win at Carolina talking to tailback Robert Turbin, and at times Wilson.
"Since the day he got back here he's looked terrific," Carroll said. "He's done everything we've asked from him."
Local journalism is essential.
Give directly to The Spokesman-Review's Northwest Passages community forums series -- which helps to offset the costs of several reporter and editor positions at the newspaper -- by using the easy options below. Gifts processed in this system are not tax deductible, but are predominately used to help meet the local financial requirements needed to receive national matching-grant funds.
Subscribe to the sports newsletter
Get the day's top sports headlines and breaking news delivered to your inbox by subscribing here.
---