News > Business
Dunkin' offering limited-time 'Croissant Donut'
Tue., Oct. 28, 2014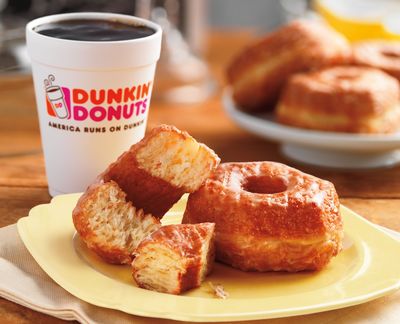 NEW YORK – Dunkin' Donuts plans to roll out a croissant-doughnut hybrid in the U.S. next week, but the company says please don't call it a "Cronut."
The chain tells the Associated Press it will launch its "Croissant Donut" nationally for a limited time starting Monday. It comes more than a year after the Dominique Ansel Bakery in New York City introduced its now trademarked Cronut, which became a viral sensation and spawned numerous knockoffs. Last summer, Dunkin' also introduced a croissant-doughnut in South Korea it dubbed a "New York Pie Donut."
John Costello, Dunkin's president of global marketing and innovation, said in a phone interview that bakers around the country have been mixing doughnuts and croissants for at least 20 years. He said Dunkin' is constantly tracking consumer and bakery trends and has been looking at pastry "combinations" for several years now.
"Are we copying a specific bakery in New York? The answer is no," Costello said in a phone interview.
As for the Croissant Donut, Dunkin' says the pastry will cost $2.49. That's less than the $5 for a Cronut, but more than twice the $1 or so for other Dunkin' doughnuts, making it more profitable for the company.
The Croissant Donut will be covered with the same glaze used for its Glazed Donut, giving it a familiar taste, but won't have any cream filling like the Cronut. Costello said Dunkin' is looking at fillings and glazes for future versions.
Local journalism is essential.
Give directly to The Spokesman-Review's Northwest Passages community forums series -- which helps to offset the costs of several reporter and editor positions at the newspaper -- by using the easy options below. Gifts processed in this system are not tax deductible, but are predominately used to help meet the local financial requirements needed to receive national matching-grant funds.
Subscribe to the Coronavirus newsletter
Get the day's latest Coronavirus news delivered to your inbox by subscribing to our newsletter.
---